CLICK TO SUPPORT OUR SPONSORS

---

---
Island Images



Thursday, October 18, 2001
---
FISHY, FISHY AT THE PARK
2 tiny anglers get a close look at the catch of the day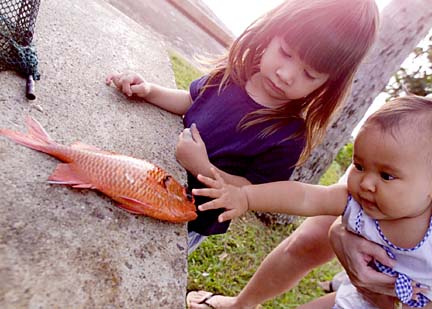 KEN IGE / KIGE@STARBULLETIN.COM
Eight-month-old Hailey Shimabuku, right, tried to touch
a menpachi speared Tuesday by her dad Rick Shimabuku
in waters off Waterfront Park. Watching at left was friend
Alisa Boland, 2. Hailey was being held by mom Tyra while
dad was cleaning the other fish. Alisa was there with
mom Emma Boland.
---
E-mail to City Desk
---
---
© 2001 Honolulu Star-Bulletin
https://archives.starbulletin.com