CLICK TO SUPPORT OUR SPONSORS

---

---
Thursday, October 18, 2001
Federal center
confirms 11 new
isle dengue cases


The total rises to 59 with new
cases on Maui, Kauai and Oahu

Punchbowl's weekly dengue battle

---

By Lisa Asato
lasato@starbulletin.com

The U.S. Centers for Disease Control has confirmed 11 new cases of dengue fever, including one in Honolulu and four more in Windward Oahu.

Hawaii now has 59 confirmed cases -- 49 on Maui, six on Oahu and four on Kauai.

Today, meanwhile, Gov. Ben Cayetano plans to visit the Hana area, which has been the hardest hit by dengue fever. He plans to meet with business leaders who have suffered because of the outbreak to discuss loans and other assistance.

On Maui, Dr. Lorrin Pang of the state Health Department said the dengue outbreak seems to be "tapering a bit," with no new reports of illnesses in the past week.

"We don't have any hot cases," he said.

Of the new cases in Maui, two were in Hana and one each in Makawao and Paia. Kauai has one new case each in Hanalei and Princeville. Oahu has five new cases -- two in Laie and one each in Honolulu, Kailua and Kaneohe.

There also are two suspected cases and 262 reports of illnesses, up from 222 last week.

State Health Director Bruce Anderson said the new data were encouraging.

Only about one in eight suspected cases is currently being confirmed positive for dengue, mostly in rural areas, Anderson said.

"There's no reason for people to be complacent, but we're pleased we're not seeing a dramatic increase in the number of (confirmed) cases," Anderson said.

The Health Department has sprayed insecticide on more than 900 sites statewide and passed out about 600,000 brochures. It expects to spend an estimated $1.3 million over six months to deal with the outbreak.

Anderson said the department probably will need to ask state lawmakers for emergency funding in January.

"This is not a situation that's going to go away in a couple of weeks," he said.

"We're going to have to keep at this for months if we expect to get rid of dengue fever in Hawaii."

Hawaii spent more than a decade trying to get rid of its last dengue outbreak in 1943, he said.

Dengue fever is spread by infected mosquitos and is not spread directly from person to person.

Its symptoms include fever, rash, eye pain and headache.

---

Star-Bulletin reporter Gary Kubota
contributed to this report.




Dengue fever public meetings set

The state Department of Health has planned community meetings to discuss dengue fever. The informational meetings, all starting at 6:30 p.m., have been scheduled for:

>> Monday at Castle High School auditorium.
>> Tuesday at Hauula School.
>> Wednesday at Laie Elementary School.
>> Oct. 26 at Hanalei School cafeteria on Kauai.

Health officials also plan to attend various neighborhood board meetings across Oahu over the next couple of months and have scheduled appearances on Hoike, Kauai community television, to inform the public about a major cleanup Oct. 29 in Princeville, Kilauea, Anahola and Kalaheo.

Additional meetings are in the works. For a complete listing, visit www.hawaii.gov/doh/dengue.

Source: State Department of Health




---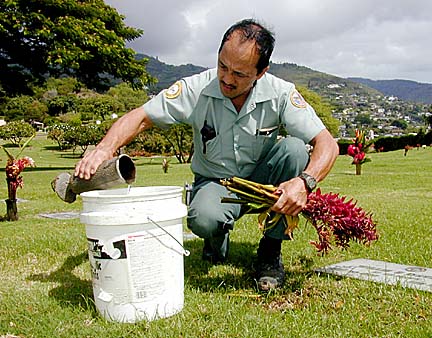 CRAIG T. KOJIMA / CKOJIMA@STARBULLETIN.COM
Joseph G. Flores, a maintenance mechanic, poured out
water from a vase of flowers this week at the National
Memorial Cemetery of the Pacific to discourage
mosquitoes from breeding.
---
Dengue battle invades
cemetery at Punchbowl
every Wednesday

---

By Pat Gee
pgee@starbulletin.com

If you're planning to take flowers up to the National Memorial Cemetery of the Pacific at Punchbowl, don't do it on a Tuesday.

By Wednesday they'll be removed, and you will have wasted your money.

So says Larry Thornton, cemetery foreman, who will oversee the disposal of flowers and the dumping of water from vases once per week that began yesterday to eradicate potential mosquito breeding areas and combat the spread of dengue fever.

Before the new policy went into effect, floral arrangements were allowed to stand at grave sites until they died, which could be as long as three weeks for some gingers, Thornton said.

Standing water is the foremost breeding ground for mosquitoes.

Thornton said he approached about 10 people Tuesday to inform them of the new policy, and all of them were understanding and cooperative. They all took their flowers home and planned to bring them back on Thursday so their flowers will be on display for one week.

"One man was grateful that I caught him in time because he just spent $25 on flowers," Thornton said.

The new floral policy will be tried for a month. Thornton then will assess if flowers can be left to stand for two weeks.

What prompted the cemetery to implement the new regulation was having "so many people calling us, asking what were we going to do about all the mosquitoes" that normally populate the area, Thornton said.

Dengue fever is spread when a mosquito bites an infected person and then other people. As of Wednesday afternoon there were 59 confirmed cases statewide with 49 on Maui, four on Kauai and six on Oahu (one in Honolulu and five on the Windward side).

Besides emptying the vases, the cemetery plans to try a device called "Mosquito Magnet," which costs $1,200.

The device, which is propane powered, attracts mosquitoes with carbon dioxide and then kills them, he said.

"We'll take a chance and see how that works" before spraying, which would be used as the "last resort," he said. Thornton wants to avoid spraying pesticides until absolutely necessary because some visitors could have an allergic reaction.
E-mail to City Desk
---
---
© 2001 Honolulu Star-Bulletin
https://archives.starbulletin.com