CLICK TO SUPPORT OUR SPONSORS

---

---
Thursday, October 18, 2001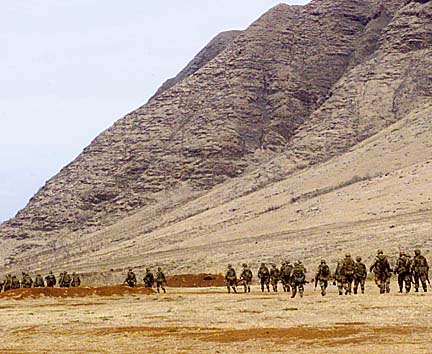 KEN SAKAMOTO / KSAKAMOTO@STARBULLETIN.COM
Army troops returned to Makua Valley yesterday after being
barred from the area for three years because of concerns that
their training was harming the environment and sacred native
Hawaiian sites. Below, inset, soldiers moved through an assault
course yesterday, attacking trenches and pop-up targets.
---



After 3 years of silence, the sound
of live ammo will once again echo
through the disputed valley

---


By Gregg K. Kakesako
gkakesako@starbulletin.com

Capt. Thomas Nelson has had to negotiate the complexities of a live-fire course at least a dozen times during his 16 years of wearing Army greens, many of them as an enlisted soldier.

What will be different when he does it this week, probably Friday at Makua Military Reservation, is that this time he will be in charge.

Nelson, 34, assumed command of Charlie Company three months ago and now has to orchestrate the firepower of 0H-58 Kiowa helicopter gunships, artillery cannons and mortars while at the same time directing the 100 soldiers under his control to attack and seize two objectives.

Charlie Company, which moved into Makua Valley earlier this week to prepare, will be the first in three years to fire weapons in the valley some people believe is sacred.

"The exercise is called a deliberate attack," Thomas said yesterday after accompanying his soldiers over the mile-long course in Makua Valley.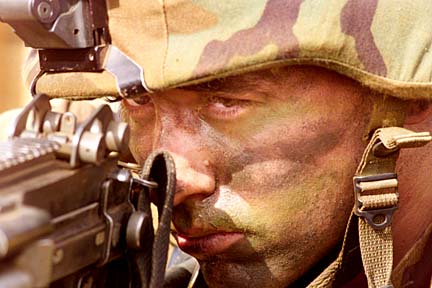 KEN SAKAMOTO / KSAKAMOTO@STARBULLETIN.COM
A soldier prepared to move through an assault course
yesterday at Makua Valley.
---
The early-morning exercise was supposed to have been one of the many prerequisites that had to be accomplished before the final training mission -- an exercise in which live bullets and mortar and artillery rounds are used -- could be done.

However, under strict environmental controls stemming from a 1998 lawsuit, yesterday's exercise, even though it involved only blank ammunition, had to be postponed until today because the dry, windy conditions were considered a fire hazard.

"Clearly, our soldiers on the ground want to fire their weapons," said Col. Andrew Twomey, 2nd Brigade commander. "But we will have to delay and re-cock."

Twomey's brigade is considered the 25th Infantry Division "ready force," meaning the Army expects these soldiers to keep a bag packed and an M-16 cocked and loaded so they can be sent into combat at a moment's notice.

Despite yesterday's delay, Twomey said he knows his mission -- not only to train the soldiers in his 1,500-member brigade, but also his "legal and moral obligation to protect the valley."

The Army has not been able to fire any of its weapons in the 456-acre training area because of a 1998 lawsuit filed by Malama Makua, whose members believe the area is sacred and should be returned to the state.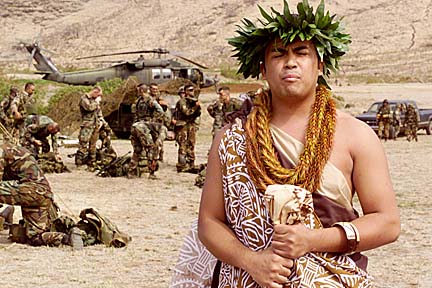 KEN SAKAMOTO / KSAKAMOTO@STARBULLETIN.COM
Aka Oclinaria chanted a prayer yesterday at Makua
Valley. He described it as "sharing the aloha" on the
grounds at the Army's Makua Military Reservation.
---
Under an Oct. 4 settlement brokered between Earthjustice Legal Defense Fund and the Army, the Army is allowed to train in the valley as long as it completes an environmental impact statement within three years. In return, Malama Makua was granted limited visitation privileges each month and will be allowed to have its members observe what the Army does in the valley.

The Sept. 11 terrorist attacks prompted both sides to settle quickly.

Charlie Company has either strung 5,000 feet of concertina wire around areas of archeological significance or marked them with red triangular flags labeled "mines." The use of these flags is also intended to teach soldiers the markers used universally to designate minefields.

Soldiers at yesterday's rehearsal said they had no problems recognizing the barriers and avoiding the sensitive areas. None of the sites that have historical significance are in the line of fire of any rifles, artillery cannons and mortars that will be used this week.

Twomey's 2nd Brigade is composed of three battalions, one of which was at Makua Valley yesterday preparing to tackle the live-fire course.

Lt. Col. Bill Buckner, 1st Battalion commander, said the training that Charlie Company will receive is invaluable because it is the closest thing to actual combat. He was referring to the sights and sounds of the battlefield with helicopters flying overhead, cannons and mortars going off in the distance and live bullets being fired by the soldiers.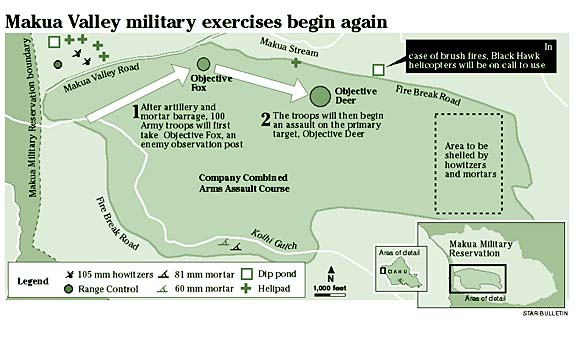 "It's hard to replicate in any other way what the soldiers will experience," Buckner said. "You can't replicate this. This allows us to put all of our assets together."

Only two of Twomey's nine companies and their commanders have had this type of training.

Before Nelson's company move up the narrow gorge, OH-58 Kiowa Warrior helicopter gunships will make a "gun run" up the valley, firing their .50-caliber machine guns to simulate suppression fire designed to keep the enemy from firing on the attacking soldiers. Part of that suppression fire includes two 105 mm howitzers on one side of the valley and three mortars, two 81 mm and one 60 mm, on the other side of the valley.

These cannons and mortars will be firing over the heads of the soldiers as they move up the valley and landing in the impact area nearly a mile above the trench system.

Charlie Company's final assault will be to breach a concertina wire obstacle protecting a nearly 500-foot trench system complete with pop-up targets outfitted in green Soviet bloc uniforms.

Staff Sgt. Christopher Rice, a squad leader in Charlie Company, ran Makua's live-fire course in 1995 when it was first built.

"I understand both sides," said Rice, who served with the 82nd Airborne Division in 1999 and ended up doing triage and peacekeeping duties in Bosnia. "It was pretty rough then. There was a lot of bombing, a lot injuries from mines. We ended doing a lot of triages because of that."

Under the terms of the agreement, the Army can conduct 16 company-size live-fire exercises over the next year, followed by nine the following year and 12 the year after that.
E-mail to City Desk
---
---
© 2001 Honolulu Star-Bulletin
https://archives.starbulletin.com