CLICK TO SUPPORT OUR SPONSORS

---

---
Wednesday, October 10, 2001


[ STUFFS ]
---
[MORSELS]

Taste at Kapolei pleases palate

The Rotarians are storming the beach at Ko Olina Oct. 20 for their second Taste at Kapolei.

The benefit for Leeward Oahu schools, from elementary to Leeward Community College, is an all-you-can-eat affair featuring restaurants such as Chai's Island Bistro, Compadres Bar & Grill, Diamond Head Grill, Indigo Eurasian Cuisine, Mariposa at Neiman Marcus, Outback Steakhouse, Sansei Seafood Restaurant & Sushi Bar and Sam Choy's Breakfast, Lunch and Crab.

The fireboat Abner T. Longley will provide $5 rides to benefit the Children at Risk Evaluation Program. A Kid's Zone will offer games and activities, as well as kids' foods.

The event runs 5:30 to 9 p.m. at Ko Olina's fourth lagoon. Cost is $50 in advance; $60 at the door. Children's tickets are $20. Call 693-1638.

If Ko Olina is just a little too far from your house, the adjoining Ihilani Resort & Spa is offering a $194 room, which includes breakfast for two the next day. Call 679-0079 and specify the Taste at Kapolei package.

Special events

It's Not Your Fault: Ruth's Chris Steakhouse hosts a luncheon benefit for the Sex Abuse Treatment Center, 11:30 to 1:30 p.m. Oct. 17. Cost is $40, with proceeds to fund the center's 24-hour care programs for victims. Call 535-7613.

Gaelic Gala: Celebrate St. Patrick's Day in October at a benefit for CSI Inc., 5:30 to 9 p.m. Oct. 17 at Murphy's Bar and Grill. Tickets are $35, and benefit CSI's programs for the elderly and disabled. Call 538-0353.

The Fine Art of Cooking with Herbs and Spices: Kusuma Cooray, chef instructor at Kapiolani Community College, leads a cooking class, part of the Queen's Heart Institute's Healthy Heart series, 6:30 p.m. Friday, in the Ohi'a Building at KCC. Cost is $20, or $5 for those who have purchased the Queen's Healing Heart Coupon Book. The cost includes a tasting of the dishes prepared. Call 547-4466.

Hawaii International Food and Cultural Festival: The ethnic food fair originally planned for last weekend has been rescheduled for Nov. 3. Sponsors and food and craft vendors are needed. The Honolulu Chinese and Filipino Jaycees and the Japanese and Korean junior chambers of commerce are sponsoring the event as a benefit for the Institute for Human Services. Call 949-2255.

---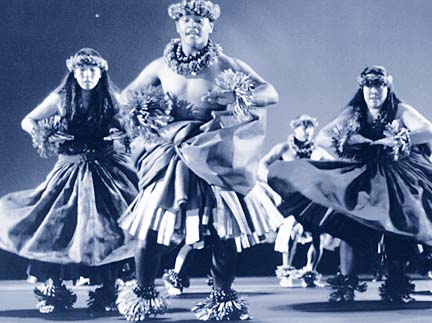 CARL HEFNER / COURTESY OF HAWAII PUBLIC TELEVISION
Halau o Kekuhi performs in "Great Performances:
Dance in America" airing at 8 p.m. today. It
repeats at 8 p.m. Oct. 20.
---
Saga of Pele told in dance

---


Star-Bulletin Staff

Hawaii audiences can savor the mythic tale of love, betrayal and revenge when "Dance in America" presents the Halau o Kekuhi dance company production, "Holo Mai Pele" (Pele Travels) at 8 p.m. today on KHET.

The work is based on an age-old body of chants passed down through generations and traces the lineage of the Hawaiian people, illuminating their powerful relationships to the land.

Hawaiian dance and chant masters, Pualani Kanaka'ole Kanahele and Nalani Kanaka'ole present a combination of chant, hula and innovative elements of Western theatre.

Pualani, along with her sister, Nalani, runs Halau o Kekuhi, a hula school dating back at least seven generations.

"Holo Mai Pele" tells the epic saga of Pele, goddess of the volcano, and her sister. It is a myth of the volcanic nature of the Hawaiian Islands. After Pele erupts and new land is formed, Hi'iaka heals the land with new vegetation. Both are necessary in the cycle of destruction and regeneration that gives life to the islands.






Click for online
calendars and events.





---





Send WatDat? questions, stories
or any other story ideas or comments to:
Features, Honolulu Star-Bulletin, P.O. Box 3080,
Honolulu, HI 96802 or send a fax to 523-8509
or E-mail to features@starbulletin.com.
Please include your phone number.
E-mail to Features Editor
---
---
© 2001 Honolulu Star-Bulletin
https://archives.starbulletin.com