CLICK TO SUPPORT OUR SPONSORS

---

---
Monday, October 8, 2001




[HAWAII GOLF]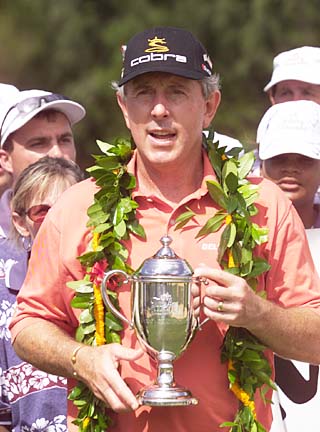 GEORGE F. LEE / GLEE@STARBULLETIN.COM
Hale Irwin notched his sixth win in Hawaii
yesterday at the Turtle Bay Championship.
---
Irwin holds off
Jacobs for win
at Turtle Bay


His third Senior Tour win of
the year is his 32nd overall

Jacobs went after win

---

By Paul Arnett
parnett@starbulletin.com

Hale Irwin has won so many times in the island chain, he literally lost count when reflecting on the matter in a national TV interview following yesterday's victory at the $1.5 million Turtle Bay Championship.

He told CNBC-TV commentator Mark Rohlfing that this was his fifth victory in the island chain when it's actually his sixth. He has won four PGA Tour and Senior PGA Tour tournaments, and two Skins events on several different courses and islands.

"I'm not sure why I have so much success here," Irwin said. "Maybe it's because we've spent a lot of time here on Maui as a family and I'm used to the conditions."

He looked right at home yesterday on the wind-swept Arnold Palmer course, fighting off a late charge by John Jacobs on the back side to secure the three-shot victory.

It was the 32nd Senior PGA Tour title for Irwin and marked the sixth consecutive year he has captured at least three official events. He and Bob Charles are the only golfers to win this tournament (previously the Kaanapali Classic) three times and successfully defend it as well.

"My year has been a little frustrating at times," Irwin said. "Especially how I've performed in crucial situations. But I was patient this week and it paid off."

Jacobs moved to within one shot on the back side, but it was his bogey on the ninth that he and Irwin believed was the turning point. Irwin sticking a pitching wedge for a 3-foot birdie on the 17th also was huge.

"You can't win if you make mental errors, especially against somebody like Hale," Jacobs said. "He's all business out there. No small talk, no jokes. He wants to win and that's what he sets his mind to do."

Irwin moved into third place on the Charles Schwab Cup list behind Allen Doyle and Bruce Fleisher, who opted to skip this tournament to rest for the final three events.

Doyle overcame a so-so 73 on Friday to shoot 69 and 68 the final two rounds to finish in a tie for third with a three-day total of 210. Joining him five shots behind Irwin was first-day leader Terry Mauney. Both pocketed $99,000.

Doyle picked up 99 Schwab Cup points to give him 2,332 for the season. He leads Fleisher by 258 points. Irwin is a distant third, but could conceivably give chase if he wins one of the three final events, including the Senior Tour Championship. The winner of the Schwab Cup pockets $1 million.

"Allen has had a great year," Irwin said. "He came back this week and played really well. But if I can get another win, who knows? It was tough out there because of the war in Afganistan. It put a damper on things. My thoughts were on what was happening over there."

Local golfers Larry Stubblefield and Lance Suzuki had their minds on playing well here this week. Stubblefield shot a 77 yesterday to finish in a tie for 56th. He made $2,275 for his efforts. Suzuki managed a 79 to finish 74th in the field of 77. He made $990.

---

Jacobs went after win

---

By Grady Timmons
Special to the Star-Bulletin

You gotta love John Jacobs. He stands 6-foot-3 with silver hair that flies out from under his golf cap. There's always a cigar clenched between his teeth and a witticism on his lips. He's all about having fun, but he's also all about winning. He proved that yesterday.

The burly Senior PGA Tour veteran trailed Hale Irwin by two shots heading into the par-5 final hole of the $1.5 million Turtle Bay Championship. He needed an eagle to have any chance of forcing a playoff.

After driving safely down the fairway, he was faced with a 260-yard second shot across water and there was mud all over his ball.

Jacob never flinched. In fact, he said he "never" considered laying up. Instead, he reached for the lumber and launched a high, arching shot that just cleared the drink, the ball stopping on the front portion of the green.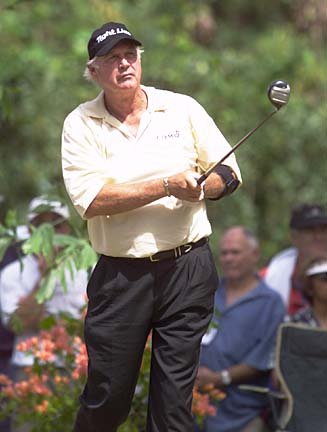 GEORGE F. LEE / GLEE@STARBULLETIN.COM
After this drive on the 18th, John Jacobs went for the
par-5 green in two but three-putted and finished in second.
---
Later, he was asked to describe the pressure he felt at that moment.

"Well, you check to see if you're wearing your diapers," Jacobs said. "In a situation like that, it gets pretty wet down in your lower garden."

Although Jacobs failed to win the tournament -- he three-putted for par while Irwin made birdie -- he had no regrets about his decision to go for the green.

"I wanted to win," he said.

Jacobs was able to take consolation in a 208 stroke second-place finish worth $132,000. Not only was it his best showing this year, but it put him over the $5 million mark in career earnings for the PGA and Senior PGA tours. More important, it vaulted him from 31st to 23rd on the 2001 money list and assured him of a spot in the season-ending Senior Tour Championship.

Jacobs began the final round trailing Irwin by two shots and was down by as many as four in the early going. But by the time he reached the par-5 ninth tee, he had cut that margin to one, thanks to a pair of birdies and a rare Irwin three-putt.

"I thought the wind was blowing from right to left at nine," Jacobs said. "I hit a good drive, but it sailed right and just stayed there."

The ball ended up in the marsh and Jacobs made bogey, while Irwin came away with a birdie and a three-shot lead.

"The ninth was huge," Irwin said. "John had the momentum and it flipped completely. From that point on, it was my tournament to win or lose."

Jacobs was able to cut the lead to one again with birdies on 12 and 14, but two other birdie putts from within 15 feet got away from him on the back nine and that was as close as he would come.

When Irwin stiffed a wedge to within three feet for a birdie and a two-shot lead at 17, the tournament was all but over.

"Hale's birdie at the 17th kind of took the fun out of it," Jacobs said. "After that, it was bye-bye J.J."

But not before he took one final go at the par-5 18th.

He still wanted to win.
E-mail to Sports Editor
---
---
© 2001 Honolulu Star-Bulletin
https://archives.starbulletin.com