CLICK TO SUPPORT OUR SPONSORS

---

---
Monday, October 8, 2001


[ STUFFS ]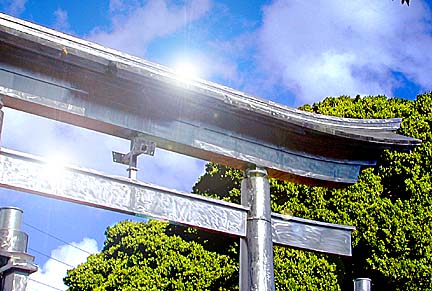 BURL BURLINGAME / BBURLINGAME@STARBULLETIN.COM
This gleaming metal torii, or Japanese gate, awaits a
coat of paint. The gate is a gift from the people
of Hiroshima.
---
Metal structure in
Moili'ili is not just
another street sign

WAT DAT?

---


The torii gate is a "signature edifice" largely identified with Japan, an icon and portal through which one departs the physical world for the spiritual. One of the most famous is on the tidal flats of Miyajima Island, beckoning toward the historic Buddhist temples at Itsukushima Shrine, near Hiroshima.

The Miyajima torii is a classic piece of decorative architecture, striking in its harmonious grace. Its wood, dates back centuries, and is painted a brilliant vermillion color. Folks -- including my own parents in 1945 -- troupe out across the sands to see it at low tide, and at high tide it seems to float weightless atop the water.

But what's this -- a space-age Miyajima torii come to Honolulu?

Going up in the triangle park at the intersection of King, Beretania and University, in front of Star Market, is this gleaming metal reproduction of the Hiroshima gate. It seems to have landed from Mars.

It isn't done yet, so don't worry. It's still being bolted together. A gift from the people of Hiroshima to the city of Honolulu, it'll be painted red or vermillion when it's done, and the center section will have an insignia of some sort attached.

By that point we'll have to decide whether the spiritual passage is on the Star Market or Cheapo Music side.

Burl Burlingame




---

Curious about something you've seen or heard? Write "Wat Dat?" 7 Waterfront Plaza, Suite 210, Honolulu 96813; or e-mail watdat@starbulletin.com






Click for online
calendars and events.





---





Send WatDat? questions, stories
or any other story ideas or comments to:
Features, Honolulu Star-Bulletin, P.O. Box 3080,
Honolulu, HI 96802 or send a fax to 523-8509
or E-mail to features@starbulletin.com.
Please include your phone number.
E-mail to Features Editor
---
---
© 2001 Honolulu Star-Bulletin
https://archives.starbulletin.com