CLICK TO SUPPORT OUR SPONSORS

---

---
Monday, October 8, 2001
[HAWAII'S SCHOOLS / PEARL CITY]
---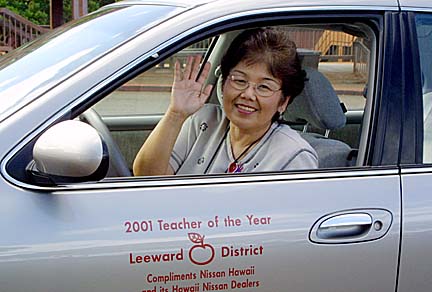 BENJAMIN HUR
Kathleen Tanaka, shown driving a car donated to her
for the year, has taught almost every social studies
course, from U.S. history to psychology.
---
District's Teacher
of the Year nurtures
student citizens

---


By Benjamin Hur
Messenger

Pearl City High School boasts a large staff of dedicated teachers. However, one teacher currently stands above the rest. This exceptional teacher is Kathleen Tanaka.

During the 2000-2001 school year, she was chosen as the Leeward District's Teacher of the Year. A social studies teacher, Tanaka has taught almost every social studies course, from U.S. history to psychology.

One of the reasons for the award was her implementation of Project Citizen, a home-based program that develops student citizenship. Tanaka and her class developed a nationally recognized presentation focusing on reducing violence and bullying on campus.

The program's success prompted Tanaka's selection as a national facilitator at the Project Citizen Conference in Indianapolis. There it was announced that Pearl City High's entry won second place overall in the nation.

Tanaka began her teaching career in 1971 at Wheeler Intermediate. She moved to Leilehua High School and then found her home at Pearl City in 1987.

Tanaka still works in the trenches with her students. How many minds can one teacher mold? The answer won't be known until Kathleen Tanaka retires. Look no further than the Pearl City High School campus for an exceptional teacher who has all the experience and skills necessary to make an impression on the future generation.





Click for online
calendars and events.
E-mail to Features Editor
---
---
© 2001 Honolulu Star-Bulletin
https://archives.starbulletin.com