CLICK TO SUPPORT OUR SPONSORS

---

---
Friday, October 5, 2001




[ NBA HAWAII ]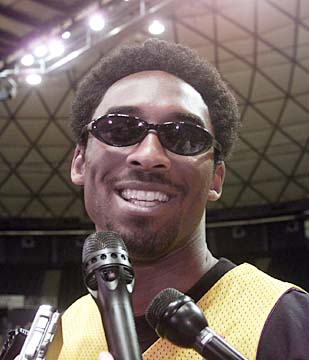 KEN SAKAMOTO / KSAKAMOTO@STARBULLETIN.COM
Kobe Bryant of the two-time world champion Los Angeles
Lakers arrived with his teammates at training camp yesterday
amidst the bright lights of the Stan Sheriff Center.
---
Kobe's in the house

---

By Grace Wen
gwen@starbulltin.com

With all the unusual circumstances at the Los Angeles Lakers' fall training camp this week, perhaps there was just a sense of relief when star guard Kobe Bryant joined the team yesterday afternoon at the Stan Sheriff Center.

Bryant arrived in Honolulu after attending the funeral of his maternal grandfather, John Cox, in Philadelphia. No one was more collected than the 23-year-old, who casually strode onto the court and practiced with the team for the first time since the Lakers opened camp Saturday.

"Once I step on the basketball court, I just pretty much try to forget everything else and focus on playing," Bryant said. "Yesterday, I had the chance to gather my thoughts and put things in perspective and now it's time to go back to work."

Bryant said that Cox influenced him at a young age by sending tapes of NBA games to Bryant in Italy, where his father was playing professionally.

"My grandfather was the type to live everyday like his last," Bryant said. "If he had a bad day, you could never, ever tell. He worked extremely hard.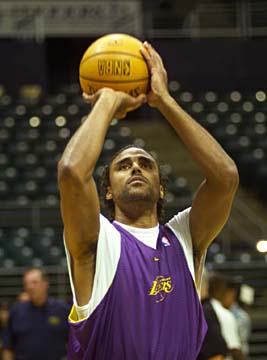 KEN SAKAMOTO / KSAKAMOTO@STARBULLETIN.COM
The Lakers' Rick Fox worked on his shooting
during practice in Honolulu yesterday.
---
"Sometimes you really don't realize the effect a person has on you until they're gone. And that's a shame, but you just kind of have to learn. If he knew I was sulking, he'd probably slap me on the head."

Bryant won't have any time to sulk. He ran last week to try to stay in shape, but he said that he would definitely need camp.

"I have to get my legs back into condition to play a professional game," Bryant said. "Strength(wise), I feel fine, I've been lifting all summer long. I've been really relaxing my knees."

It has been an unusual training camp for the Lakers, who are minus Shaquille O'Neal (toe surgery), Derek Fisher (foot injury), Mark Madsen (wrist injury) and coach Phil Jackson, who returned to the mainland after his mother passed away Tuesday.

O'Neal, however, wasn't too worried about Bryant.

"It's hard to come here, especially when you're close to the person," O'Neal said. "He'll be okay."

Bryant is trying to acclimate himself and the other newly acquired players to a system that is missing its teacher.

"I think it's important to try to find a rhythm," Bryant said. "We have a lot of new guys. It's important that they become familiar with what we're trying to do here."

Added forward Rick Fox: "Preseason is shaky enough time as it is. I'm glad that these games only count as preseason."

The Lakers play the Golden State Warriors in two exhibition matches Sunday at 4:30 p.m. and Tuesday at 6 p.m.

Spectators will not be allowed to bring bags of any sort into the arena.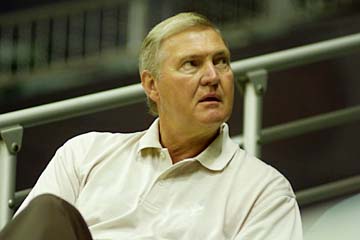 KEN SAKAMOTO / KSAKAMOTO@STARBULLETIN.COM
Former Los Angeles general manager Jerry West attended
yesterday's practice at the Stan Sheriff Center.
---
Note:

Former general manager Jerry West was in the stands observing practice. West retired at the end of last year's championship season.
E-mail to Sports Editor
---
---
© 2001 Honolulu Star-Bulletin
https://archives.starbulletin.com