CLICK TO SUPPORT OUR SPONSORS

---

---
Friday, October 5, 2001




[DIVISION II REPORT]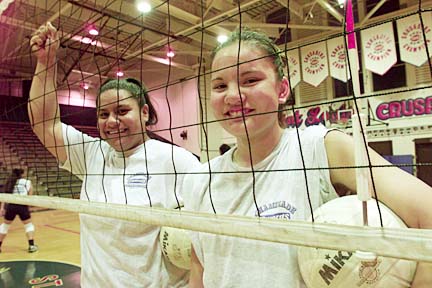 GEORGE F. LEE / GLEE@STARBULLETIN.COM
Chaminade's Valasi Sepulona, left, and Janeen Waialae have
provided a one-two punch in just their first season
with the Silverswords.
---



Chaminade's freshman stars
have helped propel
the Silverswords

---

By Brandon Lee
blee@starbulletin.com

TO SAY THAT Valasi Sepulona and Janeen Waialae are not typical freshmen would be putting it mildly.

The two are indeed in their first year with the Chaminade women's volleyball team, and neither is the deer-in-the-headlights variety rookie.

In barely over one month's time, both are starters and have already played significant roles for a team that barely scratched by with one winning season in the last three years.

But that's only the beginning of their stories.

Sepulona is a 23-year-old outside hitter and hadn't played volleyball for five years after a standout high school career. Waialae is 17 and, at setter, playing what most consider the toughest position on the floor.

As two of only three freshman for the veteran-laden Silverswords, they are already considered leaders by coach Glennie Adams.

"Janeen is our floor leader, she's running the show," Adams said. "And Valasi is the glue that holds it all together."

As a 1996 graduate of Farrington High School, the 5-foot-8 Sepulona was named Oahu Interscholastic Association East Player of the Year after her final season with the Govs. She attended South Mountain Junior College in Arizona the following fall, but came home that same year without playing because she was homesick and wanted to be near her mother, who had suffered a stroke.

When her mother's health improved, Sepulona began to attend local Division II volleyball games. In fact, she did nothing but watch from 1997 through 2000, but the desire to get a college degree and play again eventually got the better of her.

Sepulona decided on Chaminade because her sister Tanya Fuamatu played for Adams and is now the Silverswords' assistant coach.

"Five years out of the game," said Sepulona, whose understated nature off the court contrasts sharply with her fiery demeanor and raw power on it. "Going and watching made me want to play again. I realized I could still do this."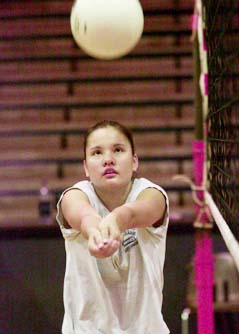 GEORGE F. LEE / GLEE@STARBULLETIN.COM
Chaminade setter Janeen Waialae, a University High School
graduate, averages 10.04 assists a game.
---
Waialae is the 5-8, cherub-faced teenager who is bubbly in casual conversation, but calm and collected when playing. Just a few months removed from University High School, she's the one responsible for running a college-level offense right out of the chute.

After playing both setter and outside hitter for the Junior 'Bows last year, Waialae received first-team all-Interscholastic League of Honolulu and honorable mention all-state honors. Waialae decided on Chaminade because she liked the girls on the team when she visited on a recruiting trip and wanted to play in front of her family, though she had no idea that opportunity would come so soon.

"Actually, I kind of came in hoping to do my best, hoping to fit in with the team," Waialae said. "I wasn't too sure where I would be (on the court). But I enjoy playing setter. There is a lot of the mental game in there."

The addition of Sepulona and Waialae to the rest of this year's Silverswords has so far been a resounding success. The statistics are there, with Sepulona among the Pacific West Conference leaders in per-game kills (3.28), digs (3.07) and service aces (0.41), while Waialae averages double-figures (10.04) in assists.

The two played big roles in securing the team's first victories over Brigham Young-Hawaii in 16 years with a two-match sweep two weeks ago. Sepulona was named PacWest Player of the Week for the first time the following week.

Then last Friday, the pair helped the Silverswords give defending national champion and top-ranked Hawaii Pacific -- which has not lost since the start of last season -- all it could handle before eventually falling in five games.

Chaminade (5-7, 2-2) is in a statistical tie for second place in the six-team PacWest.

"I think we can compete with anybody," Waialae said. "Everybody is so supportive of each other and our success comes from everyone."

Chaminade faces BYUH for the third time tomorrow night at 7:30 at Laie.

Said Sepulona: "I feel we're a good team. I know we can win the PacWest championship, anybody can win it this year."

Freshmen? Yes. Confident and expecting to win right away? Yes, again.

---



E-mail to Sports Editor
---
---
© 2001 Honolulu Star-Bulletin
https://archives.starbulletin.com