CLICK TO SUPPORT OUR SPONSORS

---

---




Newswatch
Police, Fire, Courts
By Star-Bulletin Staff
Friday, October 5, 2001
---
Recruit-age visitors can see Mo for free

Visitors between the ages of 17 through 34 will be allowed to visit the battleship Missouri for free tomorrow from 9 a.m. to 3 p.m.

Recruiters from all of the military services will be available to answer questions and even sign up individuals.

Access to Ford Island where the battleship is berthed is available by trolley from the USS Bowfin Submarine Museum near the USS Arizona Memorial Visitor Center.

Mokapu Gate at Marine base to close till Tuesday

The Mokapu Gate to Marine Corps Base Hawaii at Kaneohe Bay will be closed from 10 tonight until 5:30 a.m. Tuesday in observance of Columbus Day, which is Monday.

Access to the base will be through the H-3 gate during the holiday weekend.

Trust fund established for son of WTC victim

A trust fund has been set up for the toddler son of Richard Y.C. Lee, a Punahou School graduate who died in the Sept. 11 attack on the World Trade Center.

The fund will be used for the boy's education.

Lee, a managing director of equities at Cantor Fitzgerald/e-speed, was on the 104th floor at the time of the attack.

His wife, Karen, has described him as "utterly devoted to family and friends" and especially to his 22-month-old son, Zachary.

Richard Lee hung hundreds of photos of Zachary in his office and looked forward to reading and spending time with him, Karen said.

"For those who knew him, the enormity of his loss is unbearable," she said. "But they know his spirit lives on through the tremendous impact he had on others."

Donations to the Zachary Lee Trust may be sent to Salomon Smith Barney, 1099 Alakea St., 23rd Floor, Honolulu, HI 96813.

A memorial service for Lee will be held 4 p.m. Sunday at Punahou School's Thurston Memorial Chapel.

The service is open to the public, with family visitation starting at 3 p.m.

UH architecture school accredited

The University of Hawaii at Manoa School of Architecture has been granted six-year accreditation for its professional programs by the National Architectural Accrediting Board.

The school's bachelor's, master's and doctoral programs were recognized for strengths including a location that provides access to specific and diverse cultures and environments, diversity within the school, a new seven-year program that includes international experience, possibilities for practical experience with major firms, leadership, engaging physical facilities and three research centers.

Soldier gets 6 years' prison for child porn

A Schofield Barracks staff sergeant was sentenced yesterday to six years in prison for producing child pornography on base. Military officials said Dane Rassmussen pleaded guilty to two counts of oral sodomy with a minor, three counts of indecent acts and one count of indecent liberties.

According to an Army spokeswoman, Rassmussen's offenses all took place at Schofield Barracks between February and May 2001. Rassumssen, a 12-year veteran of the Army, has been stationed in Hawaii for one year.

Public affairs officer Capt. Stacy Bathrick said besides the teenage female in this case, there were no other victims involved.

"This is an isolated case," said Bathrick. "We ensure that the soldier received a fair trial and all military procedures were complied with."

Corrections and clarifications

>> Dr. Kenneth Gardiner deals only with clinical services provided at the state Diamond Head Family Guidance Center. A story yesterday said incorrectly that he examines billings for these services and misidentified him as a clinical psychologist.

>> A meeting in the bankruptcy case of Trans Hawaiian Services Inc. has been scheduled for Oct. 16. A story in Hawaii Inc. yesterday incorrectly said the meeting would be next week.

>> Under the federal COBRA law, in companies with at least 20 employees, terminated workers and others who lose benefits due to reduced work hours may be eligible to buy group health insurance for up to 18 months. A story Sunday incorrectly said the benefit is for employees of companies with fewer than 20 workers.

>> The University of Hawaii Institute for Astronomy will hold an open house from 10 a.m. to 4 p.m. Saturday at its Manoa headquarters, 2680 Woodlawn Drive. The date was incorrect in a story Sunday.




Corrections and clarifications

The Honolulu Star-Bulletin strives to make its news report fair and accurate. If you have a question or comment about news coverage, call Managing Editor Frank Bridgewater at 529-4791 or email him at fbridgewater@starbulletin.com.








---




Police, Fire, Courts



By Star-Bulletin staff



---








HONOLULU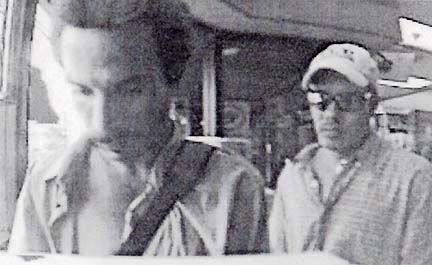 CRIMESTOPPERS
The suspects above were caught by a Waikiki ATM
camera as they used an ATM card stolen at
the Arizona Memorial.
---
Suspects caught on video using a stolen ATM card

ATM security cameras in Waikiki have given Honolulu police a clear view of two Arizona Memorial thieves. Police said the two men were caught trying to use a stolen ATM card that was taken during a break-in at the memorial parking lot.

The break-in occurred Sept. 30 at about 9:30 a.m. and was caught by parking lot surveillance cameras.

The cameras show two men loading stolen items into a truck, driven by a third suspect.

An hour later, an attempt to use a stolen ATM card was made, police said.

One suspect is a male in his early 30s, with a slim build, tan complexion and mustache, police said.

The second suspect also is a male in his early 30s, with a mustache and tax complexion, but with a muscular build. He was also seen wearing a baseball cap bearing the letters "SLU."

Police said the driver of the suspect vehicle was a large male wearing a red baseball cap, blue shirt and Hawaiian-print shorts.

The suspect vehicle is described as a dark-colored minitruck, possibly a Mazda or Toyota make.

A partial description of the license plate number is 854.

Arizona Memorial officials want to remind visitors that because of the Sept. 11 attacks, heightened security at the memorial means no bags or packs are allowed inside.

Instead of leaving valuables in the car, however, park officials ask that people leave valuables in their hotel rooms or at home.

Navy officials say despite more valuables being left in cars at the memorial, break-ins have not gone up and remain at an average of two to three a month.

Anyone with any information about this case is asked to call investigator Al Francisco directly at 473-3538. Anonymous calls can be made to CrimeStoppers at 955-8300 or *CRIME on a cellular phone.

Salt Lake man charged under age-of-consent law

Honolulu police have arrested and charged a 20-year-old Salt Lake man under the new age-of-consent law.

Benjamin Swift was charged with sex assault after police said he had sexual relations with a 12-year-old girl.

Police said the victim went out with Swift several times and engaged in sexual intercourse with him.

Swift is being held in lieu of $50,000 bail.

LEEWARD OAHU

HPD dispatchers arrested for felony gambling

Two Honolulu Police Department dispatchers have been reassigned to clerical duties in a different division within the department following their arrest last week for allegedly running a casino-type gambling operation in one of their homes, a police spokeswoman said.

The two, a 38-year-old man and a 35-year-old woman, were arrested for felony gambling and possession of gambling devices then released pending further investigation. Two other men and a woman were also arrested and released.

HPD vice officers seized slot machines, a dice table and some cash in a Pearl City home.




E-mail to City Desk
---
---
© 2001 Honolulu Star-Bulletin
https://archives.starbulletin.com