CLICK TO SUPPORT OUR SPONSORS

---

---
Friday, October 5, 2001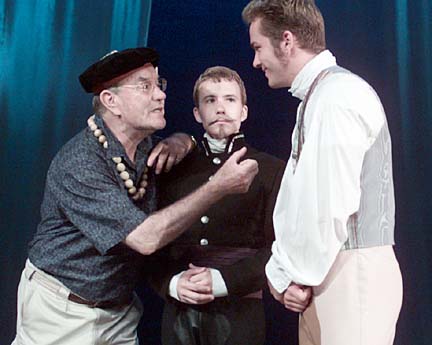 GEORGE F. LEE / GLEE@STARBULLETIN.COM
Terence Knapp, left, on the set of the University of Hawai'i
production of Shakespeare's "Much Ado About Nothing"
directs Jeremy Pippin, center, and Scot Davis.
---
Knapp makes much of
his time at Kennedy

---

By Burl Burlingame
bburlingame@starbulletin.com

Is this really the end of Terence? After all, the other edifices at the University of Hawaii are crumbling. Why not professor Terence Knapp, Manoa's Mister Chips, whose skill at teaching fine acting has kept Shakespeare alive, lo, these many years. His own acting has also provided Hawaii with a personal best. He was a thespian before thespians were cool.

Knapp has announced he's retiring, going out with a Shakespearean bang, directing "Much Ado About Nothing," the title of which is sly, given the circumstances. Is he running off? He's only 70, travels madly, and lived the first half of his life out of a suitcase. Is he settling down? He's made his home in Hawaii since 1963. Going back into his first love, anesthesiology? (More on that later.)

And the answer is ...

He's not sure.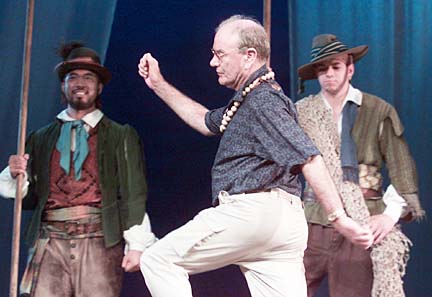 GEORGE F. LEE / GLEE@STARBULLETIN.COM
---
"Oh, I'll gently slide down and out. I'll take stock. Hawaii is now my home, my home base, a most pleasant place to be," mused Knapp in the Kennedy Theatre office he's had for nearly 40 years. (He responds to intrusive door knocks with a lusty "Bugger off!")

The books and actorly knickknacks are held up with cinder blocks and boards. We're talking notes of appreciation from Laurence Olivier, a limited-edition statue of Father Damien, that kind of stuff.

"The door is opened of my own accord. Time to shake off the dust of half a century. I'm covered with it. I'll try not to get too annoyed with myself for letting go. I imagine I'll go on teaching on an emeritus basis, though -- I have great difficulty cutting the threads. I have flourished here as a professor, as Manoa's chosen man-of-the-theater.




'Much Ado About Nothing'

Where: Kennedy Theatre

When: 8 p.m. today, tomorrow, Thursday and Oct. 13; and 2 p.m. Oct. 14

Tickets: $12; $9 seniors, military, UH staff; $7 non-UH students; $4 UH students with fall ID

Call: 956-7655




"Hawaii has been such a wonderful place, lots of opportunities I'd never have had elsewhere. And I'll be at leisure to travel. Europe is a very long way away, as is my beloved native country."

Knapp gave a theatrical emotional sniff. Ah, Ireland. As a lad in Dublin, Knapp's mother and friends were in the wig-making trade and received free passes to Irish theater, then in full bloom as the country became independent from England. He was captivated by the "great Irish works, and my mother gave me a love of words and imagery."

War broke out, and Knapp was sent off to public school with a scholarship. As the war wound down, a traditional Shakespeare production was revived on the all-boys' campus, and Knapp -- he's not sure how -- was cast as Lady Macbeth.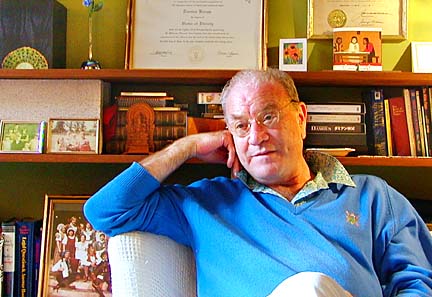 BURL BURLINGAME / BBURLINGAME@STARBULLETIN.COM
Terrence Knapp relaxes in his office of nearly 40 years.
Top: Knapp directs the nightwatchmen in use of a comic
step in "Much Ado About Nothing."
---
But he is sure of one thing: "Apparently, I was" -- arms spread wide in remembered glory -- "WONDERFUL! Ah! The school noticed and wrangled an introduction and a scholarship to the Royal Academy of Dramatic Arts. And there I was! My career chosen!"

Not quite. He left the RADA for his stint in military service, becoming an anesthesiologist with a Royal Air Force operating-theater team in occupied Europe.

"Oh, I quite liked the service. If I had my life to do over, I'd be tempted to make it a career. Loved it: the conviviality between peers, the tremendous spread of people from all over the empire. I still recall the gorgeous, hearty, musical accent of a boy from the Hebrides. I was the top recruit in the squadron! I was still performing, for God's sake! (Everyone performs; only I KNOW I am!)"

Hitch over, Knapp returned to acting school and became one of that broody, late-'50s new wave of English actors -- Oliver Reed, Peter O'Toole, Alan Bates, Albert Finney, Susannah York, Judy Geeson -- who were in demand to fill hours of live programming in the new medium of television.

"I was at a small theater in Mersey, just beginning to revive after the war -- Brian Epstein was always hanging around the theater, trying to decide if he wanted to be an actor or the Beatles' manager -- when Olivier tapped some of us to work in a new theater in Chichester. Little did we know it was a tryout for a national theater. Peter O'Toole as Hamlet! Lawrence Olivier as Othello! Legendary performances!"

The troupe was so well received that they went on tour: Russia, West Africa, Southeast Asia, Manila (Imelda was their patron). From there, Knapp made his way to Japan and immersed himself in Japanese theater, becoming pals with Tsutomu Yamazaki, Japan's Spencer Tracy. The Japanese were enchanted with this erudite yet working-class Irish actor. There, he came to the attention of the University of Hawaii, whose new Kennedy Theatre was to bridge Asian and Euro-American dramatic styles.

"And so," Knapp summarizes, "in order to redress the balance between East and West, I was brought aboard to give the Western classics a kick up the ass."

Within months, Knapp was placed on a tenure track. And so he stayed. Since Knapp started, UH has staged 17 Shakespeares.

What's different?

"When I started, the war was going on, and the drama department was full of men. That's unusual. Generally, theater departments are two-thirds women. I don't know why. Perhaps they view theater as a kind of cultural finishing school.

"And, perhaps of the great flurry of electronic communications, no one spends time any more polishing and refining and taking great pains with their work" -- he paused, blinking -- "I find that awful."





Click for online
calendars and events.
E-mail to Features Editor
---
---
© 2001 Honolulu Star-Bulletin
https://archives.starbulletin.com