CLICK TO SUPPORT OUR SPONSORS

---

---
Friday, October 5, 2001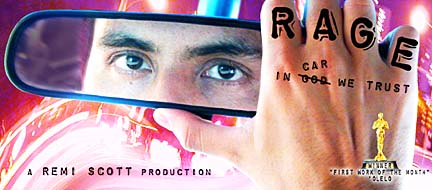 'OHINA SHORT FILM SHOWCASE
Scenes from the comedy "Rage.''
---
Short films spotlight diversity

---

By Gary C. W. Chun
gchun@starbulletin.com

SO tell me about this short movie you made." Several voices pipe up, mentioning hand-drawn animation about a person trying not to slip into oblivion, documentaries about teenage mediators in a local high school or a couple of transgendered individuals, and two comedies, one a spoof of the TV show "Cops," the other about a fidgety driver at a downtown traffic light.

These 15 filmmakers have made the final cut out of 60 entries into this year's 'Ohina Short Film Showcase. Each was driven to present their vision on screen.

Or at least get a laugh. Karin Last and her boyfriend, Remington Scott, have always worked in tandem. They helped on each other's films, "Fuzz" and "Rage."

"In order to get production certified through 'Olelo," said Last, "we were told we had to produce an informative short under three minutes. But we wanted to do something funny instead, so we made these two shorts, with my working as a producer on his film and he as a cameraman on mine.

"They actually turned out better than we expected. They're just full of innuendoes, poking fun at the 'Cops' show, where a cop on patrol ends up chasing a demented rabbit over fences and the like, and impatient drivers waiting for a traffic light to turn red."

The bulk of the shorts are personal narratives, both serious and irreverent. The latter is represented by Cameron Spangler's charmingly crude "Down in History." A recent Punahou graduate, he said the piece was done for a film class there, and his "wonderful and brilliant (instructor) gave it an A, but I really don't think it's that good at all, (but) it was, however, quite fun to make.

"We shot it in a week, and then I had to edit it in roughly seven days before the deadline, which caused a bit of a rush and is why I actually had to do the narration for the main character," his deadpan reading being the video's main strength.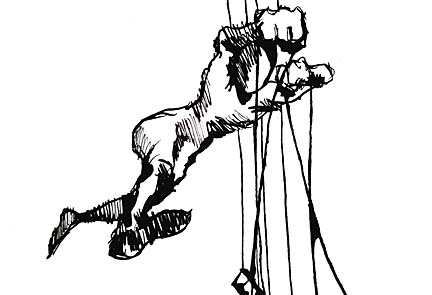 'OHINA SHORT FILM SHOWCASE
Scenes from the animated film "The Chair,".
---
On the flip side is Christopher Moro's "Real Surreal" and Michelle Poppler's "Banished." Moro's digital video is, he said, "an abstract, heavily symbolic story about a young man 'trapped' in a dark, lonely room, a prisoner of his own fears of change and of the unknown. (He) looks within a 'magical' mirror to see what he truly needs in life."

Although Moro says it's not his best work, he is proud of it and still feels passionate about the subject matter, his life mirroring the protagonist's situation as he's "moving from beautiful Hawaii to large and threatening Los Angeles to hopefully work in the industry and attend film school next year."

Poppler is currently a New Media Arts student at Kapiolani Community College. In keeping with her film being "based on a spiritual journey through self-inflicted pain, both mental and physical," she garnered her main footage from a local Dungeon event, with people suspended from the ceiling with hooks imbedded in flesh.




The 2001 'Ohina Short Film Showcase

Where: Honolulu Academy of Arts Theatre

When: 7 p.m. today, running approximately 2 hours; and 12:30, 3:30 and 7 p.m. tomorrow

Admission: Free (donations welcome)

Call: 532-8700

Note: The 'Ohina Workshop will take place 12:30 to 7 p.m. Oct. 13 at the Academy Theatre. Admission will be $10 at the door, $5 extra with a bento. Selected shorts from the previous two showcases will be screened, with panel discussions on independent filmmaking by producers, writers, directors and actors (Cary Hiroyuki-Tagawa will be a member of the actors' panel) and an encore presentation of this year's showcase.




While making "Banished," Poppler said: "I felt like I was purging something out of my system. It was not directly intended to be simply for the shock value. It was purely an analysis of the emotions of the situations that people can put themselves through. The body suspensions are more symbolic of the mutilation of the spirit in order to induce change."

Hiroshi Mori's animated short "Chair" dates back to his days at CalArts, where it was originally part of his master's thesis.

His dreamlike short about personal struggle was "very low-tech and low-budget." The gist of it was made in 1996-97 in the school's Oxberry Room, containing a 1-story-tall mechanical animation camera moved with hand cranks, where a pan shot totaling five seconds could take up to five to six hours to accomplish.

"There's something about physically touching the materials to make an animated film that's different from using computers to manipulate the elements. I think that probably influenced the outcome of my film," Mori said.

Brent Anbe's "Special" is arguably one of the showcase's strongest entries, and not because of its subject matter involving young transgendered women. A UH communications graduate, Anbe's documentary is actually a spinoff of a longer, similarly themed work, "Kekulana E Mahu." His short includes performance and backstage footage from Venus Nightclub of two transgendered females.

"I just wanted to show a different perspective of growing up in Hawaii," he said. "They're both close, personal friends of mine who were comfortable enough with me to tell their stories. They're both well known within our community -- Kaina Jacobs is from Aiea and Sunshine from the Big Island -- and started performing in floor shows a little after they turned 18. They're both 21 and have known each other since high school.

"While getting immersed into their lives, telling stories like theirs through an independent documentary interested me. I entered this in the showcase as a student film, and I hope this gets my name out."





Click for online
calendars and events.
E-mail to Features Editor
---
---
© 2001 Honolulu Star-Bulletin
https://archives.starbulletin.com