CLICK TO SUPPORT OUR SPONSORS

---

---
Friday, October 5, 2001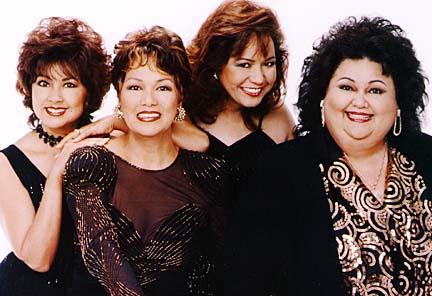 COURTESY PHOTO
Local Divas Carole Kai, Melveen Leed and Nohelani
Cypriano will perform Sunday at a benefit for Loyal Garner.
---
Benefit helps Loyal Garner
in her fight against cancer

---

By John Berger
jberger@starbulletin.com

Loyal Garner will be getting a whole lotta lovin' Sunday night when several thousand "Loyal fans" converge on Windward Mall for a benefit show entitled "For the Love of Loyal."

The show starts at 6:30 p.m. Tickets are $25. All costs of staging and producing the event are being donated, and 100 percent of the ticket sales will go to the Loyal Garner Medical Fund to help Hawaii's self-styled Lady of Love pay her medical bills and cover the cost of future treatment in her continuing fight with cancer.

Garner has been most visible in recent years as a member of the Local Divas with Melveen Leed, Carole Kai and Nohelani Cypriano. Her sister Divas have taken the lead in organizing and producing the show. The four will perform together sometime during the evening. Leed will also have a separate spot with Matt Catingub.




For Love of Loyal

When: 6:30 p.m. Sunday

Where: Windward Mall Center Court Stage

Tickets: $25 general. Remaining tickets will be sold at the door.

Call: 235-1143




Also performing are Mahi Beamer, Del Beazley, Jimmy Borges, Jan Brenner, Teresa Bright, Mel Cabang, the Sonny Ching Hula Halau, Tony Conjugacion, Frank DeLima, Nephi Hanneman, Keith & Carmen Haugen, Hula Joe & the Hutjumpers, Ilona Irvine, Dick Jensen, David Kahiapo, Bill Kaiwa, Danny Kaleikini, Kanalo, Kanilau, Kapena, Moe Keale, Nina Keali'iwahamana, Iva Kinimaka, Jay Larrin, the Makaha Sons (Moon, John and Jerome), Cyril Pahinui, Glen Pinho, Kalani Po'omaihealani, Jeff Rasmussen, Boyce Rodrigues, Marlene Sai, Jerry Santos, the Tau Dance Company and Vaihi.

Garner, who lives in Windward Oahu, has been the "voice" of Windward Mall since her recording of "Ku'u Home O Kane'ohe" was adopted as the mall's theme several years ago. The lyrics and Garner's rendition won an award from the Hollywood Radio & Television Society in 1999.

Garner is also a two-time Na Hoku Hanohano Award winner in the Female Vocalist of the Year category.

Windward Mall will provide a limited number of chairs for senior citizens and will allow beach and "sand chairs" in certain areas. Other than that, you either sit on the floor or stand.





Click for online
calendars and events.
E-mail to Features Editor
---
---
© 2001 Honolulu Star-Bulletin
https://archives.starbulletin.com