CLICK TO SUPPORT OUR SPONSORS

---

---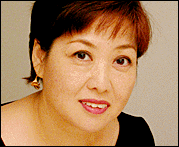 In The Garden



Friday, October 5, 2001
By Suzanne Tswei
---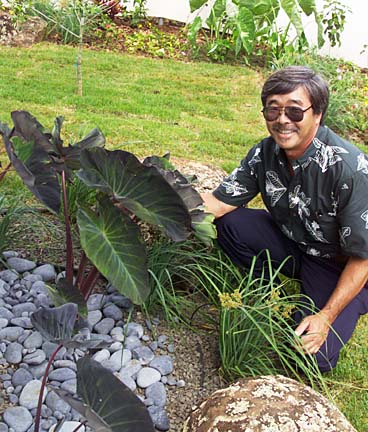 CRAIG T. KOJIMA / CKOJIMA@STARBULLETIN.COM
Dennis Kim is an advocate of planting native flora.
Pictured are the purple taro, left, and 'ahu'awa.
---
Landscaper harmonizes with
native Hawaiian flora

Landscape architect Dennis Kim finds it impossible to contain his enthusiasm when he talks about native Hawaiian plants, whether they are the ones brought by the first Polynesians who settled in the islands or pre-settlement plants. He gushes like a little schoolboy with a crush.

"The garden becomes a symphony when you use Hawaiian plants," he says. "They are like different instruments in the symphony. They are all different. They look different and they make different sounds.

"But they all come together and make the whole thing work as one beautiful masterpiece of music," Kim says.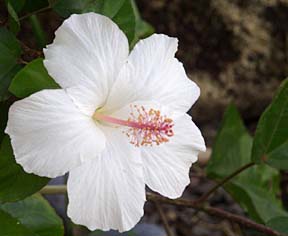 CRAIG T. KOJIMA / CKOJIMA@STARBULLETIN.COM
Native Hawaiian white hibiscus are planted to soften a wall's hard edges.
---
He points to his latest project, the garden at the "Mele," a three-bedroom, two-bedroom model home by Schuler Homes in Hawaii Kai, as an example.

"More than 80 percent of the plants we used here are native species, and they work perfectly well with each other and with the introduced plants that are non-native," Kim says.

The project is unique in its use of so many different native plants in one garden. The native plants foster Hawaii's unique sense of place and island-style living, he says.

Kim planted native white hibiscus along the walls to soften the hard edges and screen outside noise. To him the hibiscus are like stars because, unlike other single hibiscus, the blossoms of the native species remain open in the evenings.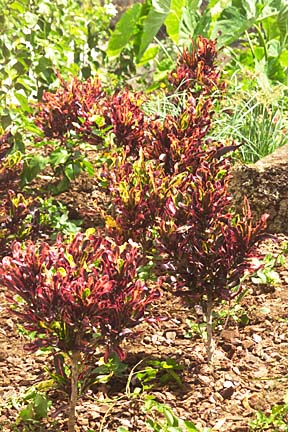 CRAIG T. KOJIMA / CKOJIMA@STARBULLETIN.COM
Old-fashioned, variegated croton are non-natives
but still a popular landscaping plant.
---
For shady canopies, he planted alahe'e, a small tree with clusters of tiny white flowers smelling like lilac, and puakenikeni, which is not a native but a popular tree for island gardens. These trees, along with the white hibiscus, are a constant source of sweet fragrance for the garden.

Kulu'i, a shrub with light green leaves and silvery underside, and 'ahu'awa, a sedge with seed clusters that turn from chartreuse to brown, are placed near large rocks to add more interest.

Kim may be most excited about the two mottled taro plants he added to the garden. Uahiapele has dark purple stalks with leaves in green-and-purple mottling, and cream and purple veins on the underside. Elepaio has green-and-white mottled leaves and stalks that are green with white stripes.

"When people think of taro, they think of green. But these taro can be colorful and good for landscaping," Kim says. The colorful ones are just as edible as the plain green ones.

To add more colors, Kim included introduced plants: multicolored crotons and big-leafed yellow crotons, fuchsia to red impatiens, and mondo grass.

"I am not a purist; I don't mind mingling the natives with the non-natives. But five years from now, this garden can be all native plants," Kim says.




Going native

Native Hawaiian Garden at the "Mele" Model Home by Dennis Kim

Place: Kalamaku'u at Kalama Valley by Schuler Homes in Hawaii Kai, 1181-B Mokuhano St., Kalama Valley

Time: 10 a.m. to 5 p.m. daily

Call: Schuler Homes, 394-5482

Also: Kim will give a free lecture, "Hawaii's Native Flora: The Past, the Present, the Future," at the Honolulu Orchid Society's plant show at the Neal Blaisdell Exhibition Hall. The lecture takes place 5 p.m. next Friday. Kim, under the business name of Native Plant Source, also will have a booth at the orchid show. The show hours are 2 to 9 p.m. Thursday, 9 a.m. to 9 p.m. next Friday and Oct. 13, and 9 a.m. to 4 p.m. Oct. 14. Admission is free.




The garden is only 2 weeks old, but in time the black coral ilima he planted for ground cover will mature and replace the colorful impatiens. The ilima, originally from the mountains on Kauai, have large blossoms and dark stems. They are vigorous growers, and the bright yellow flowers spice up the garden with "a happy color," Kim says.

Kim, who was educated as an urban planner, became a passionate advocate for native Hawaiian plants more than three years ago. He began his own nursery to conduct research and propagate native species. He is best known for his promotion of the native Hawaiian gardenia, nanu, an endangered plant.

Native plants work well together in a garden because they do not compete with each other, Kim says. The reason is, these plants did not have natural predators and therefore did not evolve defense features to compete for survival. As long as they are planted in their natural microclimates, they require little maintenance. They are easy to grow, although some can be difficult to propagate.

"Part of my job is to educate the public. Part of my job is to use the Hawaiian plants in my landscaping project as much as possible," Kim says. "It's through these two methods that we can perpetuate these plants.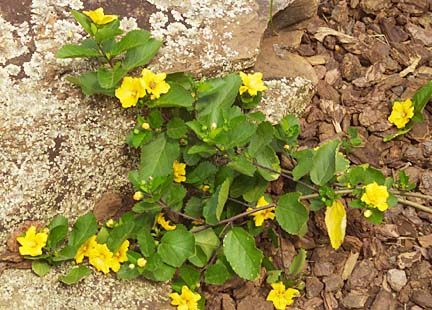 CRAIG T. KOJIMA / CKOJIMA@STARBULLETIN.COM
Black coral ilima has flowers twice the size of regular ilima.
---
"Just think, if you plant a mottled taro now, 50 years from now, your grandchildren, great-grandchildren, can enjoy the same plant, and you are preserving the biological and cultural heritage of Hawaii by doing so."

Kim will give a free talk about native Hawaiian plants at the orchid show sponsored by Honolulu Orchid Society at the Neal Blaisdell Center next weekend. The lecture, "Native Hawaiian Flora: The Past, the Present, the Future," is scheduled for 5 p.m. next Friday.

He will be selling Hawaiian plants at the show under the business name of Native Plant Source.

He welcomes public inquiries about native plants.





---

Suzanne Tswei's gardening column runs Saturdays in Today.
You can write her at the Star-Bulletin,
500 Ala Moana, Suite 7-210, Honolulu, HI, 96813
or email stswei@starbulletin.com
E-mail to Features Editor
---
---
© 2001 Honolulu Star-Bulletin
https://archives.starbulletin.com