CLICK TO SUPPORT OUR SPONSORS

---

---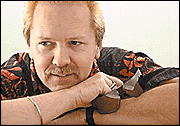 Island Mele



Friday, September 28, 2001
By John Berger
---
"Alone In IZ World"

Israel IZ Kamakawiwo'ole
Big Boy/The Mountain Apple Co.

Pure IZ. That's the concept and the magic of the fifth album by Israel IZ Kamakawiwo'ole and producer Jon de Mello. De Mello succeeds in crafting a perfect posthumous portrait of IZ as song stylist and musician. He also offers fresh perspectives of familiar songs.

De Mello's deft use of other musicians' talents adds variety while keeping the focus on IZ. Barry Flanagan embellishes "Hi'ilawe," Mel Amina adds another instrument to "'Opae E," and the Hobo House on the Hill guys add bits and pieces elsewhere. Each song is a perfectly polished gem. IZ is the heart and soul throughout.

De Mello's notes about the significance of each song add further to our understanding of IZ and his music. So do the CD-ROM files that include photos and links to many of the reviews and articles on IZ that have run in the Star-Bulletin.

---

"He Makana O Aloha"

Ali'i Manu
No label

There's a great story in this re-release by Ali'i Manu O Kai, although it takes knowledge of local music history to get it in focus. The project dates from 1987 when Manu recorded with producer George J.D. Chun for Tom Moffatt's Paradise Productions label and released 10 songs from those sessions as this album. Manu later released more songs recorded with the same musicians on an album titled "No Ka Honua Maluhia." The albums had the same cover design but in different colors -- the first in blue, the second in red. He switched colors for this CD re-release of the red one.

Manu worked with Clyde Pound to set traditional Hawaiian and hapa-haole songs to piano and synth-track arrangements. The thin synth-string sound is very much 1987, but their electronic Hawaiian concept works surprisingly well.

---




"Hawaiian Style Music"

Various artists
Neos Productions

Neos Productions' latest recycling project offers four new songs, a hodgepodge of old stuff and no information on history of the oldies or what the artists have accomplished. Most of the selections will appeal only to die-hard Jawaiian fans on a budget, but there are some noteworthy songs. Paka Smith's obscure 1995 recording of "Nursery Rhymes" certainly merits revival. Keali'i Reichel's "Ipo Lei Momi" is a great pick.

Reality's "Run Away," an original pop-rock ballad written by Shivon Alexander, is a highly promising new song. "Darcie's Lullaby," recorded by Rodney Bejer & Na Kama, is also new and noteworthy.

"Moloka'i Slide" and "Mr. Pole Benda" count as legitimate local hits, but Kolea's vapid "Everything That Glitters (Is Not Gold)" is as insipid now as it was three years ago.





---




John Berger, who has covered the local
entertainment scene since 1972, writes reviews of recordings
produced by Hawaii artists. See the Star-Bulletin's Today
section on Fridays for the latest reviews.
E-mail to Features Editor
---
---
© 2001 Honolulu Star-Bulletin
https://archives.starbulletin.com