CLICK TO SUPPORT OUR SPONSORS

---

---
Sunday, September 23, 2001



Red Cross'
volunteers see aloha
in New York


Aid workers from Hawaii help
with food and counseling

---

By Lisa Asato
lasato@starbulletin.com

Glenn Lockwood has witnessed many disaster relief efforts in his 25 years with the American Red Cross, but the drive and intensity of emergency workers at the World Trade Center site is unlike anything he has ever experienced.

"When they (rescue workers) leave their shift, they go around to the other side of the pile and ... pull another shift," said Lockwood, the disaster services director for Red Cross in Hawaii. "It's sort of like beating the system because they don't want to leave. There is such a desire to continue to dig until every last person has been found."

Lockwood, who has been working as a deputy director of the New York relief effort since Sept. 15, is among a handful of isle volunteers sent to Manhattan and Washington, D.C. after the devastating Sept. 11 terrorist attacks that killed more than 6,000 people.

The Hawaii Kai resident has been part of relief efforts in Kauai after Hurricane Iniki, and in San Francisco and Northridge, Calif., after earthquakes. But he called the New York effort "the most intense, driven disaster-relief operation that I have experienced or that Red Cross has experienced in its history."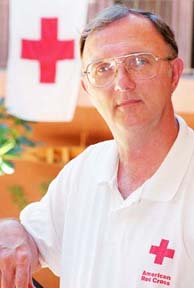 STAR-BULLETIN FILE / 1999
Glenn Lockwood, American Red Cross
in Hawaii disaster services director, is
in New York aiding relief efforts.
---
Lockwood said more than 3,000 Red Cross volunteers are assigned to the site, with hundreds working every hour.

"It's as busy at 3 in the morning as it is at 3 in the afternoon," he said in a telephone interview last week.

The Red Cross is providing food, shelter and counseling to rescue workers, as well as to those who have lost loved ones or have been displaced from their businesses or homes.

About 20,000 apartments and condominiums in the "hot zone" have been affected by the collapse of the World Trade Center, Lockwood said, adding that the size of the "hot zone," a 10-square-block area in lower Manhattan, would be comparable to the area stretching from Chinatown to Ala Moana Center.

He said that despite New Yorkers' reputation for being "cold and unfriendly," they are openly grateful for the efforts of the Red Cross and have a high level of respect for firefighters. It is not uncommon for people to applaud the soot-covered firefighters as they walk down the street, he said.

"If they see your name badge or a Red Cross vest, they stop you and thank you for being there," he said. "They want to talk about what happened and where they were and how they felt. It's on everybody's mind. You can't leave it."

Last week, the Red Cross was setting up three service centers in New York to provide financial assistance to displaced families and to those who lost loved ones.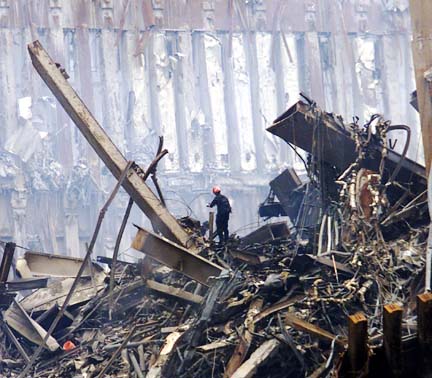 ASSOCIATED PRESS
A rescue worker searched through debris from the
World Trade Center collapse yesterday as
xrecovery efforts continued.
---
Hawaii families, for example, could use those funds to fly to New York, Washington, D.C. or Pennsylvania, he said.

Another Hawaii volunteer in New York is Ken Lee, who spent two days working 20 feet from the secured site.

Wearing a respirator and eye protection to stave off the dust, Lee handed out hot meals and cold drinks to rescue workers, heavy-equipment drivers and civilians displaced by the destruction.

Lee, who is managing the counseling that goes on through the 46 food trucks and emergency response vehicles, said his job is to keep the rescue workers going. Unlike traditional mental health counseling, he said, the on-site counseling is more like applying an "emotional Band-Aid."

"These people are extremely fragile," he said. "Their emotions are so guarded that if you ask them, 'How are you doing?' it's going to crack them ... just like the building. They won't be able to go back to work."

Instead, Lee tries to encourage the rescuers by telling them they are doing a good job and that people are proud of them.

Most of the time, they respond with a "Thank you" and "God bless you," he said. Some of them get teary-eyed and walk away. Some say, "This is the most unbelievable thing I've ever seen."

Lee said he expects to remain in New York for another couple of weeks.

Maria Lutz, disaster operations and response manager for Red Cross-Hawaii, said five Hawaii volunteers are in New York and another, Steve Reinhart of Maui, is at the Pentagon. Four others, she said, are headed to Virginia and Dallas, where they will handle crisis counseling over the phone, among other things.

Lockwood said Red Cross volunteers have come from all over the country to help in New York.

"No one was made to come," he said. "You can't make someone come into an environment like this."
E-mail to City Desk
---
---
© 2001 Honolulu Star-Bulletin
https://archives.starbulletin.com