CLICK TO SUPPORT OUR SPONSORS

---

---
Sunday, September 23, 2001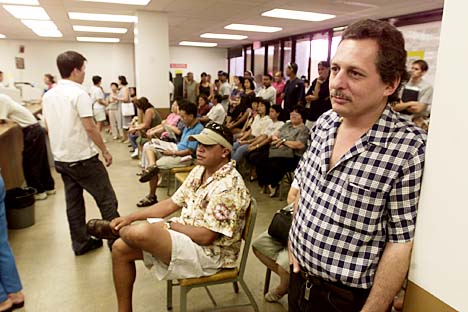 FL MORRIS / FMORRIS@STARBULLETIN.COM
Michael Castelli waits in the state unemployment office
in the Keelikolani Building, along with a large crowd.
---

When tourists prefer to remain at home,
hotel rooms go begging and
thousands of workers head for the
state unemployment office

---

By Lyn Danninger
ldanninger@starbulletin.com

JAMAL TATE stood in the middle of a crowd, strangers sharing their frustration and resignation as they waited for their numbers to be called.

He squeezed into the narrow room housing the state unemployment office on Punchbowl Street, which on Friday filled with workers -- most from the state's visitor industry -- coping with shortened hours, furloughs and layoffs. In less than two weeks since the Sept. 11 attacks, hotels, airlines, restaurants, travel agencies and the numerous other businesses that support them have slashed costs to compensate for thousands of tourists too shocked to travel.

Tate is one of the human costs. He lost his job as a cook in a Waikiki restaurant Thursday.

"I really got laid off. I got the slip and everything," he said. He estimates 75 percent of his co-workers also lost their jobs.

Most of those at the unemployment office said they worked in visitor industry-related jobs. With six clerks manning the counter, the room was already close to capacity and the numbers continued to grow.

While few of those who waited were willing to give their names, their stories were similar.

First, hours were first cut, then people were moved to on-call status and finally some were laid-off indefinitely.

Waikiki hotel general managers have been reluctant to give exact occupancy figures or discuss layoffs.

But workers who were at the unemployment office Friday said they believe a number of hotels are now well below 50 percent occupancy, judging by the number of fellow workers they recognized at the unemployment office and the reduced hours colleagues have been working.

Management at the Hilton Hawaiian Village and the Marriott Waikiki Beach Resort confirmed a number of staffing adjustments have been made given the drop in occupancy.

"There are no permanent layoffs but we are re-organizing staff needs and consolidating operations," said Paula Imamura, the Hilton's public relations manager.

Imamura said Hilton has not closed any of its four towers.

"We do have customers in all towers," she said.

The Hyatt Regency in Waikiki is consolidating sections of the hotel and will close two of its restaurants beginning today, said the hotel's general manager, Frank Lavey.

"It's no secret times are tough," he said.

"So far there are no lay-offs. We're either reducing hours or just keeping people on call," he said.

But Lavey said he is encouraged that no significant groups the hotel is expecting have canceled yet and there have been arrivals.

As of 4:30 p.m. Thursday, 2,586 claims for the week had been filed statewide with the state unemployment office, said Tom Jackson, spokesman for the state Department of Labor and Industrial Relations.

Of that number, Jackson estimated at least 70 percent to 80 percent worked in the visitor industry, he said.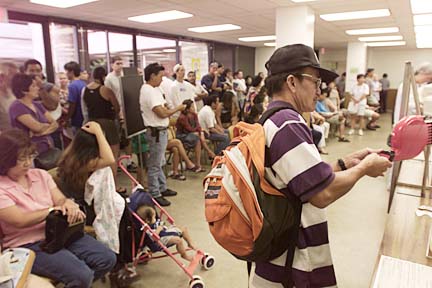 FL MORRIS / FMORRIS@STARBULLETIN.COM
Nelson Cabanlit takes a number at the state unemployment office.
---
"Most of those are what is called partials. They've either had hours cut or have been furloughed," he said.

Most of those filing claims -- 1,354 -- are on Oahu, Jackson said.

A number of companies -- Aloha Airlines, ABC Stores, Continental Airlines, Hawaiian Airlines, United Airlines, Ilima Tours, Queen Kapiolani Hotel, DFS, J.W Marriott Ihiliani resort, Sato Travel and Atlantis Submarines -- have asked for information about the department's "rapid response" on-site employee assistance with unemployment applications, he said.

The fallout is now spreading well beyond the visitor industry.

HAGADONE PRINTING, one of Hawaii's largest commercial printers, said Friday it anticipated a short term cut of almost 30 percent in the number of tourist-related publications it produces and a cut of 40 percent of collateral materials ordered by the visitor industry.

"With a decline of hotel occupancy to a level of 18 percent, all tourist-related industries have to take a hard look at the future of their business," said Erwin Hudelist, Hagadone's Printing's president.

Hudelist said the company did not foresee layoffs yet but might have to cut shifts to 6 hours or less and use in-house labor for work that would normally be given to part-time workers.

One of those employed at another printing company is Michael Castelli.

Castelli was told Thursday he would lose his production job at Island Printing Center. He had held the position since February, so it was a case of "last in, first out," he said.

"I was lowest on the ladder so was let go," he said while waiting his turn at the unemployment office Friday.

The company produced a lot of material for the visitor industry, but orders began to decline quickly, he said.

"No one has been ordering -- no mailers, envelopes, letter heads or booklets," he said.

ERIC GILL, head of Local 5 Hotel Employees & Restaurant Employees union, which represents many hotel workers, said hotels' senior workers have been sharing hours with newer employees to try to share the pain.

"What is happening now is that virtually every department in every hotel is making some kind of cut so some people are sharing hours to help others who are further down the list," he said.

Given the cuts in hours, workers are also worried about possible cuts to their benefits, particularly health insurance.

Gill said he was planning to send a team from the local to various hotels to help members find out where they stand with regards to benefits.

Because of the way the union trust fund is structured, many workers would likely be able to continue benefits for at least several more months, he said.

"Depending on hours worked, Local 5 members who are covered under the trust fund health and welfare benefit should have at least several months more of coverage," Gill said.
E-mail to Business Editor
---
---
© 2001 Honolulu Star-Bulletin
https://archives.starbulletin.com