CLICK TO SUPPORT OUR SPONSORS

---

---
Thursday, September 20, 2001


[ STUFFS ]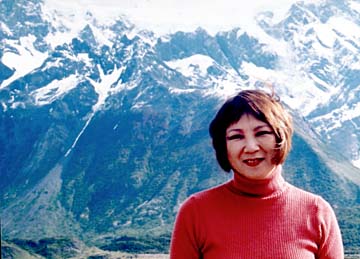 KITV
Pamela Young journeys to Patagonia, Chile, in tonight's
"Mixed Plate." The half-hour special has Young hiking
the Andes and exploring the deserts of Atacama. The
program, postponed last week because of daily news
coverage of events in New York and Washington, D.C.,
will air at 7 p.m. on KITV with a rebroadcast
at 6:30 p.m. Saturday.
---
New look for bathroom

Home Depot continues its series of free instructions on updating your bathroom with four classes through the end of the month. Learn about solder tubing and installing drains and faucets 7 to 9 p.m. today at the Honolulu store, 421 Alakawa St., and 7:30 to 9:30 p.m. tomorrow at 1021 Kamehameha Highway in Pearl City.

Learn how to install medicine cabinets and fixtures 7 to 9 p.m. Sept. 27 at the Honolulu store, and 7:30 to 9:30 p.m. Sept. 28 in Pearl City.

Registration will be taken at the special services desk in the front of the stores. For more information, call 521-7355 in Honolulu, or 455-1200 in Pearl City.

Ballet Hawaii season fare

Ballet Hawaii celebrates its 25th anniversary with a season of three productions at Blaisdell Concert Hall, as follows:

>> "Ballet Stars from San Francisco" features 11 principal dancers from the San Francisco Ballet, including Honolulu's own Amanda Schull in her first performance since starring in the Columbia film "Center Stage." Schull is now a member of the corps de ballet.

The performance will begin at 8 p.m. Oct. 20. Tickets to are $25 to $55 and will go on sale Sept. 29 at the Blaisdell Box Office and TicketPlus outlets.

>> Ballet Hawaii's "Nutcracker" will be presented at 7:30 p.m. Dec 21 and 22, and 2 p.m. Dec. 23. The production will star Ashley Tuttle and Ethan Stiefel from the American Ballet Theatre. Stiefel, recently named the "Dance Pick of 2001" by Time magazine, also starred in "Center Stage" and is making his Hawaii debut. Tickets will be available begining Nov. 17.

>> "Project Ballet Theatre" from the American Ballet Theatre, will feature a roster of international sensations including Rasta Thomas, Julie Kent from "Center Stage" and Kristin Boone, at 7:30 p.m. March 13. Presented will be new works by leading choreographers, as well as the "Romeo and Juliet" Pas de Deux. Tickets to will be available Feb. 9.

Advance orders for all three productions are being taken at 988-7578. To charge-by-phone, call 526-4400. Discounts are available. Call 732-7733 for group discounts.

---




[Scoops]

Help for graduates

Free strategy sessions preparing for the MCAT (medical) and LSAT (law) admissions tests will be conducted from 6 to 7:30 p.m. today at the Student Service Center on the Manoa campus.

Call 947-5988 or e-mail info.hawaii@review.com for more information.

Music scholarships

The Crossroads Choir will award two $1,000 scholarships for a soprano and an alto. Students are not required to be music majors and there is no age limit.

Information sheets and application forms are available at the University of Hawai'i at Manoa's music office, from community college voice teachers or by calling the Church of the Crossroads at 949-2220.

Applicants will be auditioned until a recipient is awarded. Visit www.planethawaii.com/ crossroads.ccrhi.html for more details.

---

Scoops is a weekly listing of opportunities available for students. Send items to Honolulu Star-Bulletin, 7 Waterfront Plaza, Suite 210, Honolulu 96813; or send email to features@starbulletin.com






Click for online
calendars and events.





---





Send WatDat? questions, stories
or any other story ideas or comments to:
Features, Honolulu Star-Bulletin, P.O. Box 3080,
Honolulu, HI 96802 or send a fax to 523-8509
or E-mail to features@starbulletin.com.
Please include your phone number.
E-mail to Features Editor
---
---
© 2001 Honolulu Star-Bulletin
https://archives.starbulletin.com