CLICK TO SUPPORT OUR SPONSORS

---

---
Tuesday, September 18, 2001




[ UH FOOTBALL ]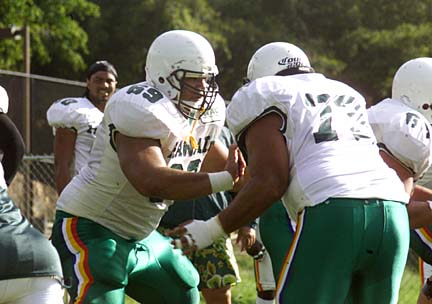 FL MORRIS / FMORRIS@STARBULLETIN.COM
Uriah Moenoa, Sione Tafuna and the rest of the Warriors had
extra time to prepare for this weekend's game.
---
UH energized
for Nevada tilt


Chang's aims for the Hawaii
offense are mighty high; Brown
says the team is 'jacked up'

---

By Dave Reardon
dreardon@starbulletin.com

KELVIN MILLHOUSE's had his head spun around so many times the past week that he still wasn't convinced yesterday the Hawaii football team is indeed playing its game at Nevada this Saturday.

Game this week, game next week. Game at end of season. Maybe no game.

But finally, officially, yesterday: Game on Saturday.

A telephone meeting of the WAC's school presidents resulted in Nevada's game at San Jose State being postponed to Nov. 10, clearing the way for the Warriors to visit the Wolf Pack this weekend.

San Jose State president Robert L. Caret tried to get support from the other presidents to overturn commissioner Karl Benson's recommendation that the switch be made "for the integrity of the league's schedule."

But when Caret made a motion that the Nevada-San Jose State game be played as originally scheduled, no one seconded it.

"We will play the game (this Saturday)," UH president Evan Dobelle said.

Millhouse will believe it when he gets on the plane (a direct charter to Reno on Thursday).

"With all the distractions and everything, I'm not even sure if we're still going to play," the sophomore defensive back said after practice. "But we all have the goal that we want to come back with a win and start at Aloha Stadium 2-0."

Focus in the face of uncertainty has been the theme of Hawaii's practices since the sports world was disrupted with last Tuesday's terrorist attacks.

"Coach (June Jones) feels we still have a job out here to do, and however we can accomplish it, we need to do that job," sophomore quarterback Tim Chang said.

The Warriors have looked sharp despite not knowing when and where their next game would be, and whom they would play against.

"Everybody wants to play and get last week behind us," Jones said. "Each day last week as we practiced, it kind of blocked out for two hours the events of the week which were very disheartening. But I think as it has brought our country closer together, it has brought our football team closer."

Chang said he found out the Nevada game is on when he arrived at practice yesterday and he was informed by quarterbacks coach Dan Morrison.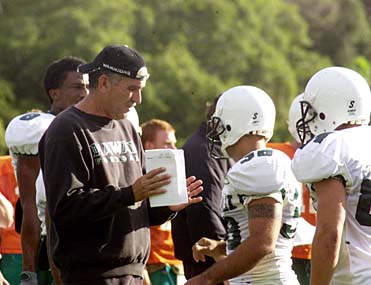 FL MORRIS / FMORRIS@STARBULLETIN.COM
Hawaii coach June Jones talks to players during practice,
as his team prepares for Saturday's game at Nevada.
---
"I'm happy. It's a big lift for the team. I know a lot of guys wanted to go to Reno just to get a game under our belt. If we play just 10 (more) games, it's going to cut us short," Chang said. "We want to be in the hunt and be one of the best, one of the most productive offenses out there. We want to come up big. We don't want to miss a step.

"We want to be right there with the Floridas and the Florida States. We don't have a schedule like them, but we want to be right there."

Chang knows the Warriors being ranked No. 1 in the nation in passing and total offense doesn't mean much at all after just one game.

And the big goals are tempered by a bit of apprehension. Chang is excited about going to play in a football game, but not about getting on an airplane after last week's hijackings.

"I wish they were coming here. Anytime you step on an airplane, you've got to think twice about what happened," Chang said. "You're going to look at who's coming on the plane and who your neighbor is sitting next to you. At least the charter will be much safer and there will be less hassles."

Junior linebacker Chris Brown said the Warriors are ready. The starters are especially primed after cheering on new players in a full-contact scrimmage yesterday. Brown, sans helmet, head-butted a defensive scout after a missed tackle.

"Everybody's spirits are up," Brown said. "Coach Jones called it good, right down the middle. He knew our spirits were down a little bit after what happened last week. This brought us all up and jacked us up for this week."

Most of the nation didn't get to watch any football the past few days, but the Hawaii first- and second-stringers did, as their understudies knocked each other around the freshly-striped UH practice field yesterday afternoon.

"We were calling it 'Monday Night Football,' " Chang said.

---



E-mail to Sports Editor
---
---
© 2001 Honolulu Star-Bulletin
https://archives.starbulletin.com