CLICK TO SUPPORT OUR SPONSORS

---

---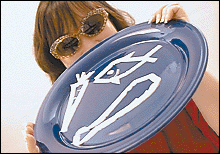 The Weekly Eater
BY NADINE KAM
Sunday, September 16, 2001
---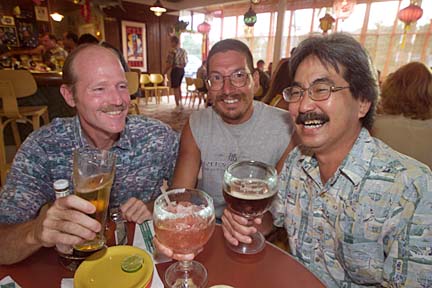 DENNIS ODA / DODA@STARBULLETIN.COM
From left, Bob Brigham, Terry Foster and Ted Tanabe enjoy their
drinks at Pinky's. Bob and Terry were to return to New York, but
were stranded and waiting for their flight to be rescheduled.
---
Pinky's platters can
please palates from
pillar to post

AS NEWS UNFOLDED Tuesday of the World Trade Center tragedy, Ala Moana Center was closed out of respect for victims, and restaurants went empty at night with so many people at home, their eyes focused on the televised horror of the towers' collapse. With so much sorrow in the air, it seemed a lot of healing would be needed before we could return to our everyday business. Amazingly, on Wednesday, Ala Moana Center was full of shoppers.

Callous souls? Different people have different ways of coping, and store personnel said they were seeing buyers in need of a lift from their depression through shopping "therapy."

It's natural to feel survivor's guilt, but humans need joy and hope to persevere. I've read stories of youths in Bosnia who risked their lives to go out at night to underground nightclubs for a bit of escape and human contact.




PINKY'S PUPU BAR & GRILL

| | |
| --- | --- |
| Food | |
| Service | 1/2 |
| Ambience | |
| Value | 1/2 |

Address: 970 N. Kalaheo Ave. / 254-6255
Hours: Pupu lounge from 4 p.m. daily; dinner from 5 p.m. daily, last seating at 10 p.m.
Cost: About $25 to $40 for two without drinks




Tuesday night may have been one of the slowest at Pinky's since the Kailua restaurant opened in July, but on Thursday the restaurant was once again filled to its 200-person capacity, assisted by one 30-person party. I don't even know where all these people come from; so many Kailua restaurants have trouble drawing 20 a night. It seems all were taking to heart recommendations that we try to go about our lives with as much normalcy as possible for a show of strength to demonstrate that terrorists and thugs cannot crush the American or human spirit.

Pinky's, which resuscitates the beach-town legacy of the old Pinky's Broiler, is a pleasant place to escape. It's the sort of place where you can forget your troubles thanks to a staff with rah-rah, can-do, cheerleader energy and spirit. Its decor is like that of every other Kailua home, pure beach house with glass fisherman floats hanging all around, bits of fishing net, and oh yes, the bric-a-brac of framed pictures, trophies, fish hangings and mismatched lanterns with a studied casual look.

And the food? Party fixin's, local-style all the way with enough choices to satisfy just about everyone in a large party. The pupu menu alone has 25 items priced from $2.50 for a fish taco, or $2.95 for cheesy fries, boiled peanuts or soy beans, to $9.95 for prime rib. With this restaurant the work of Gene Gunn of the Big Island Steak House, I like the strips of tender top sirloin ($7.95) with nothing on 'em. Then it's decision time. There's also spinach artichoke dip ($7.95) served in the heart of the artichoke, sautéed mushrooms ($6.50), crunchy calamari ($6.95) deep-fried with bits of sweet coconut, and kalua pig quesadillas ($5.95) in which the kalua pig is not just an afterthought as at so many other places. This is served with a spicy black-bean, tomato and corn relish with cilantro cream on the side.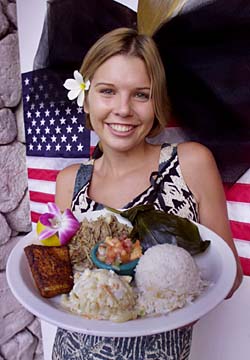 DENNIS ODA / DODA@STARBULLETIN.COM
Waitress Erin Christie holds Pinky's Aloha Plate.
---
It's possible to fill up without getting to the entree part of the menu. From the sushi bar, there's an eye-opening sampler plate ($11.95) with poke, two slurp-ready oyster shots and the Kailua Roll, which is more rice than crab. And don't be alarmed by a description of the Asian chicken salad ($8.95), with its unlikely combination of spinach, saimin and won ton. That saimin is deep-fried for crisp embellishment, as are the crumbled bits of won ton pi.

If you've got any tummy room to spare, entrees include, naturally, steaks. Top sirloin is $15.95, the New York steak is $18.50. Couldn't tell you about the prime rib (10-ounce $14.95, 14-ounce $17.95), as they determined it wasn't up to their standards that evening, so they didn't want to serve it. A lot of other places wouldn't bother to 'fess up like that or, worse, wouldn't even notice the difference.

They brought a huge knife with the baby back ribs ($18.95), but that was unnecessary for meat that melted off the bones. I appreciated that they avoided slathering the ribs with sauce, instead leaving it -- as with most dishes here -- on the side and giving the customer the option to use or lose. If it's Hawaiian food you want, the Aloha Plate ($12.50) has kalua pig, grilled fish, laulau, lomi salmon and rice.

The only misstep was scampi ($14.95), with more calamari than shrimp, drenched in garlicky liquid and served on soggy fettuccine.

And you saved room for dessert, right? Small blocks of fudgy brownies are served in a tall glass of ice cream sundae ($3.95). For something a little lighter, there is an apple and blueberry cobbler, big on fruit with very little crumble, also served with vanilla ice cream, on the side. Life is more tenuous than we often realize. Live it to the fullest.





See some past restaurant reviews in the


section online. Click the logo to go!





---

Nadine Kam's restaurant reviews run on Thursdays. Reviews are conducted anonymously and paid for by the Star-Bulletin. Star ratings are based on comparisons of similar restaurants:

| | |
| --- | --- |
| | excellent; |
| | very good, exceeds expectations; |
| | average; |
| | below average. |

To recommend a restaurant, write: The Weekly Eater, P.O. Box 3080, Honolulu, Hawaii 96802. Or send e-mail to nkam@starbulletin.com
E-mail to Features Editor
---
---
© 2001 Honolulu Star-Bulletin
https://archives.starbulletin.com