CLICK TO SUPPORT OUR SPONSORS

---

---
Friday, September 14, 2001
Aloha Festivals
parade is canceled


The group earlier canceled
the opening ceremony and
Downtown Hoolaulea

---

By Diana Leone
dleone@starbulletin.com

Oahu's Aloha Festivals has canceled its opening ceremony and Downtown Hoolaulea scheduled for today, and early this afternoon canceled the floral parade tomorrow.

The Waikiki Hoolaulea scheduled for next week Friday also has been postponed and it is unclear whether officials would reschedule any Aloha Festivals events.

Yesterday, caught between the desire to honor those lost in the terrorist attacks Tuesday and the desire to continue a 54-year-old tradition, organizers decided the parade would go on with a more somber tone.

However, Aloha Festivals Executive Director Janet Hyrne said a decision was made today to cancel tomorrow's parade.

Gilbert Butson, Aloha Festivals president, said "We're concerned of course about the events of that happened earlier this week. There are a lot of concerns by our parade participants."

He noted that there were no threats made locally.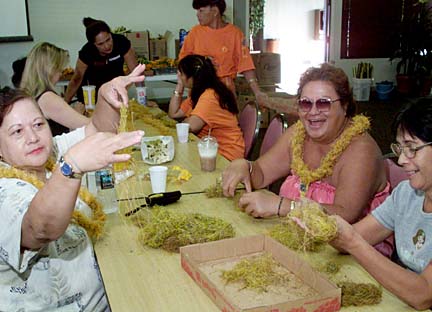 CRAIG T. KOJIMA / CKOJIMA@STARBULLETIN.COM
Harriet Smith, Giggles Kahohopii and Charlene Hokoana,
from left, strung lei for the Lanai pa'u riders. They and
others gathered at Ward Warehouse last night.
---
Hyrne said yesterday that the decision to cancel the Downtown Hoolaulea was made because President Bush declared today a national day of mourning.

"Hoolauleas are generally upbeat and a lot of fun. We don't want to detract from the fact that it was designated to be a more somber kind of day."

The original decision to let the parade proceed generated criticism from people who thought it was disrespectful.

"I can't see how they can transform something called Aloha Festival into a memorial parade," said Greg Chapman of Mililani, a retired Navy man whose wife is a United Airline flight attendant. "They should postpone it at least a week. As far as I'm concerned, it's a disgraceful display less than a week after we've lost (so many) people."

"I doubt seriously if any mainland communities held festivals so soon after the events of Dec. 7, 1941," he said.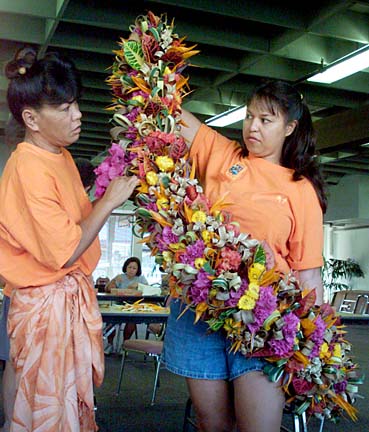 CRAIG T. KOJIMA / CKOJIMA@STARBULLETIN.COM
Lanai pa'u riders prepared at Ward Warehouse last
night for tomorrow's parade. Riders Kehau Landford,
left, and Aries Lovell made a lei for their horses.
They collected all the raw materials themselves
and wove them into lei.
---
Hyrne said yesterday she knows many people may have mixed feelings, but said the tone of the parade this year would have been respectful.

Aloha Festival workers had made hundreds of small red, white and blue ribbons for parade participants to wear, she said.

The Polynesian Voyaging Society's Hokuleďa was supposed to bring part of the Aloha Festival Court to shore in a ceremonial landing yesterday afternoon at the Hilton Hawaiian Village, where the Bishop Museum was to hold a grand opening of its new satellite site. But the museum and society both decided not to participate.

"We had some serious reservations about having this event in view of what happened a couple of days ago," said Pat Duarte, executive vice president of the Bishop Museum. "We all have mixed feelings. On the one hand, we want to move forward. But on the other hand, I guess enough people felt we should postpone."

Also canceled on Oahu is the Mrs. America Fashion Preview set for Sunday. The Big Island's Aloha Festivals celebration postponed two events planned for this weekend. The Sam Choy Poke Festival set for tomorrow and Sunday at the Hapuna Beach Prince Resort will be held Dec. 8 and 9, and a golf tournament set for tomorrow will be Dec. 8.
E-mail to City Desk
---
---
© 2001 Honolulu Star-Bulletin
https://archives.starbulletin.com