CLICK TO SUPPORT OUR SPONSORS

---

---
Thursday, September 13, 2001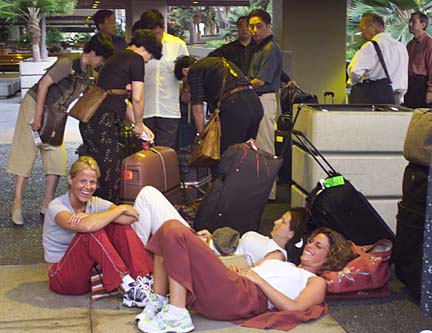 KEN SAKAMOTO / KSAKAMOTO@STARBULLETIN.COM
Jamie Kalafat, from left, Marissa Roach and Pam Engel wait
to check in at Delta Airlines at Honolulu Airport this
morning, They had been scheduled to leave Oahu
Tuesday morning.
---
Airport reopens


The FAA opened Hawaii
air space at 5 a.m. for both
mainland and interisland flights

Mail delayed

---

By Nelson Daranciang
ndaranciang@starbulletin.com

Air travel in Hawaii resumed today for the first time since Tuesday with the first interisland flight leaving Honolulu for Kona at 7:45 a.m. and the first mainland flight at 9 a.m.

The Federal Aviation Administration opened the air space around Hawaii at 5 a.m. for commercial airlines that had received certification of enhanced security procedures.

Hawaii National Guard troopers armed with M-16 rifles were stationed at each departure area as hundreds of passengers waited first to put bags through the usual agriculture x-ray and then through a second security x-ray checkpoint before they could check in.

The troopers were assisting civilian authorities with the added security measures imposed by the Federal Aviation Administration, said Maj. Charles Anthony, spokesman for the Hawaii National Guard.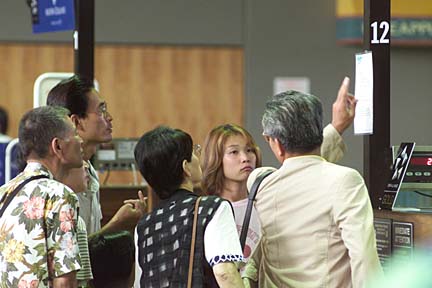 CRAIG T. KOJIMA / CKOJIMA@STARBULLETIN.COM
Tourists read about their flight needing FAA approval
prior to departure yesterday at the ANA counter
at Honolulu International Airport.
---
Among the new measures are a ban on curbside check-ins and visitors being allowed to pass through security checkpoints to pick up passengers at gates. Knives and other cutting tools, even plastic ones, are prohibited, and mail and cargo are temporarily banned from passenger airlines.

Only ticketed passengers were permitted to proceed to the gate areas. Every bag was searched as passengers went through the routine metal detectors. A line of vehicles waited to enter the airport parking garage.

The scene at Hawaii airports was repeated across the United States, as the nation's air system started coming back online after being shut down Tuesday when four hijacked planes were crashed into the World Trade Center, the Pentagon and a Pennsylvania field.

At late morning, all major Hawaii airports but Lihue had received FAA certification of enhanced security procedures and were allowed to schedule flights. The Kahului received the OK to open about 6:15 a.m.

The first carrier to fly today was Aloha Airlines.

"We brought people in late last night, we brought people in early this morning. It took a great effort to get this far," said Stu Glauberman, Aloha Airlines spokesman. He said the airline had employees on standby until noon hoping to resume flights yesterday but was forced to turn customers away.

Throughout the morning, airlines were scrambling to get airplanes back into the air. By late morning:

>> In addition to the 7:45 a.m. flight to Kona, Aloha had a number of interisland flights in the air. The airline said it planned to increase it schedule throughout the day. Two nonstop flights from Las Vegas were scheduled to arrive in Honolulu at 3:15 p.m. and 3:45 p.m. then turn around and fly back to Las Vegas. Aloha affiliate IslandAir also planned one flight each to Molokai and Lanai by early afternoon.

>> Hawaiian Airlines was to begin limited service this afternoon and expects to resume a full schedule tomorrow, said spokesman Keoni Wagner. He urged passengers to check the airline's Web site or to call the reservations line for updates on their flights.

>> Nine flights that had been diverted to Honolulu after Tuesday's attacks on New York and Washington prepared to leave Hawaii, starting with Delta Airlines' flight 1578 to Los Angeles. Another Delta Flight was scheduled to leave at 1 p.m.

>> Other mainland and international flights included three United Airlines flights, including Flight 2 to Los Angeles at noon, two ANA flights, including Flight 1051 at 2:55 p.m. to Tokyo Narita; one China Airlines flight and one Canada 3000 flight.

All airspace over the United States is open, however each airport must be certified by the FAA. As of this morning, the only West Coast airports open were Los Angeles International, Las Vegas and Portland.

Airlines were recommending that passengers call reservations lines and check airline Web sites before heading to the airport, and to arrive at least 90 minutes early for interisland flights.

Kirk and Yvonne Stephenson had been trying to get back to Kona since Tuesday. They were at the airport within 10 minutes of getting word of the 7:45 a.m. flight to Kona.

"We found out at 6:24 and took the 6:30 shuttle bus," said Kirk Stephenson.

Dr. Christine Fukui of Kaiser Moanalua, who works at a clinic on the Big Island once a month, was also on today's first flight to Kona.

"My husband told me early this morning, 'Don't go to the airport, you're not going to get the flight.' I told them not to cancel my clinic, that I would try to get there," Fukui said.

She rushed to the airport when she heard on the radio that Aloha was flying to Kona.

Russell Sakanoi was not sure he would be able to return to Hilo this morning when he went to the Honolulu Airport.

"I just took a chance and came right down cause we were trying to get in touch on the phone and we always got the message that they were busy, all phone lines were busy," Sakanoi said.

Aloha spokeswoman Stephanie Ackerman said passengers could come to the airports and standby for the flights until normal operations are re-established.

Ackerman advised interisland passengers to arrive at the airport at least 90 minutes before their scheduled flights because of the increased security procedures.

State Transportation officials are advising travelers bound for overseas or the mainland to check with their airline before showing up at the airport.

"So people should not come to the airport just because we've opened the air space. Carriers are still in the process of being certified," said Marilyn Kali, state Department of Transportation spokeswoman.

General aviation aircraft were still grounded as were cargo carriers this morning. The Honolulu Police Department helicopter was also still grounded, but the Fire Department was allowed to fly.

In Washington, Transportation Secretary Norman Mineta cleared the way for commercial flights this morning, saying airports would be opened and flights resumed on a case-by-case basis -- and only after stringent new security measures are in place.

Mineta urged passengers to allow time to deal with the new procedures.

"There will be some inconveniences, but safety will be the first element of our system to be restored," Mineta said.

---

The Associated Press contributed to this report.

---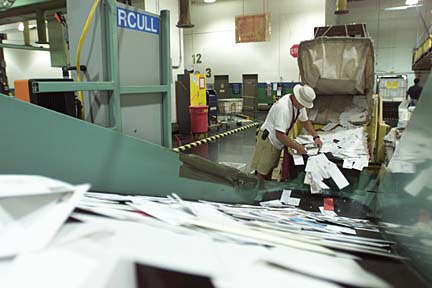 GEORGE F. LEE / GLEE@STARBULLETIN.COM
Postal worker Milton Takasugi continued to sort mail
yesterday at the airport, though most mail bound for
destinations beyond Hawaii cannot be delivered because
of the grounding of all flights nationwide.
---
Shipment of most
Hawaii mail delayed

Oil tankers and other deliveries
via boat remain unaffected

---

By Diana Leone
dleone@starbulletin.com

It's not your imagination that the mailbox isn't as full as usual since Tuesday's terrorist attacks.

The last U.S. mail service between Hawaii and the mainland was Monday. Since then, any mail bound for the mainland has been processed on each island and awaits the reopening of airports, said postal service spokeswoman Felice Broglio.

Only bulk-rate magazines, third-, fourth- and book-class items, all of which arrive by ship, will be coming from the mainland until air service is restored, Broglio said.

Post offices, except those on military bases, remain open regular hours, and "we're accepting and processing mail as usual," Broglio said. Mail pickup and delivery will continue normally.

Bill payers should not worry about checks sent to the mainland not getting there on time, said Chuck Crawford, managing director of Consumer Credit Counseling Service of Hawaii.

"Most major companies have disaster procedures," he said. "They know this is going on. My guess is, as long as you put the payment in the mail and it's postmarked with the date it should be, that the companies receiving it will accept it as on time."

Also affected by the shutdown of air travel is the arrival of fresh flowers, fish and produce from other locations, said Pearl Imada Iboshi, Hawaii state economist.

Groceries with a shelf life and petroleum fuels arrive by ship, and supplies have not been interrupted.

Bal Dreyfus, vice president and area manager for Matson said: "Vessels are moving. We haven't seen any change in arrivals."

Hawaii's two refiners of crude oil, Tesoro and Chevron, both say that there is plenty of fuel on hand and that there has been no interruption of the scheduled arrivals of tankers.

Customers are being asked to follow their normal gas purchase patterns so as not to create lines at gas stations.

Tesoro spokesman Nathan Hokama said some Tesoro stations reported lines Tuesday but that purchasing seemed to have returned to normal yesterday.

Tesoro, which refines about 95,000 barrels of oil each day in Hawaii, pledged that it would not raise gas prices at least through the weekend, said Hokama.

There have been reports on the mainland of price-gouging in the wake of Tuesday's terrorist attacks.

Maurice Kaya, energy and technology division head for the state Department of Business, Economic Development and Tourism, said national sources reported yesterday that petroleum supplies should not be a problem anywhere in the country but Manhattan.

After reports that some Hawaii stations may have raised prices, Chevron issued a statement yesterday calling for "all retailers to do everything in their power to maintain normal marketplace pricing, since that is in the best interest of our customers and our nation."

The refiner, which processes 55,000 barrels of crude oil per day in Hawaii, pledged that the company "will continue to exercise restraint in our pricing decisions during this difficult period."

Independent business owners operate all but six of the Chevron stations on the islands, so they set their own prices, said company spokesman Al Chee.

The U.S. Postal Service normally moves 60,000 to 85,000 pounds of mail daily in the entire state, spokeswoman Broglio said. More than half of that typically is to and from the mainland.

A significant portion goes, by contract, on Federal Express-owned planes, and the remainder is transported by commercial airlines on a space-available basis, Broglio said.

She said that when air travel resumes, the commercial airlines may not have as much space for mail at first because of the backlog of passengers and luggage.

If air travel is restricted for more than a few days, the Postal Service will consider sending first-class mail by boat, Broglio said, but that decision will be made as more information is available.

Meanwhile, mail delivery from senders on Oahu should be pretty normal, Broglio said. Mail sent by the neighbor islands normally is processed on Oahu. With the cutoff of air travel, neighbor island post offices will be hand-canceling local mail and delivering it, she said.
E-mail to City Desk
---
---
© 2001 Honolulu Star-Bulletin
https://archives.starbulletin.com