CLICK TO SUPPORT OUR SPONSORS

---

---
Wednesday, September 12, 2001


[ STUFFS ]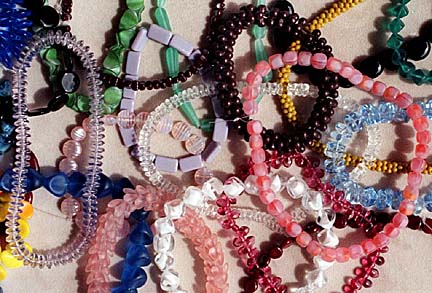 STAR-BULLETIN / 1998
Stock up at the "Best Bead Show" next month.
---
Style File
Bead benefit set
Forty exhibitors from 14 states will sell beads made of glass, gold, silver, wood, stone, pewter, antler bone and more when the Ward Warehouse hosts the "Best Bead Show" Oct. 5 to 7. The event will take place in the second-floor Kewalo and Kakaako Conference Rooms of Building D.

Also for sale will be glass art, findings and stringing supplies. Funds raised will benefit the National Kidney Foundation.

Show hours are noon to 6 p.m. Oct. 5, 10 a.m. to 6 p.m. Oct. 6, and 11 a.m. to 5 p.m. Oct. 7. Admission will be free.
'The Art of Fashion'
Kahala Mall hosts a weekend of fashion displays, modeling and dress-up worthy performances on its Centerstage.

Entertainment begins at 11 a.m. tomorrow, with an 11:30 a.m.-to-noon fashion show presented by Barbizon Modeling School & Agency and Kahala Mall merchants.

If you're the type who complains there's nothing to dress up for, Hawaii Opera Theatre and Diamond Head Theatre will follow the fashion show with a taste of aria and preview of "Jekyll & Hyde, The Musical."

These shows repeat at the same time Sunday.

There will also be additional entertainment and art demonstrations at Stage II and the theater wing both days.
Eye on the holidays
Wasabi Bistro will host a free fashion show from noon to 1 p.m. Saturday, featuring Holiday and Resort 2002 collections from DA-RUE of California and Lucia of Germany.

Call 735-2800 for reservations. Wasabi Bistro is at 1006 Kapahulu Ave.
Fall designer parade
Designer Focus Week opens Saturday at Neiman Marcus, with a preview of fall collections by prominent designers including Giorgio Armani, Jean Paul Gaultier, Missoni, Dolce & Gabbana, Eskandar and more.

There will also be informal modeling of the collections, noon to 3 p.m. on Saturday, Sept. 19 and 22 at Fine Apparel, Level 2. For more information, call 951-8887.

Also, Darphin national makeup artist Hector will show fall colors from this popular French line on Tuesday and Wednesday. To make an appointment, call 948-7586.
Diana's dresses go home
The gowns Princess Diana put up for auction in 1997 will be displayed in a new exhibition at Kensington Palace, where she once lived.

The 14 dresses - including a blue evening gown she wore to a gala at the White House where she danced with John Travolta - were sold in a 1997 auction that raised $3.26 million for AIDS and cancer charities, two months before the princess died in a Paris car crash.

Maureen Rorech-Dunkel bought the gowns, which have been shown around the world, including a six-month exhibition at Kensington Palace in 1999 and 2000.

The dresses, mostly by British designers, will be displayed permanently in the palace's state apartments starting in February.
Window on fashion
The Windward Mall Teen Board will do informal modeling of aloha wear at Sears, Wildflowers, Jeans Warehouse and Local Motion, including mannequin modeling in store windows, at 1 p.m. Saturday.






Click for online
calendars and events.
---
Send WatDat? questions, stories
or any other story ideas or comments to:
Features, Honolulu Star-Bulletin, P.O. Box 3080,
Honolulu, HI 96802 or send a fax to 523-8509
or E-mail to features@starbulletin.com.
Please include your phone number.
E-mail to Features Editor
---
---
© 2001 Honolulu Star-Bulletin
https://archives.starbulletin.com