CLICK TO SUPPORT OUR SPONSORS

---
---
Sunday, September 9, 2001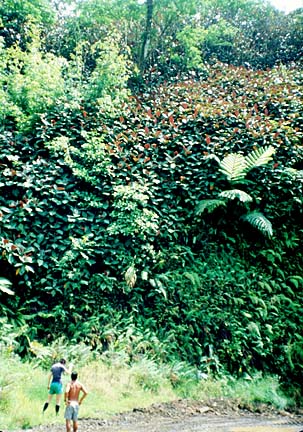 LLOYD LOOPE / COURTESY OF THE NATURE CONSERVANCY
Miconia engulfs vegetation on a Maui hillside. "It will
eventually crowd out other plants including native and
alien species," says Donald Reeser, superintendent
at Haleakala National Park.
---
SPECIAL REPORT: MICONIA INVASION

The Green
cancer spreads


The wildly successful miconia
chokes out native plant life as
it spreads its devastation

First Of Two Parts

---

By Gary T. Kubota
gkubota@starbulletin.com

HANA, Maui >> A single miconia plant is like an environmental time bomb.

Once it reaches maturity in five years, miconia calvescens is capable of bearing several million seeds annually. The seeds are spread by the wind, vehicle tires, the bottoms of shoes, and fruit-eating pigs and birds.

More than $1 million is spent each year on Maui and the Big Island to fight this one plant, and the cost is expected to rise; some say it would take $49 million to get rid of miconia.

In Kawaipapa Valley mauka of Hana town, the large leaves of miconia trees are rising like an explosion of green mushrooms to dominate a native ohia forest.

"This whole valley is all infested," said Jack Peterson, whose Maui Invasive Species Committee is trying to eradicate the plant. "There are thousands of little ones."

Fighting miconia has been compared to battling an out-of-control forest fire.

Crews try to kill the plant before it reaches maturity. But the infestation is jumping to other areas, including Haleakala National Park at Kipahulu.

In a helicopter, Peterson and his crew mark the location of scattered growths of miconia along the sides of ridges several miles away from Kawaipapa.

The crew will eventually return by helicopter to either spray an herbicide on the plants or rappel down to cut and poison the trees.

Within the main infestation between Kawaipapa and the Hana landfill, a bulldozer has cleared more than 10 miles of four-wheel-drive road to allow a five-person state crew access to kill the miconia.

Since 1996, the crew has been pulling out saplings or cutting and poisoning the trees within a 2,000-acre area above Hana town.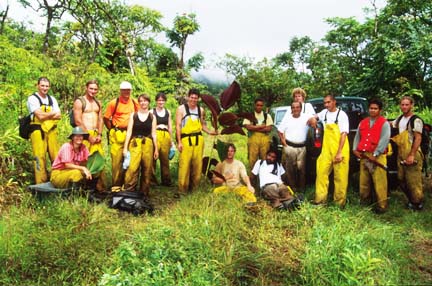 COURTESY OF PHIL SPALDING III
A combined miconia control crew, with members from
the state, the National Park Service and volunteers from
New Zealand, descend for some work in Hana, Maui.
---
The crew has killed as many as 50,000 plants in a single day, made easier in areas where a mature tree has been cut and the canopy is open to sunlight.

Some seeds have been known to germinate six years after entering the soil.

Alien plant invader

Maui native forest birds and plants are facing a major threat of extinction from what the Tahitians refer to as "le cancer vert," or the green cancer.

Scientists say the miconia will do more damage than any alien species, if left unchecked.

In Tahiti, where the miconia has taken over an estimated 70 percent of the native forest, or 196,600 acres in 64 years, islanders are reeling from the environmental consequences.

"This small tree is undoubtedly the worst alien plant invader in tropical islands worldwide," said Jean-Yves Meyer, who worked as a scientist fighting the miconia in Tahiti for several years.

Miconia is unlike many alien species that grow side by side with native plants.

A native of South America, the plant grows up to 50 feet tall with leaves more than a foot and a half wide and close to three feet long. Because its roots are shallow, mountain slopes occupied by it are susceptible to landslides.

Miconia can block sunlight to other plants, effectively killing them or stunting their growth.

Meyer said 50 to 75 plant species found only in Tahiti are directly threatened by miconia and several have become extinct, especially low-lying native shrubs similar to those found in Hawaii.

Meyer said native Tahitians have difficulty finding wild bananas in the forests, a traditional staple in their diet, or wild apple and orange trees. Trees used for building canoes are becoming scarce.

Miconia also has degraded watershed areas, promoting erosion and landslides.

The threat in Hawaii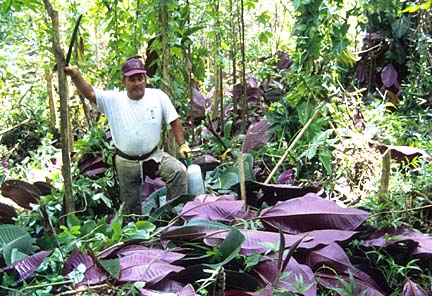 THE NATURE CONSERVANCY OF HAWAI'I
Darrell Aquino, state miconia field leader, shows
a large plot of miconia on Maui.
---
Miconia infestations span an estimated 20,000 acres on the Big Island and 12,000 acres in East Maui.

Some plants have been found but controlled along the Wailua River on Kauai and in Wahiawa and the valleys of Manoa, Nuuanu and Kalihi on Oahu.

On Maui, at stake is the integrity of the 100,000-acre East Maui watershed, which provides irrigation and drinking water for thousands of households along the slopes of Haleakala.

It threatens native wildlife havens at Honaunau and Kahaualea on the Big Island and East Maui's Hanawi Natural Area Reserve, which has the highest number and density of endangered forest birds in the state.

The reserve is home to the po'ouli, the Maui parrotbill and four other rare forest birds, as well as 18 rare plants, various snail species and an unknown number of native insects, according to the state.

Wildlife advocates point out that without an effective miconia control or eradication program, government officials will have wasted millions of dollars in maintaining wildlife habitats and raising endangered bird species to allow them to return to the wilderness.

"It will eventually crowd out other plants including native and alien species," said Donald Reeser, the superintendent at Haleakala National Park.

"All the work we've been doing in areas, fencing out pigs. If we can't get rid of it, all that work is wasted."

Need more funding

Federal park and forestry officials say more funding is needed for Maui and the Big Island to reduce the infestation, rather than control it.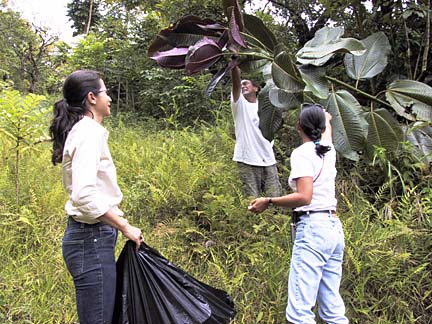 GARY T. KUBOTA / GKUBOTA@STARBULLETIN.COM
Maui Invasive Species Committee worker Russ Suzuki
and others pull down a miconia plant in an area mauka
of the Hana Airport on Maui. Conservation groups are
trying to eliminate the plant from Maui in an effort
to preserve native forests.
---
They say more money is needed to find biological controls for the plant.

"All we're doing is making the minimal payment so our minimum balance is continuing to grow," said Duane Nelson, a forest health specialist with the U.S. Department of Agriculture.

Wildlife advocates note that while 26 percent of the endangered and threatened species in the United States are in Hawaii, less than 6 percent of the federal money for preserving them is spent in the islands.

The total budget statewide for miconia eradication is a fraction of what groups say they need.

Invasive species specialists on the Big Island and Maui estimate the cost of miconia eradication would amount to $7 million annually for at least seven years -- $4 million for the Big Island and $3 million for Maui.

The total budget for both groups decreased by $69,000 to $1.01 million this year, mainly because of a drop in financial support from the state Legislature.

The state lawmakers decreased funding for miconia reduction to $400,000 this year from $500,000 last year.

Observers say the $400,000 was even less after some of the money was used for other pest control projects.

While the Maui group was able to make up for the decrease through county sources, the Big Island group saw its miconia budget fall from $340,000 to $271,000.

The lack of government support has prompted the groups to seek out donations from nonprofit organizations and explore other means of generating revenues.

Reeser said starting Jan. 1, Haleakala National Park is planning to charge entrance fees in Kipahulu and helicopter tour fees at Kaapahu and Kipahulu to raise money to finance miconia eradication.

He hopes to raise $1 million through the proposed fee program.

Commercial ground tour fees for vehicles will range from $30 to $100; for noncommercial, $10 per vehicle or $5 per person over 16 years old.

The entry fees are good for seven days. Park passes such as the Golden Eagle also will be honored.

Peterson said the public needs to know the cost of control will be expensive but is necessary and taxpayers will pay less the sooner it is done.

"This work needs to be viewed as watershed maintenance," he said. "It is a necessity, like funding firefighters."




IN HARM'S WAY
Some of Hawaii's birds that are threatened
by miconia on Maui and the Big Island:

MAUI

| | |
| --- | --- |
| | |
| Akepa | Crested honey creeper |
| | |
| Maui parrotbill | Po'ouli |

BIG ISLAND

Alala
Creeper
Akia pola'au
Hawaiian hawk
Akepa

---




Photographs from the U.S. Fish & Wildlife Service



E-mail to City Desk
---
---
© 2001 Honolulu Star-Bulletin
https://archives.starbulletin.com