CLICK TO SUPPORT OUR SPONSORS

---

---
Island Images



Friday, September 7, 2001
---
MOVE OVER SMALL DOG,
BIG DOG'S MOVIN' IN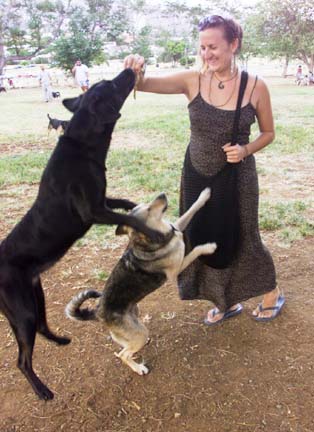 KEN IGE / KIGE@STARBULLETIN.COM
Audrey Keesing held up a seed pod to get her little dog,
Nutmeg, to twirl around yesterday at the Bark Park in
Kaimuki. Big dog, Zoe, had other plans, however, and
took it from Keesing before Nutmeg ever had a chance.
---
A JOB WELL DONE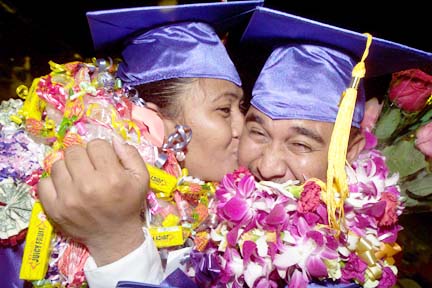 DENNIS ODA / DODA@STARBULLETIN.COM
Lisa Ifo, left, gave Maurus Bossy Jr. a congratulatory
kiss last night after receiving their Hawaii Job Corps
graduation diplomas. Like other graduates at the
Waimanalo commencement, they were covered
with lei from friends and relatives.
---
CAMPAIGN COUNSELS TEENS
AGAINST PREGNANCY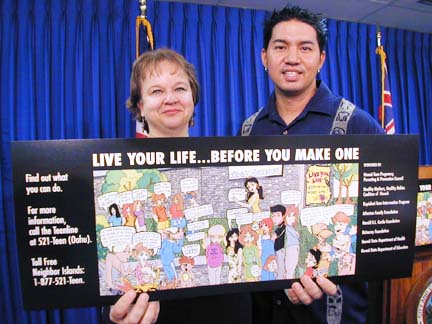 CRAIG T. KOJIMA / CKOJIMA@STARBULLETIN.COM
A campaign to prevent teen pregnancies got under way
yesterday at City Hall, with a mayor's proclamation
establishing the "Live Your Life ... Before You Make
One" media drive. Nancy Partika, executive director of
the Healthy Mothers, Healthy Babies Coalition of
Hawaii, showed artwork created by Jason Ulep, right,
which will be used in publicity materials.
---
E-mail to City Desk
---
---
© 2001 Honolulu Star-Bulletin
https://archives.starbulletin.com