CLICK TO SUPPORT OUR SPONSORS

---

---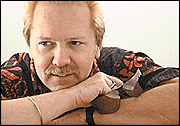 Island Mele



Friday, September 7, 2001
By John Berger
---
"Slack Key Lady"

Cindy Combs
Dancing Cat (38041-2)

Most women who play guitar in Hawaii are better known for some reason as singers or song writers. Cindy Combs' first album for George Winston's Hawaiian Slack Key Guitar Masters Series bucks that tradition. Combs sings too but most of the selections here are instrumentals. She is certainly deserving of the title "slack key guitar master."

Combs opens with an imaginative reworking of "Hi'ilawe" that offers a fresh interpretation of a very familiar melody. Her version is a great example of the possibilities that await discovery in standards of any genre.

Combs takes fewer chances elsewhere but her arrangements of "Wahine 'Ilikea" and "Kaulana Na Pua" are excellent. "Sweet Leilani" and "Sweet Memory" display her appeal as a vocalist and add other facets to this beautiful musical portrait. A 20-page booklet includes essential information on Combs, her repertoire, the tunings she uses, and the traditions of Hawaiian slack key.

www.dancingcat.com

---




"Raw"

Pahe'e
Powerline 1000

On first listen Pahe'e is another young Jawaiian band easily described as "another one just like the other one." The quintet's debut album includes remakes of Jamaican classics, faux-Jamaican accents, and generic Jawaiian versions of American pop chart oldies. Several tracks are reminiscent of Jon Yamasato's oldies remakes or the least-substantial recordings of Ka Nalo. Such material should guarantee Pahe'e heavy play on our "island music" radio stations.

Look deeper and these guys have promise. They're effective musicians, sound like they're already a hot party band, and band members Chad Goodhue and Derrick Dugay wrote six of the songs here. Goodhue's "Sandi's Song" is a pop ballad that could be rearranged several ways and clearly has pop chart potential. Goodhue perpetuates the Hawaiian tradition of "place songs" with "Yokohama." He embellishes several other songs with his work on ukulele.

Waltlen & Son Inc., 808-671-1771

---




"Hawai'i, Music From
the Islands of Aloha"

Various artists
The Mountain Apple Company (MACD-2077)

The Hawai'i Visitors & Convention Bureau and the Mountain Apple Company are reaching out to the world with this anthology. Using an HVCB-sponsored album to promote Hawaii is certainly more logical than that recent scheme of asking local folks to spend their hard-earned money sending CD-singles to friends on the mainland.

The album is similar to Mountain Apple's 1996 "Pick A Hit Hawaii" project and contains 15 songs apparently culled at random from the label's archives. Most of the songs are modern Hawaiian favorites; Israel "IZ" Kamaka- wiwo'ole's solo version of "White Sandy Beach" is among them. Hits by Hapa, Amy Gilliom and the Brothers Cazimero add value.

Two of the choices though are problematic. And, although the artwork is pretty, album buyers deserve more information than provided here on the Hawaiian songs that are being used to sell Hawaii.

www.mountainapplecompany.com





---




John Berger, who has covered the local
entertainment scene since 1972, writes reviews of recordings
produced by Hawaii artists. See the Star-Bulletin's Today
section on Fridays for the latest reviews.
E-mail to Features Editor
---
---
© 2001 Honolulu Star-Bulletin
https://archives.starbulletin.com