CLICK TO SUPPORT OUR SPONSORS

---

---
Thursday, September 6, 2001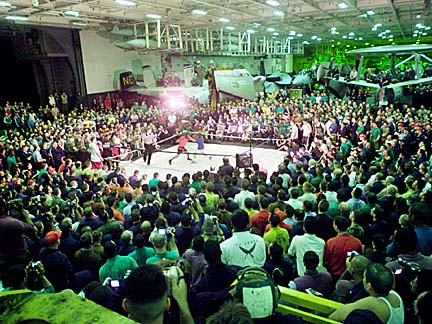 KEN IGE / KIGE@STARBULLETIN.COM
The hangar bay was full Tuesday with sailors watching
boxing matches aboard the USS Constellation.
---
Life aboard the
USS Constellation


Sailors arrive at Pearl Harbor after
spending 6 months enforcing an Iraqi
no-fly zone and taking part in
exercises off China

By Gregg K. Kakesako
gkakesako@starbulletin.com

ABOARD THE USS CONSTELLATION >> For Navy Lt. Tyler Nekomoto, a 1992 Kauai High School graduate, going from zero to 140 mph in less than two seconds in the cockpit of a F-18 Hornet jet fighter is more than a realization of a dream.

"There is nothing else I would rather be doing right now," said Nekomoto, 26, as he completed his first six-month deployment as a combat pilot assigned to the Navy's second-oldest ship, the aircraft carrier USS Constellation.

Nekomoto was among the 5,500 sailors from the USS Constellation battle group that pulled into Pearl Harbor yesterday, joining an additional 4,500 sailors and Marines from the USS Boxer, USS Harper's Ferry and USS Cleveland amphibious readiness group.

The 10,000 sailors and Marines were seen as a boon to the island's economy since it is the largest contingent since last summer's RIMPAC military war games, which left island merchants, restaurants, hotels and other entertainment spots $14 million richer.

Capt. John Miller, skipper of the "Connie," said the carrier battle group spent three months in the Persian Gulf beginning at the end of April policing the southern no-fly zone over Iraq.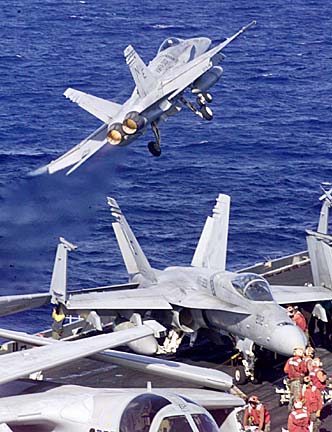 KEN IGE / KIGE@STARBULLETIN.COM
An F-18 Hornet flew from the ship, 280 miles west of Oahu.
---
Combat pilots like Nekomoto flew hundreds of sorties over Iraq, including seven strike missions where pilots hit Iraqi targets.

It was Nekomoto's first combat mission since joining the Navy five years ago after graduating from the University of Colorado. His "biggest concern was getting shot down.

"They (the Iraqis) are getting more and more aggressive."

Nekomoto acknowledged that "at first it was very scary. I had butterflies in my stomach, but as time went by you get used to it, although I would never say it is routine."

The Constellation battle group also participated in a one-day exercise with another aircraft carrier, the USS Carl Vinson, in the South China Sea before it became part of the biggest port call of U.S. warships in Hong Kong since the EP-3 spy plane incident in April.

Fourteen vessels, 130 naval aircraft, more than 20 U.S. Air Force aircraft and more than 15,000 personnel were part of the China exercise held Aug. 17.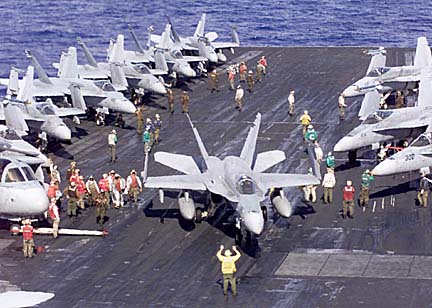 KEN IGE / KIGE@STARBULLETIN.COM
Amid a fleet of jets, crew members directed traffic aboard the
USS Constellation, at sea some 280 miles west of Oahu.
---
Some military analysts said the exercise involving the two carriers was intended as a message to the Chinese that the United States still cares about the Taiwan Straits.

Miller would only say it was "a great training opportunity" and "chance meeting" since the Constellation was on its way home to San Diego after completing its Persian Gulf assignment, and the Carl Vinson was beginning its time in the gulf.

Three days later, the Constellation and six other ships called on Hong Kong. It was the first U.S. carrier visit to the Asian port in 16 months. Beijing barred port calls following the NATO bombing of the Chinese Embassy in Belgrade in 1999 and again in April after the collision between a Navy EP-3 surveillance plane and a Chinese jet. Beijing's approval is needed since July 1, 1997, when Britain turned Hong Kong over to the Chinese.

The nearly five days of liberty, which began Aug. 20, were a hit with the sailors. Hong Kong merchants also looked with favor on the Constellation's visit, and the State Department estimates that $4 million was spent by liberty sailors.

"There wasn't any hint of tension," Miller said.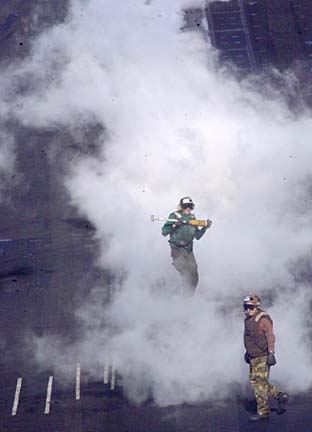 KEN IGE / KIGE@STARBULLETIN.COM
Workers on deck readied for another takeoff just moments after
an F-14 Tomcat was catapulted off the USS Constellation,
blanketing them with smoke.
---
Airman Apprentice Guysen Pauline, a 2000 Waipahu High School graduate, said: "The people were really nice. I went to a restaurant, and the waitresses asked us a lot of questions."

The Navy says the Constellation, which celebrates its 40th birthday on Oct. 27, probably will make one more six-month Western Pacific deployment before it is replaced by the USS Ronald Reagan in 2003. The Constellation and the USS Kitty Hawk, which is six months older, are the only two non-nuclear-propelled carriers in the Navy's Pacific Fleet. The Kitty Hawk is stationed in Japan.
E-mail to City Desk
---
---
© 2001 Honolulu Star-Bulletin
https://archives.starbulletin.com