CLICK TO SUPPORT OUR SPONSORS

---

---
Thursday, September 6, 2001
Navy rethinks
raising of
Ehime Maru


4 attempts thus far to rig
the sunken ship for raising
have failed

---

By Gregg K. Kakesako
gkakesako@starbulletin.com

THE NAVY continues to have problems trying to rig the sunken Japanese fisheries training vessel Ehime Maru so it can be moved to shallower waters where divers can search for the remains of nine missing people.

Yesterday, the civilian support vessel Rockwater 2 returned to Honolulu Harbor while the Navy regrouped to try and come up with another plan to lift and move the 190-foot Ehime Maru after a fourth attempt to rig the ship failed Tuesday.

The failed attempts were to place wires under two strategic positions beneath the ship's hull.

The Navy has never recovered a ship the size of the Ehime Maru from such a great depth. The unprecedented effort is costing $40 million.

The Ehime Maru sank Feb. 9 nine miles south of Diamond Head after it was rammed by the nuclear submarine USS Greeneville, which was demonstrating an emergency surfacing maneuver for 16 civilians. The bodies of nine crew members were never recovered, and the wreck sits in 2,000 feet of water.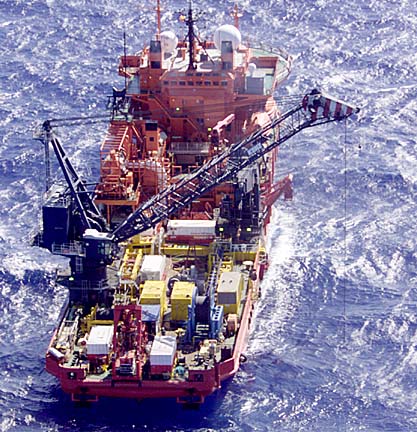 ERIC MATSUZAKI / SPECIAL TO THE STAR-BULLETIN
The Rockwater 2 at the site of the Ehime Maru on Aug. 29.
---
The Navy has tried to tunnel under the Ehime Maru's hull to place wires under the pilot house and the engine room. The wires were supposed to be used to place two metal lifting plates. However, only one wire could be placed using that method.

The Navy then turned to plan B, which called for a special 5-foot metal strap to be placed under the stern of the 830-ton Ehime Maru.

That attempt was to lift the vessel's stern about 24 feet off the ocean floor to pull the cables into place.

However, that method failed on two separate occasions when the metal strap snapped, on Friday and again Tuesday.

The Navy said "contract engineers will review other methods of placing lifting plates under the Ehime Maru," but there was no indication what those could be.

The Navy's own environmental assessment lists only two possible alternatives: drilling or partially lifting the sunken vessel to place the lifting plates.

The Navy has set a mid-September deadline to move the Ehime Maru to shallower waters one mile south of the Honolulu Airport reef runway.

The Navy has been stymied by the fact that the line under the pilot house has snagged, spokesman Lt. Cmdr. Russell Coons said.

"We still don't know what is causing the snag," he said.

As Navy salvage experts were attempting to clear the snag after working for nearly 43 hours, the 5-foot metal strap broke for the second time at 9 p.m. Tuesday.

However, because it had been reinforced by two wires, the ship did not fall and was lowered safely to the bottom.
E-mail to City Desk
---
---
© 2001 Honolulu Star-Bulletin
https://archives.starbulletin.com