CLICK TO SUPPORT OUR SPONSORS

---

---
Tuesday, September 4, 2001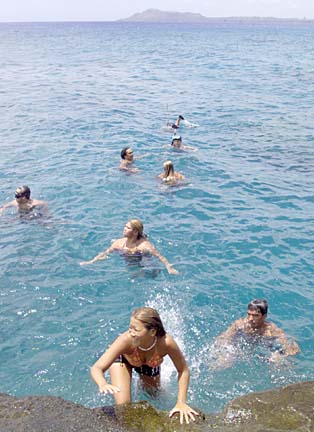 CRAIG T. KOJIMA / CKOJIMA@STARBULLETIN.COM
A novel combination of sea-schooling and e-schooling,
the Ocean Learning Academy will expose 11 students to
a high school curriculum in a maritime context. Above,
teens practiced their swimming skills along the rocky
Portlock shoreline Friday.
---



Nainoa Thompson takes
11 teenagers on an eclectic,
2-year journey of discovery

Ko Olina event planned

---

By Leila Fujimori
lfujimori@starbulletin.com

As their peers sat behind classroom desks, 11 high school juniors who share a love for the ocean were paddling canoes on the waters of Maunalua Bay.

But they weren't cutting class.

These students have forsaken traditional classrooms for the next two years to focus on ocean learning. The bay is the center of an area they will study to restore the health of coral reefs.

"Their campus is the coastlines; their classroom is the Hokule'a," said instructor Nainoa Thompson, master navigator with the Polynesian Voyaging Society.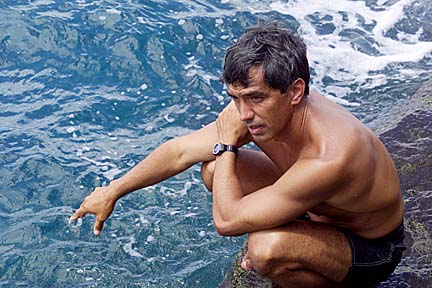 CRAIG T. KOJIMA / CKOJIMA@STARBULLETIN.COM
Nainoa Thompson says of the Ocean Learning Academy,
which opened Aug. 23: "Their campus is the
coastlines; their classroom is the Hokule'a."
---
The students began school Aug. 23 with the new Ocean Learning Academy, a collaborative program between the state Department of Education's Hawaii E-Charter School, the Polynesian Voyaging Society and the School of Ocean & Earth Science & Technology at the University of Hawaii.

The students will mix ocean learning with online learning -- all were provided with laptop computers so they can log on to the Internet to study math, social studies, language arts and technology. Thompson said he is looking into having the Hokule'a equipped with solar panels to power the laptops.

On Friday, the first day of ocean learning, the students first sat at Thompson's kitchen table for three hours, eagerly poring over maps with compasses, learning to chart courses they will eventually take.

For their final 1 1/2-month exam, they will sail the Polynesian voyaging canoe, the Hokule'a, from Kau to Hanalei.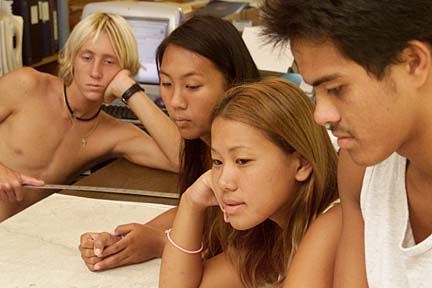 CRAIG T. KOJIMA / CKOJIMA@STARBULLETIN.COM
At left in the classroom, Danny Mateik, Kamyai Young,
Ivy Shimabukuro and Kawika Smith assessed possible
answers to some sailing questions. The program is
sponsored by the Polynesian Voyaging Society, the
state Education department and the University of Hawaii.
---
For the students, learning from the master navigator they address as Nainoa is a special privilege.

"He's a good person, one of my idols," said Kawika Smith, whose family cares for the Hokule'a when it returns from a voyage and anchors off Hakipuu.

"He knows everything I want to know," said Smith. "Since I was small it was always one of my dreams to sail. I always wanted to be in a program like this."

Thompson said the Polynesian Voyaging Society has received many requests to run programs in the schools, but it lacks trained teachers.

The Ocean Learning Academy is expected to serve as a laboratory to develop the program and curriculum for other schools, and as a training ground for teachers such as Kaiulani Murphy and Keoki Ching, who will carry the class when Thompson is unavailable.

Ching, a marine biologist, also works daily with students at the Advanced Technology & Research building on Kilauea Avenue.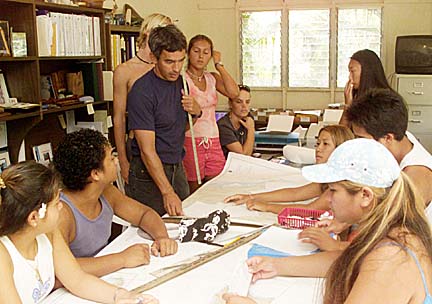 CRAIG T. KOJIMA / CKOJIMA@STARBULLETIN.COM
In the classroom, Nainoa Thompson and his students
pored over charts Friday during the first day of class.
---
"Students have to be computer geeks, Internet geeks, well versed and capable in the water, and have to be stewards of the ocean," Ching said.

Soo Boo Tan, the students' online ocean and earth science teacher, also escorts the students on field trips to hear guest speakers and to places such as the UH Hawaii Institute of Marine Biology at Coconut Island.

The students may never see their other instructors, who teach, hold class discussions and give assignments online.

Students are expected to spend six to eight hours a day on their computers but have the flexibility to schedule when they do their class work. That flexibility allows them to be available for ocean activities, which depend on the weather.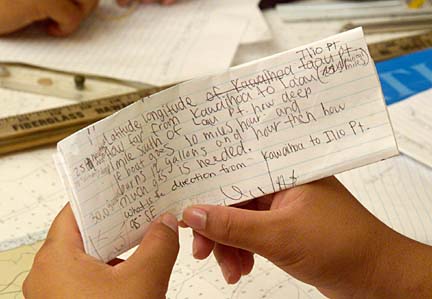 CRAIG T. KOJIMA / CKOJIMA@STARBULLETIN.COM
One of the students wrote out the problem on paper
and then presented a solution to the class.
---
Thompson said students are "forced to build a relationship with the environment."

Although the weekly ocean-learning class fulfills a physical education elective requirement, it incorporates a variety of disciplines such as geology, geography and culture.

During their first session, Thompson explained the tides by diagramming with pen and paper. "If it's a first quarter moon, tell me what time is high tide," he asked students.

Kaina Holomalia gave the precise time. He knew a lot of the answers from firsthand knowledge of the ocean, which he learned from surfing and diving in Nanakuli and from his grandfather.

"I couldn't relate to being in classrooms," said Holomalia, who attends the program with his brother, Makena, "but outside, hands-on things I'm pretty good at it.

"I want to go on to teach others about it."

Students were selected on the basis of their interest in the ocean. They underwent rigorous summer training and Red Cross lifeguard certification.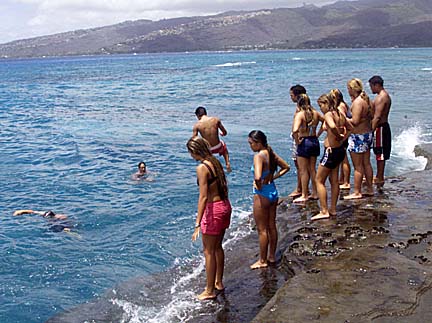 CRAIG T. KOJIMA / CKOJIMA@STARBULLETIN.COM
With Maunalua Bay in Hawaii Kai as their background,
the group practiced climbing from the ocean onto a rocky
shoreline without getting pounded.
---
In preparation for the worst-case scenario in which their canoe sinks and they must get ashore on lava rock, Thompson had the teens dive off the treacherous "China Walls" area of Portlock called Kawaihoa.

Two by two they jumped in, treaded the deep blue water and learned to avoid being dashed against the rocks by huge waves. Thompson remained in the water guiding them as they climbed out safely.

Although the students can enjoy the outdoors, they have forsaken more than the traditional classroom. They have also forsaken other traditional high school activities.

"I miss playing sports," said Maile Nuuhiwa, a former Kaiser High School volleyball and softball player. "I'm going to miss proms. I'm going to miss assemblies."

Although the Waimanalo girl maintained a 3.0 grade-point average at Kaiser, she said boys will no longer be a distraction.

"I can focus on schoolwork," Nuuhiwa said, "so here it's better. It's a smaller learning environment."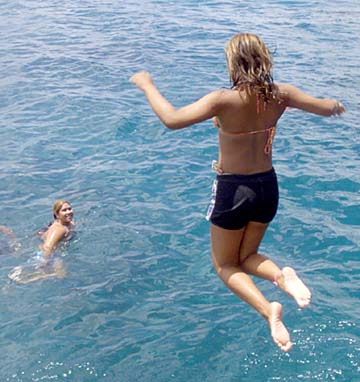 CRAIG T. KOJIMA / CKOJIMA@STARBULLETIN.COM
Student Ivy Shimabukuro jumped off the rocks into
Maunalua Bay as Maile Nuuhiwa looked on during
the academy's capsizing contingency drills.
---
Not everyone can make the sacrifices. One boy dropped out the first day because he wanted to play football.

"The first day he came, he said, 'I cannot handle this,' and he went back to regular school," Nuuhiwa said.

Some sacrifice in other ways. Kamyai Young had to move to Oahu from Maui to participate in the program, which she hopes will prepare her for a future in conservation or marine biology.

The Holomalia brothers, who live in Nanakuli, wake up at 4:30 a.m. and catch the bus to school. But they feel the sacrifices are well worth being in the new program.

All Thompson asks of the students is to want to learn about the ocean, be willing to work hard, and to give back to Hawaii and the coastlines.

"The future of Hawaii is in what we teach our children," Thompson said.

---

Society plans 2-day
event at Ko Olina

---

Star-Bulletin staff

The Polynesian Voyaging Society will host its annual fund-raising event on Sept. 15 and 16 at the Ko Olina Resort & Marina.

Entitled "Ho'oilina Mau" ("Enduring Legacy"), the event will honor those who have contributed to the program.

On Saturday, Sept. 15, from 5 to 10 p.m., the fund-raiser will honor past president Myron "Pinky" Thompson. The event will feature food, Hawaiian music, a silent auction and presentations by Hokule'a navigators Nainoa Thompson, Bruce Blankenfeld and Chad Baybayan.

Individual tickets cost $250, and tables of 10 cost $2,500, $5,000 and $10,000. Money raised will go toward the society's educational programs and operations.

A free family event is scheduled for Sunday, Sept. 16, from 10 a.m. to 5 p.m. at Ko Olina Marina Lagoon No. 4. The function honors founding teacher Wright Bowman Sr., master canoe builder Wally Froiseth, veteran crewmaster and master woodworker Kawika Kapahulehua, Capt. Will Kyselka of the Hokule'a's maiden voyage to Tahiti, Nainoa Thompson and master navigator Mau Piailug.

There will be live entertainment, interactive educational activities, crafts and food booths.

Call 536-8405 for more information.
E-mail to City Desk
---
---
© 2001 Honolulu Star-Bulletin
https://archives.starbulletin.com