CLICK TO SUPPORT OUR SPONSORS

---

---
Saturday, September 1, 2001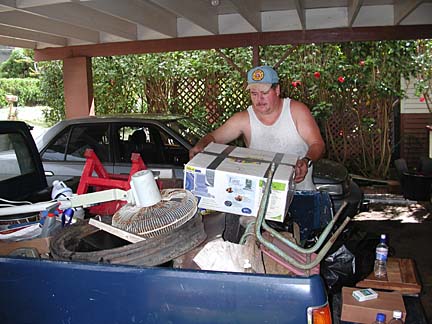 BARRY MARKOWITZ, SPECIAL TO THE STAR-BULLETIN
Nelson McCormick rested his boxed computer on a pickup truck
filled with his belongings yesterday as he prepared to relocate
to a relative's home in Mokuleia. He is among those evicted
from his North Shore house by D.G. Andy Anderson.
---
Velzyland eviction
divides family


Developer Andy Anderson
evicted people to clear land
for a gated subdivision

---

By Leila Fujimori
lfujimori@starbulletin.com

TENANTS EVICTED from land near the North Shore surf spot Velzyland had until midnight yesterday to move out.

But Diana Murphy, a single parent, was unable to find suitable housing in her price range for herself and two children, ages 17 and 20, so the family split up last night.

"I got to separate myself from my kids," Murphy said, saying she was not sure where she would stay.

Developer D.G. Andy Anderson has proposed a controversial gated, 29-lot subdivision near Velzyland, which is now before the City Council's Zoning Committee.

He says he has given 90-day notices to tenants of 17 houses along the highway, and four houses and 22 apartment and townhouse units on the beach.

Anderson said tenants had been given sufficient time to move and was unaware of anyone not finding a place to live. He said Murphy appears to be the only one and suggested she get state-subsidized housing.

"The developer is the bad guy," he said. "It always comes out that way."

Critics say the 19-acre project would have adverse impacts on access to Velzyland and nearby Kaunala Bay. They also worry about impacts on endangered species in the area, potential sewage problems and encroachment on ocean views, and note the city has designated the spot for a future park.

"I feel guilty relocating the people," Anderson said. "You can't have rentals on beachfront property for $500 to $700 a month; it just doesn't pencil."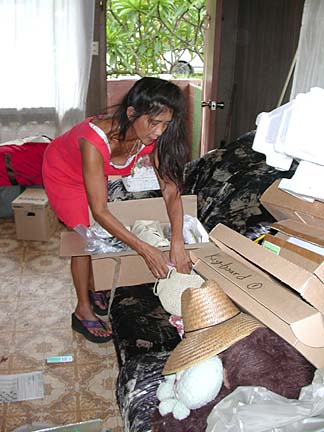 BARRY MARKOWITZ, SPECIAL TO THE STAR-BULLETIN
An exhausted Diana Murphy scurried to meet her 11:59 p.m.
eviction deadline yesterday as she packed her family's
belongings at her North Shore home.
---
Anderson said the complaints are coming primarily from the 160 or so people who were living in a series of two- and three-story apartment buildings and single-family homes that would be demolished to make way for the new subdivision.

The demolition is scheduled for two weeks from now. He expects to begin selling lots next year.

Anderson has promised to donate two public access ways to the city and provide land for a road that would lead to Waialee Beach Park. Patti Duenas, one of the evicted tenants, said she knows of families who are living on the beach because they have nowhere else to go.

Tenants are bothered that Anderson will throw a Labor Day picnic for his John Dominis restaurant employees over the weekend, using the vacated beach houses and an apartment.

"He's going to have this big shindig, and people are in despair," Duenas said. "Pour a little more salt in the wounds."

Anderson said it is just an employee picnic, not a party.

Murphy has been living in a three-bedroom, two-bath home for $725 on the ocean side of Kamehameha Highway.

She has been checking with Realtors but has found only studios and one-bedrooms in her price range. Most houses are $1,200 to $1,500 a month, she said.

Now with the winter surf season fast approaching, residents say it has become harder to find available long-term housing because they are in competition with surfers from around the world.
E-mail to City Desk
---
---
© 2001 Honolulu Star-Bulletin
https://archives.starbulletin.com