CLICK TO SUPPORT OUR SPONSORS

---

---
Thursday, August 30, 2001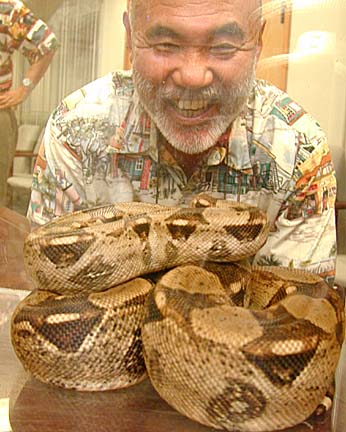 CRAIG T. KOJIMA / CKOJIMA@STARBULLETIN.COM
Attorney General Earl Anzai checks out the boa
constrictor seized from a home in Wahiawa.
---
Boa constrictor,
alien aquatic animals
seized in Wahiawa


Carlos W. Arial is charged with
having illegal animals after
police raid his home

---

By B.J. Reyes
breyes@starbulletin.com

Working on a tip from an anonymous caller, authorities seized a 5-foot boa constrictor and a 250-gallon aquarium filled with various non-native aquatic animals this week from a Wahiawa man, Attorney General Earl Anzai said.

"We had information that the snake was soon to be released into the wild," Anzai said yesterday. "If either the snake or the sea creatures were released into the wild, it certainly would affect our ecosystem."

In addition to environmental damage, the snake also posed a risk to public safety, Anzai said.

"This creature is also a danger on its own," Anzai said. "At a certain size, it could harm small children."

Anzai would not elaborate on what information the caller provided, but said four agents executed the search warrant Monday night on the house at 165 Circle Dr.

Agents from the Attorney General Investigations Division were assisted by Agriculture Department Plant Quarantine inspectors.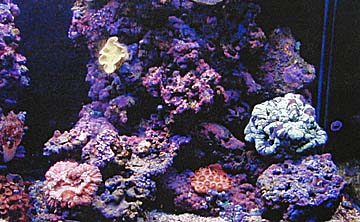 CRAIG T. KOJIMA / CKOJIMA@STARBULLETIN.COM
An aquarium full of non-native marine animals,
including live corals, also was taken in the raid.
---
Carlos W. Arial, 29, was arrested Monday night and booked on two counts of having an illegal plant, animal or microorganism, Anzai said. Each count carries a maximum penalty of up to a year in prison and a fine of up to $20,000.

Arial, who was released pending further investigation, has an unlisted telephone number and could not be reached for comment yesterday.

Anzai said he had no information on why Arial had the snake or where he had obtained it.

The aquarium was filled with non-native invertebrates, including coral, sea anemones, clams and other creatures, Anzai said. Such non-native animals are outlawed in Hawaii because if released into the wild, they could kill native species and cause an imbalance in Hawaii's reef population.

The aquatic animals will be turned over to the Waikiki Aquarium, while the snake will be turned over to the Honolulu Zoo to be shipped to the mainland, said Glenn Takahashi, maritime supervisor with the Plant Quarantine Branch.

Boa constrictors are native to parts of Central and South America and can grow to lengths of more than 10 feet.

Domingo Cravalho, a plant quarantine inspector, said the seized boa was in good condition and was in a stage known as "blue phase," a period when it sheds its outer skin.

Anzai said he hoped the arrest and charges against Arial would prompt others to either report illegal animals or take advantage of the state's amnesty program, which encourages residents to voluntarily turn in illegal animals, with no questions asked and no penalties assessed.
E-mail to City Desk
---
---
© 2001 Honolulu Star-Bulletin
https://archives.starbulletin.com