CLICK TO SUPPORT OUR SPONSORS

---

---
Thursday, August 23, 2001




[ WAHINE VOLLEYBALL ]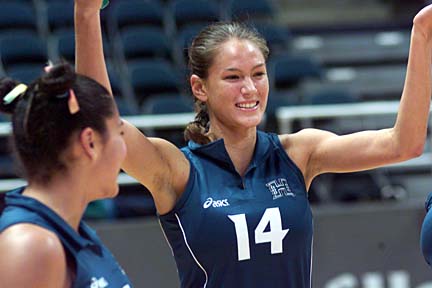 FL MORRIS / FMORRIS@STARBULLETIN.COM
Lauren Duggins was all smiles at media day on Monday.
She'll be one of the Wahine's starting blockers
in the season opener.
---
Wahine's first
exam tomorrow
vs. Huskers


UH's Willoughby calls the match
against top-ranked Nebraska a
preseason final four contest

---

By Grace Wen
gwen@starbulletin.com

STOCKTON, Calif. >> School hasn't started yet for the University of Hawaii volleyball team, but the Wahine will take their first major test tomorrow.

Actually, it's more of a final exam.

With three of last year's final four teams converging in Stockton, Calif., for the State Farm Classic/NACWAA tournament this weekend, it will seem like deja vu for the Rainbow Wahine.

Fifth-ranked Hawaii faces top-ranked Nebraska at 2 p.m. Hawaii time in a rematch of last year's NCAA championship semifinal. In that final four match, the Cornhuskers eliminated the Wahine in four games. Fourth-ranked Wisconsin, the 2000 NCAA runner-up, plays No. 12 Pacific at 4 p.m.

"This is like the preseason final four," outside hitter Kim Willoughby said. "Three of the four teams are final four teams, so whether we win or lose, if we go out and play hard that still tells us that we're playing with the top three teams in the country now."

Competing with the top three teams in the nation may be all that Hawaii can hope to do as the young squad faces a veteran Nebraska team that has four All-Americans in its lineup including AVCA Player of the Year Greichaly Cepero.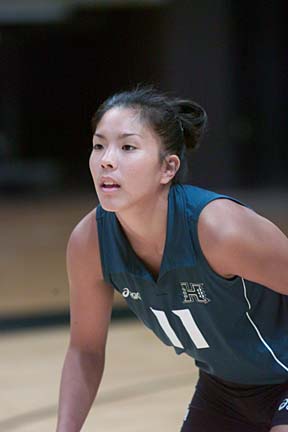 FL MORRIS / FMORRIS@STARBULLETIN.COM
Ashley Watanabe prepares to defend a shot over the net.
---
Last year's Cornhusker team went undefeated without two-time first team All-American Nancy Metcalf, who redshirted last season after being the last player cut from the Olympic roster.

A quicker UH offense will need to beat Nebraska's towering block, which averages 6 feet 2 inches. The Cornhuskers' shortest starter is 6-foot outside hitter Laura Pilakowski.

"We have to play fundamentally strong and take advantage of what Nebraska is giving us and not play to their strong points," Shoji said. "We'll have to hit around or through their block ... create some kills somehow.

"Our hope to win the match is to get it by the block and make them try to dig and handle the ball. In the match last year, we had too many unforced errors."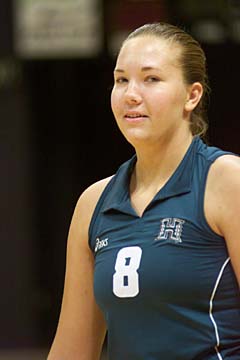 FL MORRIS / FMORRIS@STARBULLETIN.COM
Melody Eckmier will start at middle
blocker along with Lauren Duggins.
---
Nebraska won't give much and the Wahine know that, as they were blocked 23 times in last year's semifinal.

And the Wahine have new challenges this year with All-American Lily Kahumoku sitting out the season for personal reasons.

It's a tall order for a young squad that starts two middle blockers with relatively little playing experience.

Sophomore Lauren Duggins and redshirt freshman Melody Eckmier have made great strides during training camp, but neither have ever been in starting roles. How quickly both adjust will be key to the Wahine's performance this weekend.

Despite the odds stacked against the Wahine, at least one player is confident of a win. Setter Margaret Vakasausau believes the Wahine can pull out a victory.

"It's going to be a long match," Vakasausau said. I'm so excited to get our team out there and to perform how we've been playing throughout the whole double days."

Notes:

It is only the seventh time the Wahine will start the season on the road. ... UH is 24-3 in season openers. ... It's the second consecutive year that Hawaii faces the same opponent that ended its season the previous year. Hawaii opened last season with a win against Texas A&M. ... Hawaii has played in the NACWAA tournament once (1996) since its inception in 1995. ... The Wahine are 4-4 all time against the Cornhuskers.

STATE FARM/NACWAA CLASSIC

Stockton, Calif.
at Alex G. Spanos Center
All times HST
Tomorrow

Hawaii vs. Nebraska, 2 p.m.
Wisconsin vs. Pacific, 4 p.m.

Saturday

Consolation match, 2 p.m.
Championship match 4 p.m.

No. 1 Nebraska

Coach: John Cook, 2nd year
2000 Record: 34-0, National Champion
Returning starters: Greichaly Cepero, Nancy Metcalf, Laura Pilakowski, Amber Holmquist, Jenny Kropp

No. 4 Wisconsin:

Coach: Pete Waite, 3rd year
2000 Record: 33-5, NCAA runner-up
Returning starters: Sherisa Livingston*, Lizzy Fitzgerald, Erin Byrd, Lori Rittenhouse

No. 5 Hawaii

Coach: Dave Shoji, 27th year
2000 Record: 31-2, NCAA semifinalists
Returning starters: Kim Willoughby, Maja Gustin, Jennifer Carey

No. 12 Pacific

Coach: Jayne McHugh, 1st year
2000 Record: 28-4, NCAA regional semifinal
Returning Starters: Jennifer Joines, Jamie Hamm, Elaine Goeders, Courtney Miller

* Livingston will not make the trip to NACWAA as she is academically ineligible.

---



E-mail to Sports Editor
---
---
© 2001 Honolulu Star-Bulletin
https://archives.starbulletin.com