CLICK TO SUPPORT OUR SPONSORS

---

---
Sunday, August 5, 2001
[ SUNDAY TRAVEL ]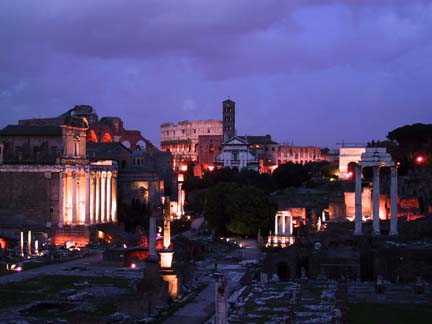 DENNIS CALLAN / SPECIAL TO THE STAR-BULLETIN
The Forum offers a look back in time to the center of
ancient Rome. It was the hub of life in the city that
ruled most of Europe at the time.
---



The most beautiful city in Europe
presents a nearly overwhelming array
of history, arts, culture, food and fun

---

By Dennis Callan
Special to the Star-Bulletin

The phrase "All roads lead to Rome" really means:

a) Western civilization was created there.

b) You can't get lost in Italy.

c) It was the center of the ancient world.

d) The real traveler will visit someday.

e) Too many cars here; don't drive.

All are correct except b. Rome is filled with 2,000 years of history, art and culture; how could you possibly see it in a short time? Rome presents so many choices that you might get overwhelmed. But don't worry. Three days gives you ample time to see standard highlights, plus some hidden corners.

Wear comfortable shoes. You cannot poosibly see much of Rome on a standard bus tour, which wastes a lot of time stuck in traffic. On foot you can better appreciate the incredible art, ancient architecture, food, impressive churches, quaint cobbled alleys, unlimited shopping and cozy neighborhoods.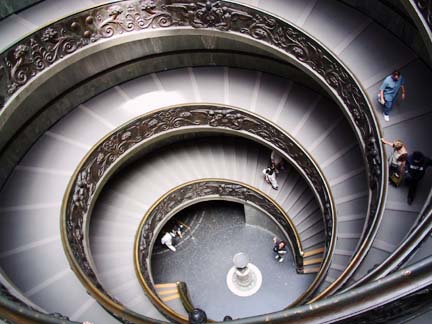 DENNIS CALLAN / SPECIAL TO THE STAR-BULLETIN
An amazing spiral staircase leads out of the
Vatican Museum in a dizzying swirl.
---
Day One

Starting out with a bang, your first walk should bring you into the Piazza Navona, with its picture-postcard-perfect St. Agnese Church by Borromini, and the stunning Fountain of the Four Rivers by Bernini -- artists you will encounter often, as they were the greatest of Baroque architects and sculptors. This centrally located piazza is one of the most beautiful and lively outdoor spaces in the world.

Originally built as a racetrack by the ancient Roman emperor Domitian, it still retains the original oval shape that gives it a unique appearance. Lined with restaurants and palaces, the piazza is enclosed by faded pastel facades that produce a rich feeling of antiquity.

From here, walk two short blocks to the best-preserved ancient building in Rome: the Pantheon, a perfect structure, still standing with its great dome intact after 1,900 years. It was the largest dome in the world until this century, and it forms a spherical space that creates a balanced feeling of harmony. The Pantheon was a temple designed by the emperor Hadrian in A.D. 125, and it has served a variety of historical functions over its many years. It is situated on the Piazza della Rotunda, which has several overpriced cafes and restaurants, and a beautiful fountain in the middle with an Egyptian obelisk.

You are probably ready for refreshments -- perhaps some rich Italian ice cream around the corner at Giulitti's, the city's best gelateria, or an espresso at Tazza D'Oro or, better yet, their famous granita, an icy coffee with whipped cream -- that will keep you going a few more hours.

Walk to another incredible church, St. Ignazio, with a ceiling mural painted during the 17th century by the Jesuit priest Andrea Pozzo. The vivid three-dimensional perspective will shock your eyes with its realistic depiction of the heavens opening above and painted architecture that blends magically with the building so you don't know where one begins and the other ends. Notice the stage-setting quality of its small piazza in front, where it seems an outdoor opera could begin any moment. This is one of Rome's few building ensembles of rococo design, with graceful curved facades unified in earth-tone colors.

A few blocks away, across the busy Via del Corso, is the spectacular Trevi Fountain, made famous in the movies "Three Coins in the Fountain" and "La Dolce Vita." It depicts the ocean god Neptune, heralded by conch blowers and pulled through a triumphal arch by wild horses amidst a torrential cascade.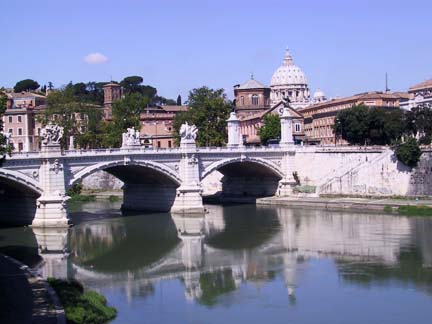 DENNIS CALLAN / SPECIAL TO THE STAR-BULLETIN
St. Peter's Basilica sits across the Tiber River from
Ponte Sisto, a classic view of the city.
---
Trevi was built during the 18th century to celebrate the ancient Aqueduct of the Virgin, one of a dozen important waterways that brought water into the city. Two thousand years ago, Rome had more fresh water per capita than any modern city, which explains how a million people could live here at the empire's peak, giving rise to the ancient world's largest city.

Finish your excursion by walking a few more blocks to the Steps. Along the way, look for the Church of St. Andrea delle Fratte to see another combination of great works, Bernini angels inside, and the brick dome by Borromini. There is also a peaceful cloister where you'll find a moment's refuge.

The Spanish Steps and adjacent Piazza di Spagna are always bustling with people attracted by their urban elements. The setting is another painting come to life, with a broad curvaceous staircase elevating your eye to the twin-towered church of Trinita di Monti, accented by an Egyptian obelisk. Five of the city's best shopping streets emanate from the foot of the steps, creating a 20-block grid of retail heaven where cars are prohibited. The ambience shows why Rome has no need for modern shopping malls. It shows how much we have lost in America by destroying our towns for the sake of uniform malls.

Settle in for lunch in any of a dozen fine restaurants in this neighborhood. Best bets include La Rampa, Al 34 and Da Mario. After lunch you will have renewed energy for walking, but remember that many of these shops close for siesta. Fortunately, this custom is quickly changing, and laws have been rewritten to allow small shops to stay open all day. A good spot for midday browsing is the Via del Corso, one of the main retail streets where most shops stay open all day. This street is especially interesting in the late afternoon passagiata. Romans care about their appearance and love to show off. Nothing is more important, and this is the best place to catch the spectacle as the locals fill the cafes and mingle in a vast street gathering of the beautiful ones who must see and be seen.

You could easily spend the rest of the day shopping, but if you would like another cultural target to aim for, head to the Piazza del Popolo via the meandering streets of what Romans call the "Trident" between the three streets, Corso, Babuino and Ripetta, filled with little shops, galleries, churches and cafes. The Trident comes together at the twin Baroque churches on one side of the Piazza del Popolo. The other side of this vast plaza rewards you with Rome's earliest domed Renaissance church, Santa Maria del Popolo, which contains Caravaggio paintings, Bernini sculptures and architectural details by Raphael. A towering 3,000-year-old Egyptian obelisk and lion fountain stands at the piazza's center, anchoring all the elements in perfect Roman style. For light refreshments, try Rosati or Canova, two of Rome's grand old cafes, or have dinner at Dal Bolgnese. A nearby family-operated trattoria, La Buca di Ripetta, would also feed you very well.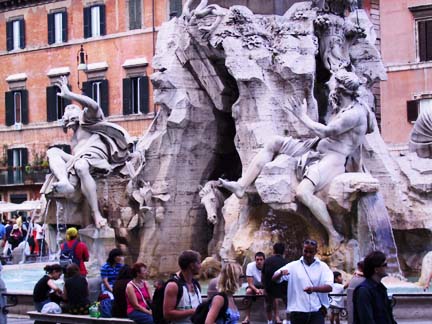 DENNIS CALLAN / SPECIAL TO THE STAR-BULLETIN
Fountain of the Four Rivers, by Bernini, is part of
Piazza Navona, a beautiful and lively outdoor space.
---
Day Two

Today you will visit the four most important historic highlights of Rome: the Ancient Forum, the Coliseum, the Vatican Museum and St. Peter's, getting around town like a local by riding the metro subway from the Coliseum to the Vatican, and then taking the notorious Bus 64 back to the center.

Start your walk from the Largo Argentina, an unusual collection of four ancient temples in the middle of the busy city streets, also home to Rome's largest collection of wild cats. The temple complex was discovered in the 1930s when a construction project uncovered them. The government chose to protect this site and partly rebuild the temples to give visitors a glimpse below the surface into prehistory. Here you can see that modern Rome is about 30 feet higher than the ancient ground surface, which makes one wonder what other treasures are still buried.

Nearby is the "Ghetto," not a slum but a historic section where Rome's Jews lived in the Middle Ages. It still retains a medieval feeling typical of the city's many hidden nooks and crannies. Narrow cobbled alleys lead from one little crooked space to another -- a palace here, a church there. The cutest item is the Fountain of the Turtles, a Renaissance fixture of four life-size naked youths standing on giant seashells in the Piazza Matei, attached to some legend about a nobleman losing his fortune in a card game but having the fountain built overnight anyway to impress his future father-in-law.

Continuing along in the Ghetto, you could walk past the Portico of Octavia, built by Rome's greatest emperor, Augustus, as a large complex that has now been reduced to a few columns and broken fragments. Next to it is one of the three great restaurants of this neighborhood, Giggeto, the others being Vecchia Roma and Al Pompiere. It's too early to eat now, so make a note for this evening. The huge building beyond the Portico that looks like the Coliseum is actually the Theater of Marcellus, also built by Augustus 2,000 years ago as an enclosed theater that could hold 13,000 people. Not only is it still standing, the upper floors have been converted to luxury modern apartments.

Walk up the busy Via Teatro Marcello to the Capitoline Hill, ascending the broad steps to the top for a grand view of three palaces and a classic overview of the forum. This hilltop is said to be the site of Rome's first settlement, 2,750 years ago, and has been utilized ever since. Redesigned by Michelangelo to include the equestrian bronze statue of Marcus Aurelius in the center surrounded by neoclassical facades, this piazza is home to the world's oldest museum, the Capitoline, and the adjacent Conservators Palace. They are the only museums open most evenings until 9 p.m., so you can come back later. The best view looking down at the forum is from the right side of the hill. Return to the left side for another view and the route down along a curved narrow road.

At the bottom of the hill, you will be facing Trajans Forum, with its towering column and impressive covered market, two of the most important ruins from antiquity. The Roman Empire reached its maximum size at the beginning of the second century after emperor Trajan's conquests over Dacia, today's Romania. This is celebrated by the spiral relief sculpture that wraps around Trajan's Column, depicting his victories in a marble scroll that would stretch 656 feet if it were unfurled. The huge market was built with the gold captured in the wars.

Most of this forum is gone now, but the one structure you can see for free from the sidewalk is Trajan's Market, perhaps the world's first multilevel covered shopping mall. It had 150 stores and offices arranged in a graceful, curved, five-story brick building that still stands. Many little shops of modern Rome are quite similar to these ancestral spaces. Return across the street and enter the Ancient Forum, which no longer charges admission.

Wander through the ruins of the Imperial Forum, where Romans gathered for business, gossip, politics and just hanging out. This site is the forerunner of our modern town centers and shopping malls. Walk the smooth paving stones of the Via Sacra from one end to the other, covering a half-mile lined with marble ruins. Three triumphal arches have been standing for 2,000 years, honoring the emperors Constantine, Titus and Septemius Severus. You can rent an audiotape that will bring tales of these ancient ruins back to life. Inspect the House of the Vestal Virgins, where an ancient flame was kept miraculously burning. The largest building was the Basilica of Constantine and Maxentius, its brick arches and roof soaring 115 feet high, covering an area the size of a football field. Originally used as a courthouse and general gathering place, one-third of it is preserved today.

You can skip the Palatine Hill, home to many emperors, for they charge $8 to get in, it's a strenuous hike, and there is not much left to see there anyway. Just looking at the Palatine from the Forum is impressive enough; it was reinforced with so many old brick walls, it almost looks like the natural hill was man-made. Exit the Forum past the remains of Hadrian's Temple of Venus, said to have been the most beautiful of all, but today just a few stubs of columns.

You are now facing the Coliseum, home of Rome's gladiators and largest building ever constructed by ancient engineering masters. This massive stadium was the model for all our modern sports arenas. Packed with 70,000 spectators screaming for blood nearly every day for 300 years, it was the place where commoners could be entertained and relieve the tensions of their otherwise difficult lives. Most people lived in crowded and appalling conditions, so this stadium played a role in keeping the public satisfied -- at least they were not down on the floor getting eaten by lions! It still stands despite being looted for centuries as a marble quarry for palaces built throughout the city. Your $7 admission includes access to the upper level, so take advantage and climb the steps, then walk all around to gain wonderful views inside and out across the forum, our next target. A new wooden ramp leads through the middle of the arena and provides great views down into the former cages.

Next we are going to the Vatican Museum, by subway. However, if you feel ambitious and it is before noon, consider a visit to the Church of Santa Maria Maggiore. It is 12 blocks uphill, so look for a taxi in front of the Coliseum and drive there in a $4, five-minute ride. The church is awesome, with a huge nave based on the ancient Roman basilica form, coffered gold ceilings and two eye-popping baroque chapels on each side of the transept. Built in the fifth century and embellished ever since, it is one of the five most important churches in Rome and worth a visit if you have time. After the church visit, walk four blocks to the Termini train station, and catch the metro to Ottaviano for your next destination, the Vatican Museum.

If you did not have time or interest for Santa Maria Maggiore, and are just now leaving the Coliseum, the metro stop is nearby, and one of its amenities is a clean toilet. Ride a couple of stops to the Termini and change trains, heading for Ottaviano, the end of the line a few blocks from the Vatican Museum entrance. The museum tends to be less crowded in the afternoon, unlike mornings, when you might stand on line for two hours.

By now you are starving and tired. It's best that you have lunch right in the Vatican cafeteria, where the prices are reasonable and the food delicious. This break will give you the energy to power through the museum.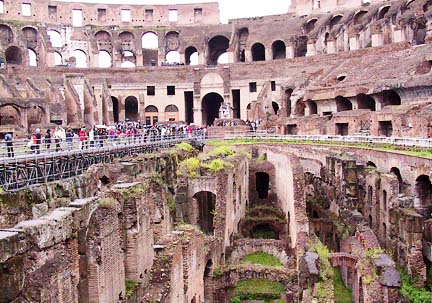 DENNIS CALLAN / SPECIAL TO THE STAR-BULLETIN
The Coliseum, which held 70,000 spectators, was the
model for modern sports arenas.
---
You cannot see everything, of course, and what you pick depends on your interests. They have a brilliant system of arrows and letters posted on the walls to help guide you through in one of four different levels of detail: A, B, C or D. All routes will lead you to the most famous attraction, the Sistine Chapel, but don't take the A-line, which is so stripped down that it misses too many important galleries. Leave that one to the bus tour groups, who are always in a rush. Whichever way you go, the principal highlights are the Belvedere Courtyard with its half-dozen essential statues, especially the Lacoon; Gallery of the Maps for its astonishing ceiling of painted stucco sculpture and cooling views over the pope's gardens; and Raphael's Rooms, where the great genius did his most important murals.

Of course, the major single attraction of the Vatican Museum is the Sistine Chapel. Looking up you will see the world's most important paintings, summarizing the development of life on earth and mankind's quest for salvation. Take 15 minutes to absorb the genius of Michelangelo. Then there is a secret passage out the back corner of the Sistine Chapel that will lead you right to St. Peters, which saves you from walking two miles in the wrong direction.

St. Peters is the most spectacular room ever built. You easily could spend an hour admiring its vast spaces with 500 statues, 45 altars, subterranean crypts, Michelangelo's dome and Pieta, Bernini's Baladacchino, mosaics, monuments, tombs, marble details and angels everywhere. In the late afternoon, you might even witness a Mass with a heavenly choir.

After an experience like this, there is nothing much else you want to do except return to your hotel for a rest and then look for another great Roman meal.

You can leave the Vatican by taxi, which you catch at the stand just in front of Bernini's Colonnade, or if you are feeling adventurous, exit the right side of the Colonnade and take Bus 64 back to the center of town. Just watch out for the pickpockets the line is infamous for. You should be OK if you follow the basic safety rules in most European cities: Don't carry anything valuable with you, keep your pocket or purse zipped or pinned shut, and be aware of your surroundings.

Day Three

This is our final day in Rome, covering a historic walking tour and visits to Borghese Gallery, plus attractions on the Quirinal and in Trastevere. This is where you will discover "the real Rome," some of the most fascinating and historic neighborhoods in the heart of town.

Begin at the Palazzo Farnese, one of the city's most famous renaissance palaces, now home to the French Embassy. A block away is the Campo dei Fiore, a colorful outdoor fruit and vegetable market that has been in business for 300 years. Its food stands are popular with residents, and you will find some clothing stalls and souvenirs scattered among the local wares. It is a colorful place for candid people photos and a good spot to pick up some refreshments until it closes at noon. Return at night, when it is a popular hangout for young people.

Next, stroll the charming narrow neighborhood streets to experience the center of Renaissance Rome. Amazingly, this is still the heart and soul of Rome, yet few tourists ever see it. You will find streets named Giulia, Giubonari and Pellegrino, and then crossing the busy Vittorio Emmanuele, enter the Chiesa Nuova. Here you can sit and rest while admiring the elaborate baroque decorations. Next door is the convex facade of Borromini's Oratorio, and behind it look for his recently restored Orologia Clock Tower.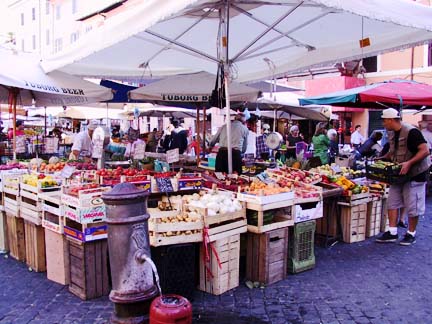 DENNIS CALLAN / SPECIAL TO THE STAR-BULLETIN
Every morning the Campo dei Fiore comes to life with
Romans making their daily purchase of fresh foods.
---
Walking along Via dei Banci Nuovi on your way to Ponte S. Angelo, the beautiful bridge across the Tiber lined with Bernini's divine angels, will lead you back into the city's calm historic center. These neighborhoods are saturated with charm and character. You will walk along cobbled pedestrian lanes lined with old brick buildings five stories high, containing little stores and workshops on the ground level, with apartments upstairs in a pattern followed for 2,000 years.

Walking in this simple quiet neighborhood, you will see artisans working in shops unchanged for centuries; fruit and flower stands; attractive little restaurants; fountain faces popping out of walls; stray cats prowling; and 400-year-old ivy-covered brick walls. Take your time as you wander through, passing the antique shops of Via dei Coronari on your way back to Piazza Navona, but beware: If you are lured into lunch on this colorful piazza, the food will be mediocre and expensive. Better to enjoy the piazza by simply walking around and save lunch for elsewhere. If you just want an inexpensive sandwich, you will find terrific takeout counters throughout the city. For a real gourmet experience, try Passeto, a block north of the piazza.

Your final afternoon in Rome can be spent shopping back in the grid of blocks at the foot of the Spanish Steps you saw two days ago. It is a wonderful neighborhood of small boutiques carrying specialized Italian clothing and accessories.

For those not interested in shopping, there are other rewarding sights, including more museums and churches. The newly reopened Borghese Gallery is especially noted for the best collection of Bernini sculptures, set amid the lush interior of a former noble palace.

It is on the edge of town, so go there by taxi. Because the museum is so popular, they recommend calling ahead (06-32810) for reservations. It takes about one hour to visit, including the painting galleries upstairs.

When you have finished the museum, take a stroll through the Borghese Gardens, heading towards Via Veneto. It is impossible to flag down a taxi at the museum anyway, so walk 15 minutes to the metro and take a ride to Republica for your next adventure, which will be a visit to the Michelangelo-designed church of Santa Maria Degli Angeli, formerly the ancient Roman Diocletian Baths. Time your arrival so that you get here about 4 p.m. so it will be just reopening from the siesta closing. This is another jaw-dropping experience, for here you have the unique combination of colossal ancient architecture modified by the world's greatest artist. In old Roman days the bathhouses were the biggest public buildings in town, and this one has been clad in multicolored marble and converted by the genius into an important Catholic church.

Three more churches await you in the next few blocks. A word of explanation about the churches of Rome: This is not a religious pilgrimage you are being led on, and you do not have to be a believer to appreciate it. Much of the wealth and artistic talent of Roman society was poured into the churches, resulting in many splendid sights. For example, in the next church, Santa Maria della Vittoria, is one of Bernini's most profoundly beautiful sculptures, "The Ecstasy of Theresa," set in a theatrical chapel complete with an admiring audience carved in marble.

Two blocks down Via del Quirinale, we encounter another of the most precious jewels of the city, the tiny church of San Carlino, designed by Borromini. The undulating geometry of shapes creates an effect that is beyond description. You must just sit here for a while in this miniature world to absorb the astonishing beauty. The simple little cloister offers a peaceful contrast that will help prepare you for the busy street outside. Another block down you'll find the only church that Bernini designed in its entirety, S. Andrea al Quirinale, richly decorated with stucco and gold angels set in a small oval space.

If you have any energy left, we suggest you walk two blocks over to Via Nazionale, a busy shopping street that will bring you right back into the modern hustle of this humming metropolis. Most stores remain open until 7 p.m., so there should be lots of people strolling about. From here you could walk back to your hotel or easily flag down a cab.

After a brief rest, step out for dinner, Roman style! Trastevere is one of the best neighborhoods for restaurants, just across the Tiber River. Numerous little trattorias abound in the side streets, such as Il Fontanone next to Ponte Sisto, the footbridge across the Tiber River. Da Meo Patacca, further into the heart of Trastevere, is a charming outdoor restaurant with strolling musicians. After dinner take a walk in this colorful neighborhood for more evening sights.

---

Dennis Callan is the president of the Hawaii Geographic Society and produces the "World Traveler" series that airs at 7 p.m. Tuesdays on 'Olelo, repeating 9 a.m. Wednesdays. "Three Days in ..." appears the first Sunday of each month.




PLACES TO DINE

>> Il Convivio: Via dell'Orso 44, ph 06-6869432, near Piazza Navona, modern and creative; Michelin star.

>> Costanza: Piazza del Paradiso, 65, ph 06-6861717, near Campo dei Fiori, 2,000 year-old walls; superior food.

>> Al Pompiere, Via S. M. dei Calerari 38, ph 06-6868377, 16th-century palazzo; classic Roman.

>> La Rampa: Piazza Mignanelli, 18, ph 06-6782621, near the Spanish Steps, affordable; for $8 you can fill up on the largest antipasto buffet you have ever seen.

>> Vecchia Roma: Piazza Campitelli, ph 06-6864604, a favorite; incredible ambience, cozy dining rooms.

>> Il Fontanone: Piazza Trilussa, just across the Tiber River in Trastevere, ph 06-5817312, friendly family operation.

>> Ristorante 34: Via Mario de Fiori 34, ph 06-6795091, near the Spanish Steps, arrive early or make reservations.

>> Da Meo Pataca: Piazza de Mercanti, ph 06-5816198, in Trastevere, outdoor vine-covered courtyard with live music.

>> Passetto: Via Zanardelli, 14, ph 06-68803696, one block from Piazza Navona, one of the best. Try the fresh truffles!

>> Giggeto: Via del Portico d'Ottavia, 21a, ph 06-6861105, some of the best food in the ghetto.

>> Da Mario: Via della Vitte, 56, ph 06-6783818, near the Spanish Steps, very typical with excellent food.

PLACES TO STAY

>> Colonna Palace, Piazza di Montecitorio, ph 06-66781341, near Pantheon.

>> Holiday Inn Crowne Plaza, Piazza della Minerva 69, ph 06- 69941888, near Pantheon, one of the most luxurious 5-stars.

>> Inghilterra, Via Bocca di Leone 14, ph 066672161, very deluxe 5-star, near the Spanish Steps.

>> Raphael, Largo Febo 2, ph 06-6682831, small deluxe 5-star behind Piazza Navona, a top choice.

>> Tiziano, Corso V. Emanuele II, 110, ph 06-66865019, our favorite, affordable 4-star in the center.

>> Mediterraneo, Via Cavour 15, ph 06-64884051, affordable 4-star near the train station.

>> Ponte Sisto, Via dei Pettinari 64, ph 06-6686137, comfortable 4-star near Campo dei Fiore.

>> Santa Chiara, Via di Santa Chiara 21, ph 06-66872979, behind the Pantheon.

>> Portoghesi, Via dei Portoghesi, 1, ph 06-6864231, comfortable 3-star.



E-mail to City Desk
---
---
© 2001 Honolulu Star-Bulletin
https://archives.starbulletin.com