CLICK TO SUPPORT OUR SPONSORS

---

---
Sunday, July 29, 2001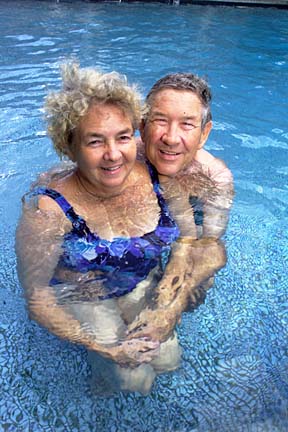 DENNIS ODA / DODA@STARBULLETIN.COM
Sharon and Pat Moran last week enjoyed the swimming
pool at Pohai Nani Retirement Community. Scheibert
Energy Company installed and maintains the co-generation
system that supplies Pohai Nani with more than 70
percent of their electricity needs. It also supplies the
facility with heated water for their swimming pool
and hot tub, as well as air-conditioning.
---
Pohai Nani swims
into energy
efficiency


A new system in the retirement
facility heats water, cools
the air and saves money

---

By Diana Leone
dleone@starbulletin.com

You can't keep 'em out of the swimming pool.

A steady 86- to 87-degree pool temperature is just one of the benefits of a combined heat and power system at Pohai Nani Good Samaritan Retirement Community in Kaneohe.

Before Todd Scheibert, of Scheibert Energy Company, installed the system in September 1999, the pool temperature was too cool for many of the people who live here.

Since then, the bubbling hot tub and warmer pool have done a steady business.

"People with arthritis love it," said Judy Knutson, wellness program director.

The facility is saving $100,000 a year on its utility bills, despite a 43-bed nursing home addition to the 150-unit apartment complex since the system came on line, Scheibert said.

The system (also known as a co-generation system) creates electricity via a small propane-powered generator and uses its excess heat to heat residents' water, kitchen and laundry water, as well as the pool and hot tub. Capturing the heat through an absorption chiller creates cold water, which is used to provide air conditioning for the complex.

"The generator creates about 70 percent of power the property needs," Scheibert said, plus almost all its hot water needs. The amount of air conditioning generated depends on what other uses are being made of the generator heat at the time.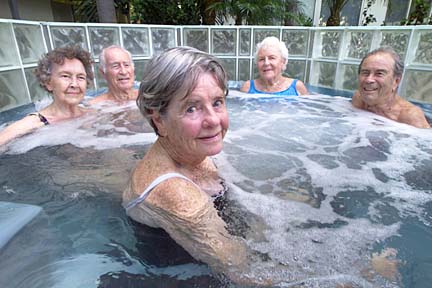 DENNIS ODA / DODA@STARBULLETIN.COM
From left, Janet MacMulkin, Donald MacDonald,
Ellen Knox (front), Joan Gannon and Roger
Knox enjoyed the hot tub last week at Pohai
Nani Retirement Community.
---
The contract between Hess Microgen, maker of the generator, and Pohai Nani guarantees at least $220,000 in utility savings over seven years. But since the system was installed, the facility pays $100,000 a year less (including contract payments to Hess) than it paid for utilities before, Scheibert said. Hess provides the generator and the propane that runs it and covers all costs of installation, repair and maintenance, which are provided by Scheibert.

"It's been tremendous, no question," said LuAnn Foos, Pohai Nani executive director. "We had this building expansion and if we wouldn't have had the co-gen, our costs would have gone up dramatically. ... The bottom line is, it's saved us a tremendous amount of dollars in terms of recouped energy."

Scheibert said there are four Hess microgenerators up and running in the Hawaiian Islands and 12 sites under construction. He works on a contract basis for Hess and is not involved at all the sites.

Technological advances mean the 140-kilowatt generator slated for Hale Pauahi Towers apartments in downtown Honolulu will use 20 percent less fuel than Pohai Nani's 120-kilowatt generator -- and be 10 decibels quieter.

Pohai Nani is still on the utility grid "because Hess doesn't want the customer to have any type of risk in case of a catastrophic failure. If it goes down they can just pull it from the grid," Scheibert said.

He's particularly jazzed about the fact that he can troubleshoot some elements of the system while off site by using a laptop computer. He hopes to get that down to a Palm Pilot-sized device.

When he worked in Cincinnati power plants in the early 1980s, Scheibert said, he was disappointed to see the heat wasted in the generation of electricity.

"What I saw was the power generators throw away 60-70 percent of their fuel, up the stack," said Scheibert. "They only get 30-40 percent of energy out of the fuel. You can see heat waves out of the smokestacks."

Pohai Nani's generator uses 7,500-8,500 British thermal units (Btus) to generate each kilowatt of electricity. Scheibert said commercial power plants may generate a kilowatt with 6,500 Btus, but throw away the heat.

Now, he makes it his business to capture and use the heat. He points to Pohai Nani's small exhaust pipe with pride. Not only is the colorless exhaust mostly water vapor that he claims is 25 times cleaner than an oil-burning power plant -- its heat wave is barely discernible.
E-mail to City Desk
---
---
© 2001 Honolulu Star-Bulletin
https://archives.starbulletin.com