CLICK TO SUPPORT OUR SPONSORS

---

---
Sunday, July 29, 2001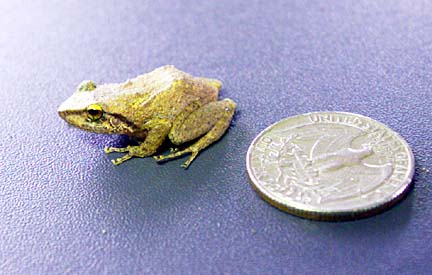 FL MORRIS / FMORRIS@STARBULLETIN.COM
Noisy coqui frogs, no bigger than a quarter, are
overrunning Maui and the Big Island and have
started invading Oahu and Kauai.
---
Isles' frog
infestation is
an earful


EPA and residents are trying
to find a way to control these
little deafening critters

---

By Rod Thompson
rthompson@starbulletin.com

HILO >> Hawaii's shrieking invader frogs haven't had their coffee yet, but some are already in hot water.

Two small, closely related species from Puerto Rico with piercing nighttime calls are overrunning the Big Island and Maui and have a toehold on Oahu and Kauai.

A state request to kill the frogs with a high-concentration solution of caffeine in water is pending with the U.S. Environmental Protection Agency.

In the meantime, the University of Hawaii at Hilo and the state Division of Forestry and Wildlife have developed a new weapon against the invaders: a three-minute hot shower kills them, said state forester Edward Brodie.

And homeowners going nuts with the noise could also ponder a Hilo elementary school girl's solution: NoDoz in a spray bottle.

The enemy that has inspired these inventive weapons is the coqui frog, pronounced co-KEE in imitation of its shriek. Reaching concentrations up to 10,000 per acre, with males screeching for female company, the frogs can be deafening. They have been measured at 100 decibels, as loud as a car horn. Unlike a blaring horn, coqui frogs go on all night.

The smaller greenhouse frog is only somewhat quieter.

While U.S. Department of Agriculture scientist Earl Campbell searched for something that would kill the frogs, insect scientist Arnold Hara at the Beaumont Research Center in Hilo and agricultural engineer Marcel Tsang at the University of Hawaii at Hilo were dipping cut plants in hot water to kill other pests.

The state forestry nursery workers in Hilo, aware that their nursery had the frogs and not wanting them to spread, asked Hara and Tsang to try hot water on them.

The tests worked. The frogs died. But it was no magic bullet.

Forester Edward Brodie spent $11,700 setting up a computer-controlled system that showers seedlings with 115-degree water at the leisurely rate of 25 plants every three minutes.

A commercial nursery, profiting from his mistakes, might put up a similar system for two-thirds that cost, Brodie said.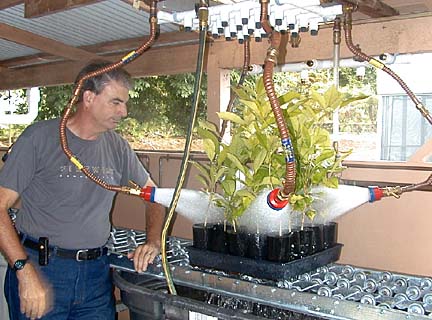 ROD THOMPSON / RTHOMPSON@STARBULLETIN.COM
State forester Edward Brodie viewed a system
on Friday that drenches tree seedlings with hot
water to kill noisy coqui frogs.
---
Hara said nurserymen did not warm to the hot water. "I work closely with nursery growers," he said. "They told me hot water is not practical."

But Vernon Inouye, owner of Floral Resources, said the investment is worthwhile. Inouye does not sell potted plants, where the frogs hide, so frogs are not a problem for him. But other pests are, and Inouye spent $25,000 on a hot water bath system to kill them.

"We think it's been cost effective," he said.

By using hot water, Inouye avoids the use of expensive and dangerous chemicals on his flowers. He's selling hot-water-treated foliage in California, Arizona, and Japan.

Brodie says expenses are harder on small businesses. "Many of our (private) nurseries are marginal operations. They're mom and pop operations," he said.

And hot water could never be used in the wild, even if enough hot water could be produced, because frogs would just jump under a crack or under a leaf.

Two years ago, Hilo science teacher Kathy Pung heard that people desperate to rid their homes of the frogs, having heard of Campbell's work with caffeine, were buying caffeine solutions at $50 a gallon.

Pung considered the price outrageous, and with her sixth-grade daughter Jordyn doing a science fair project, set out to show that just as good a job could be done with a few dollars-worth of NoDoz dissolved in about a quart of water.

Even diluting the resulting solution, the frogs died in just seven seconds, Jordyn said.

"It was a very strong solution," Kathy Pung said. "I wouldn't recommend for people to go out and do it. With the whole neighborhood doing it, who knows how long it would take to break down."

The EPA is mulling similar concerns as it decides whether to approve the state's caffeine-spraying request.
E-mail to City Desk
---
---
© 2001 Honolulu Star-Bulletin
https://archives.starbulletin.com