CLICK TO SUPPORT OUR SPONSORS

---

---
Sunday, July 29, 2001
[ MAUKA MAKAI ]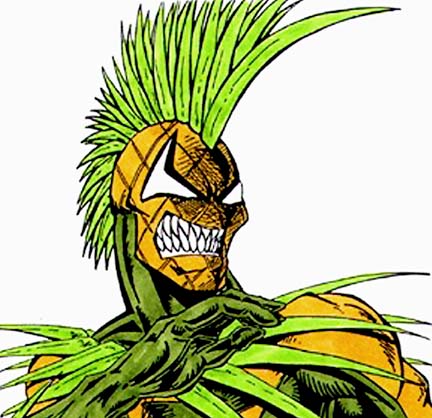 Pineapple Man
Look! Out in
the field! It's
Pineapple Man!


Created under duress in Kahuku,
the local-kine superhero has won
fans across the country and now
has a presence on the Web

COVER STORY

---

Burl Burlingame
bburlingame@starbulletin.com

COMIC ARTIST Sam Campos owes his best-known creation, Pineapple Man, to a teacher's ultimatum at Kahuku High School. Campos kept reading comic books in class, so art teacher Ted Uratani told the teenager to create his own character over the weekend -- or else fail.

And so was born Pineapple Man, muscle upon muscle, with a spiky pineapple crest and knife-edge teeth, swinging a variety of Pacific Rim cutlery.
COVER STORY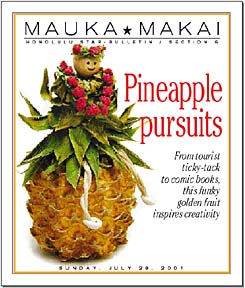 Pineapple Man stories have Hawaiian themes, including all-Hawaiian references to night marchers and modern observations about chicken fights and surfing.

Pineapple Man hit print in the mid-'90s with a series of locally produced comics written by Campos' wife, Genesis.

It was tough going financially, but Pineapple Man became a surprise hit at comic conventions and won national distribution. The couple created a Windward-based studio called SoloGraphics, which Genesis manages.

Despite the downturn in independent comics across the United States in the late '90s, Pineapple Man is still with us, said Genesis. He's gone electronic.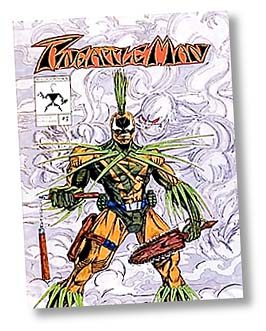 Pineapple Man
"Pineapple Man is the star of our online comic magazine, which features other local artists and writers as well," said Genesis.

The Web site address, of course, is pineapple-man.com.

"Sam's working on another book, which will be Pineapple Man Five when it's printed," Genesis said. "People like to have printed comics, but they're not financially profitable, really. They're not cost-effective. Going online, though, you really reach a lot of people. We get orders for Pineapple Man merchandise every month, particularly T-shirts.

"Pineapple Man's still out there!"





Click for online
calendars and events.
E-mail to Features Editor
---
---
© 2001 Honolulu Star-Bulletin
https://archives.starbulletin.com