CLICK TO SUPPORT OUR SPONSORS

---

---
Sunday, July 29, 2001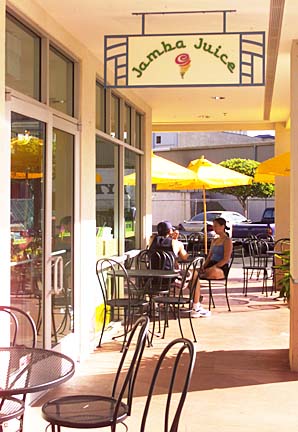 KEN SAKAMOTO / KSAKAMOTO@STARBULLETIN.COM
Jamba Juice, sister company of Starbucks, has grown to
10 locations since the first one opened in Kailua in 1999.
Another five stores are planned by next year.
---
Persistence pays off
for Coffee Partners


At first, Starbucks turned down
a proposal for franchises

---

By Rick Daysog
rdaysog@starbulletin.com

When Duncan MacNaughton and his partners approached Starbucks Corp. to open retail outlets in Hawaii back in 1995, the Seattle company flat out rejected them.

Starbucks, the nation's largest specialty coffee retailer, told the local developers it didn't open stores on a franchise basis due to concerns over quality control.

"Obviously, we were very disappointed," said Greg Meier, chief executive officer of Coffee Partners Hawaii, which operates Starbucks' 25 Hawaii stores. "But we kept pestering them. We were very persistent."

That persistence paid off. Through the help of MacNaughton's former client, Jeffrey Brotman, co-founder of Costco Wholesale Corp. and a member of Starbucks' board, Coffee Partners Hawaii were able to strike a licensing agreement in early 1996 as part of Starbucks' plan to expand into Japan.

That December, the group opened its first Hawaii store at the Kahala Mall, breaking company records for first-day sales.

Coffee Partners Hawaii -- which is owned 95 percent by the local development group and 5 percent by Starbucks International -- now operates 25 Starbucks stores in Hawaii and employs about 500 full-time and part-time workers.

MacNaughton, Meier and company executives Eric Tema and Jeff Arce recounted many of the details of the Hawaii start up of Starbucks and its sister company Jamba Juice during a breakfast meeting last week sponsored by the National Association of Industrial and Office Properties.

Many of the anecdotes shared by the group show how Starbucks and its sister company, Jamba Juice, transformed from little more than ideas to major forces in isle retailing.

MacNaughton -- who helped transform the local retail scene during the past decade as one of the co-developers of the Waikele Center retail complex and as the original franchisee for Blockbuster Video -- initially went into the business to complement the Blockbuster franchise, which at the time operated in 18 locations statewide.

The plan was to cross-promote Starbucks and Blockbuster in a way that would boost both companies' sales.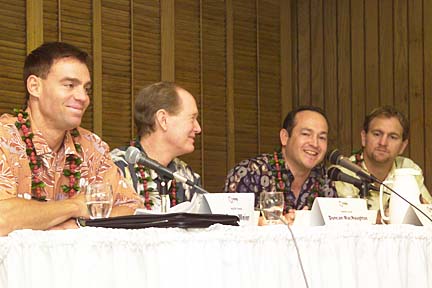 CRAIG T. KOJIMA / CKOJIMA@STARBULLETIN.COM
From left, Greg Meier, Duncan McNaughton, Jeff Arce
and Eric Tema speak at a Pacific Club breakfast.
---
But as they were finalizing their plans for the Starbucks franchise, the local partnership sold the local Blockbuster franchise back to parent corporation Viacom after receiving a generous offer.

"There was a point during the deal that Jeff (Arce) and I said that if the Starbucks thing didn't come through, we'd be out of a job," Meier recalled.

The early-going had its other trying moments, despite the hugely successful launch of the Kahala store.

Starbucks is one of the isles' largest commercial milk purchasers, buying about 5,000 gallons a week. But early on, the company had troubling finding a supply at a decent price.

The partnership first approached Meadow Gold Dairies and Foremost Dairies-Hawaii, whose prices were about $1.20 a gallon more than Costco's.

"Believe it or not, we ... went to Costco with two flatbed trucks and loaded up with 250 gallons of milk one day," said Meier, noting Starbucks has since worked out a favorable deal with Meadow Gold. "When we went to the check out stand, people just looked at us."

The company has not been affected much by Hawaii's hot and cold economy. While Starbucks was launched here in the midst a decade long recession, the company's growth has been stellar.

Since opening its first retail outlet at the Kahala Mall in 1996, Starbucks has grown to 25 locations with about 500 full- and part-time employees.

Meanwhile Jamba Juice, which employs about 300 part- and full-time workers, has grown to 10 locations since the opening of its first in Kailua in 1999. Jamba Juice opened its newest store in Waikiki yesterday.

Meier said Starbucks plans to open another 5 or so stores by next year as demand grows. Jamba Juice also could open additional stores if consumer demand calls for it.

Over the longer term, the local group said they may look to expand into other states as franchisees for Starbucks and Jamba Juice, Meier said.

Jamba Juices' local partners operate four stores in Florida as franchisees. That operation is run by Coffee Partners co-founder Dean McPhail, who moved to Florida but remains involved with the Hawaii group.

Jim Delano, founder of local coffee roaster Lion's Coffee which used to operate two retail coffee outlets in Hawaii, attributed Starbucks success to the basic element in retail: Location, location and location.

"Duncan MacNaughton and his group are very savvy real estate developers. They certainly understand where people are," Delano said. "Starbucks corporate picked a good partner."




Starbucks Coffee

Locations: 25
First store: December 1996 at the Kahala Mall
Hawaii employees: 500
Customers: 110,000 a week
Sales: 150,000 coffee drinks per week
Factoid: Purchases 5,000 gallons of milk a week

Jamba Juice

Locations: 10
First store: January 1999 at Kailua Village Shops
Hawaii employees: 300
Customers: 35,000 a week
Factoid: Squeezes 40,000 oranges a week.



E-mail to Business Editor
---
---
© 2001 Honolulu Star-Bulletin
https://archives.starbulletin.com