CLICK TO SUPPORT OUR SPONSORS

---

---
Wednesday, July 25, 2001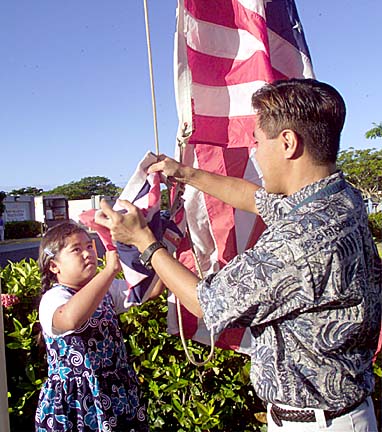 KEN SAKAMOTO / KSAKAMOTO@STARBULLETIN.COM
Fifth-grade student Jodi Santiago, this year's stundent
council president at Kapolei Elementary School, raised
the flag with help of teacher Alan Tamayose this
morning on the first day of school.
---
Students, teachers
return under a cloud


With a key teacher pay issue
still unresolved, some people
are worrying about the
possibility of a new strike

---

By Crystal Kua
ckua@starbulletin.com

Jordan Anderson showed off her new lavender backpack as she headed to the bulletin board in front of the Kapolei Elementary School office this morning to check who will be her new third grade teacher .

On the first day of a new school year, she looks forward to having fun in school, learning math and the perks of her new grade level.

"Third-graders get to leave first from the cafeteria," her mother, Chris, offered.

But weighing on Andersons' minds and the minds of other parents, teachers and students at this Leeward school is talk of a possible teachers' strike over a still unsettled contract.

"I start to panic," said Jordan Anderson, her long dark hair pulled back in a head band.

With year round schools opening their doors today, the teachers union and the governor are still engaging in a familiar tug-of-war of words that didn't end after a three-week strike in April. The agreement reached after the strike remains unsigned because of a controversy is over pay bonuses.

The governor says the contract dispute could lead to financial hardship for the public school system.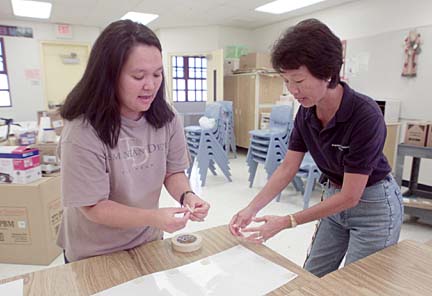 GEORGE F. LEE / GLEE@STARBULLETIN.COM
Kapolei MIddle School teacher Pat Ishihara, left,
and Principal Annette Nishikawa prepared
yesterday for today's start.
---
The Hawaii State Teachers Association says the longer the disagreement goes on, the harder it will be for the state to recruit and retain teachers during a time of a critical shortage of teachers.

Both sides can't agree whether the bonuses for teachers with master's degrees and professional diplomas should be for one year or two years.

The union hasn't ruled out another walkout as a way to push for a resolution.

"I think I heard the teachers might go on strike," said Kapolei fifth-grader Jenoa Yoro as she and two other classmates were hanging a "Welcome Back Students" sign on a fence.

She's looking forward to a year of learning about nature and science and hopes a strike won't interfere with that. "I don't want to miss out on anything."

Second-grade teacher Michelle Anguay-Sagon said, "Good morning" to students walking in with bags of school supplies.

The unsettled contract is also a concern for her. "I worry for the students. I don't want to go out on strike and they're going to lose out on that learning time again."

The state is agreeing to pay $9 million, an amount the Board of Education has set aside for the bonuses, which was originally estimated to cost $6 million.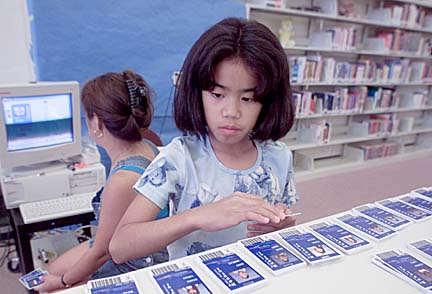 GEORGE F. LEE / GLEE@STARBULLETIN.COM
Jenoa Yoro, 10, yesterday helped mom Ronnie
Yoro, Kapolei Middle School Library assistant,
sort student identification cards in the library
before today's first day of school.
---
The Department of Education is looking to pay for the bonuses with a windfall of federal funds.

If the state agrees to pay the bonuses twice, Cayetano said, the total would come to $20 million, which would be difficult for the department to fund.

"To say to DOE now you need to find another $14 million or so is going to be a terrible hardship on the department. It's going to have to come out of somewhere. It's going to have to come out of programs which are servicing our children right now," Cayetano said.

"I hope the teachers would understand that particular point of view."

The governor said yesterday that he has instructed the state's chief negotiator Davis Yogi to submit a proposal to HSTA to sign the contract except for the bonuses and negotiate that as a separate deal.

Teachers would then get their pay raises, which total 16 percent over the two years, and a $1,100 retention bonus which was supposed to go in their July paychecks.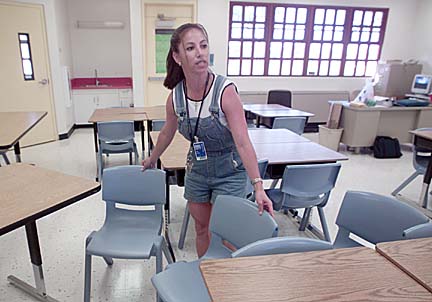 GEORGE F. LEE / GLEE@STARBULLETIN.COM
Kapolei MIddle School 8th grade teacher Diana Gregory
puts a bit of thought in the placement of chairs in her
homeroom on the day before the first day of school.
---
The union had proposed taking up the disputed section separately, but that section would remain part of the negotiated contract.

"I think the frustrating thing is that the governor keeps talking about a proposal. We've not seen a proposal," said HSTA chief negotiator Joan Husted. "As a result, his comments are really making teachers angry."

Husted said that if the offer is received from the governor within the next couple of days, then she will take it to the union's negotiations committee and board of directors for consideration. The board meets Saturday.

"If (the offer) has promise, we'll work on it. If it doesn't, we'll tell him," Husted said.

If the proposal doesn't come, she will talk to the board about going to the membership to ask what teachers want to do next. The union has said that its options include going on strike or filing a lawsuit.
E-mail to City Desk
---
---
© 2001 Honolulu Star-Bulletin
https://archives.starbulletin.com