CLICK TO SUPPORT OUR SPONSORS

---

---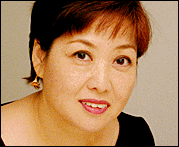 Local Color



Sunday, July 22, 2001
BY SUZANNE TSWEI
---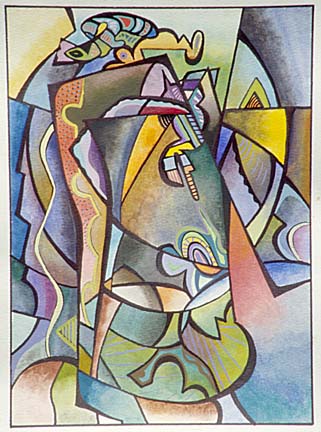 Matthew Miller uses ink, watercolor and
gouache for "Mary's Meltdown."
---
Show offers artists
a second chance
to show work

The first Salon des Refuses exhibition was held in 1863 in Paris. It was a revolt against the "academic system," the French Academy of art.

An artist's professional reputation, and therefore his financial survival, depended on his acceptance for showing in the academy's biennial salons. The juried system worked against artists whose style did not fit into the accepted academic norm, and the rejected artists finally got fed up and banded together for a revolt.

The exhibit of rejects paved the way for modern art, and in the process added a roster of pioneering artists to the history of art, artists like Paul Cezanne, James Whistler, Vincent van Gogh and Paul Gauguin. Over time, Salon des Refuses took on a quasi-official status and became a French tradition itself.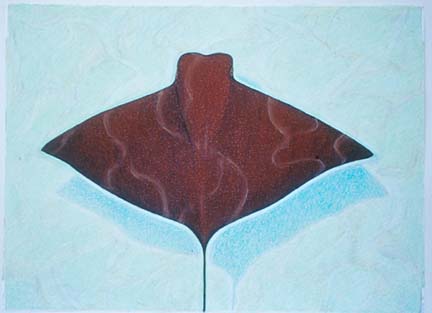 "Stingray #6" is an oil pastel
on paper by Thomas Verdi.
---
Bonnie Kerr, owner of Honolulu Art Gallery, is hoping history will repeat itself in Honolulu. For the second year in a row, she has organized a Salon des Refuses exhibit in Hawaii, to run concurrently with the "Artists of Hawai'i" show at the Honolulu Academy of Arts.

"The idea is not to judge, but to allow everyone a chance to show. Artists need a venue to show their work. The 'Artists of Hawai'i' show, probably one of the most important exhibition in the state, may be the only venue for some artists to show, and if they don't get accepted, they might just go home and put their work in the closet and give up on art," Kerr said.

Artists need encouragement, Kerr said. They need to be accepted somewhere and be able to show their work in order to blossom. Being rejected by the academy's juried show is a big blow, and artists must wait another year for another chance to show their work.

"I am a big believer in getting the art out there. I am not a big believer in juried shows. The decisions are arbitrary. With one juror, it's really just one person's taste," Kerr said.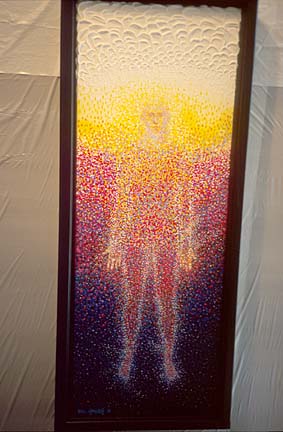 "Continuum ..." by John DeGrassi
is an acrylic on canvas.
---
She got the idea to hold an exhibit of rejects from photographer Jean-Jacques Dicker, whose work was rejected by the academy last year, Kerr said. Dicker participated in Honolulu's first Salon des Refuses show, and this year, his photographs were accepted by the academy.

This year's salon show is being held in several galleries. Kerr is closing her gallery to move to Maui, but she is holding the exhibit in the American Savings Bank across the street. The bank has the most number of pieces, about 18, while the other galleries each have a few.

It would not be fair to compare the "Artists of Hawai'i" exhibit with the stodgy French academy in the 19th century. This year in particular, the 51st annual show has a youthful exuberance that owes its energy to emerging artists. The juror was Arnold Lehman, director of the Brooklyn Museum of Art.

On opening night Wednesday, the academy also honored the following artists with awards:

>> Nicole Chan, "The Magic of Bean Curd," Alfred Preis Award for Visual Arts.
>> Cade Roster, "Fungus Bed/Hunting," Jean Charlot Foundation Award for Excellence.
>> Gelareh Khoie, "The Impervious Epoch," Cynthia Eyre Award.
>> Deborah G. Nehmad, "Papered Over," Roselle Davenport Award for Artistic Excellence.
>> Jason Teraoka, "Me, Myself and I," Rube Tam Award for Painting.
>> Chris Campbell, "Artist Model-Study in Black and White," Melamine Award for Painting.
>> Madeleine Soder, "Indivisible," Baciu Visual Arts Award.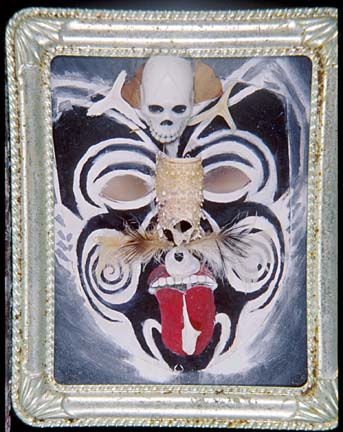 Laura Achitoff used watercolor, bones, feathers
and other found objects to create "Last Laugh."
---



Salon des Refuses

American Savings Bank, 1357 Kapiolani Blvd., 9 a.m. to 6 p.m. weekdays, 9 a.m. to 1 p.m. Saturday, through Aug. 26. Call 955-5250.
Gallery on the Pali, 2500 Pali Hwy., hours vary, through Aug. 23. Call 595-4047.
Island Art Gallery, 1365 Nuuanu Ave., 9 a.m. to 5:30 p.m. weekdays, 10 a.m. to 4 p.m. Saturday, through Aug. 26. Call 528-4232.
Ocean Gallery, Suite 109, 130 Kailua Rd., 10 a.m. to 5 p.m. daily, through Aug. 26. Call 263-6438.
Admission is free.

Artists of Hawai'i 2001

Place: Honolulu Academy of Arts, 900 S. Beretania St.
Time: 10 a.m. to 4:30 p.m. Tuesdays to Saturdays, 1 to 5 p.m. Sundays, through Aug. 26
Admission: $7, $4 for seniors, students and military, free to members and children 12 and under, free on the first Wednesday of the month
Call: 532-8700








---

Suzanne Tswei's art column runs Sundays in Today.
You can write her at the Star-Bulletin,
500 Ala Moana, Suite 7-210, Honolulu, HI, 96813
or email stswei@starbulletin.com
E-mail to Features Editor
---
---
© 2001 Honolulu Star-Bulletin
https://archives.starbulletin.com