CLICK TO SUPPORT OUR SPONSORS

---

---
Friday, July 13, 2001
Residents on guard
after attack
by feral cats


The Humane Society wants
more details before deciding
what to do with the animals

Officials frown on feeding feral felines

---

By Lisa Asato
lasato@starbulletin.com

Varsity House, a Moiliili apartment complex, has a warning sign posted on its laundry room door: "Warning: Humane Animal Trap in use on these premises."

The sign was visible outside the room where board members were meeting yesterday following an attack by a pack of feral cats on a woman and her dog the night before.

Resident Laurie Martin, who witnessed the attack, said feral cats are often fed outside Kirin Restaurant on South Beretania Street. The apartment and the restaurant are separated by a wall.

Using traps supplied by the Hawaiian Humane Society, Martin said tenants have trapped four or five cats in a week and a half.

On Wednesday night, Deena Frooman was walking with her dog to Star Market when both were attacked by five or six feral cats on the Kaialiu Street side of Kirin Restaurant. Frooman suffered a 7-inch-long scratch and claw punctures to her leg. Kekoa, her dog, suffered a punctured nose and scratches near his eye. An ambulance and police responded to the attack.

Linda Haller, director of shelter operations at the Hawaiian Humane Society, called the attack "highly unusual."

Kirin Restaurant manager David Ho said the cats, about 10 of them, do not live at the restaurant but come by about 5 p.m. when the employees are eating. He expressed surprise on hearing of the attack, saying: "Those cats are very timid. You make a gesture and they run like hell."

Ho said he thinks the cats are owned by someone who lives in a nearby apartment.

A man and a woman come to feed the cats regularly, he said, and his employees only share fish bones or shrimp shells with the cats, which is not enough to sustain them.

Ho said he is not going to take any action to deal with the cats, but in light of the attack is willing to let the Humane Society pick them up. "I think it's time for them to go after this," he said.

Haller of the Humane Society said feral cats are an issue statewide.

There are no data on their exact numbers, but Haller said the Humane Society did see 10 percent fewer feral cats brought to the shelter this year compared with last year.

The Humane Society was not able to contact Kirin management yesterday, but Haller said she wants to find out if the restaurant is feeding the cats and whether it wants to sterilize the cats or have them removed.

The apartment association, meanwhile, plans to send a letter to Kirin managers asking them to stop feeding the cats, which will hopefully encourage others to also refrain, said Martin.

She said feral cats are a growing problem in her area. She pointed to stray cat colonies at the University of Hawaii-Manoa campus and a recent outbreak of fleas from feral cats at the university's children's center that temporarily shut down the preschool.

"A flea problem you can beat, but when they attack a woman and her dog without provocation, that's a problem," she said.

Veterinarian Sabina De Giacomo, president of the Animal Care Foundation, which promotes reducing the feral population through trapping, sterilization and releasing, said simply removing feral cats from their territory is ineffective.

"Feral, homeless, whatever you want to call them -- (the cats) will never entirely be gone," she said. "But if we learn to live with them and manage them better, we can minimize the impact we have on them and the impact they have on us."

---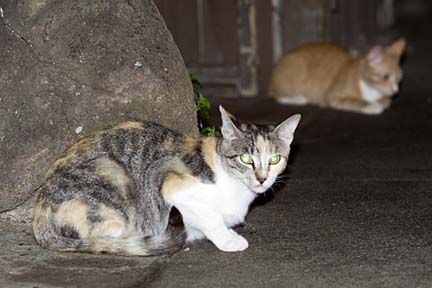 GEORGE F. LEE / GLEE@STARBULLETIN.COM
After a woman and her dog were attacked by feral cats
Wednesday night on Kaialiu Street behind the Kirin
Restaurant on Beretania Street, these feral cats were
photographed in the area.
---
Officials frown
on feeding
feral felines


And cats are not the
only feral animals that
pose a health hazard

---

By Pat Gee
pgee@starbulletin.com

Large populations of feral animals that can cause health problems could be eliminated if kindhearted people would stop feeding them, says Norman Sato, a supervisor with the state's Vector Control Branch.

He wishes people would "let nature take its course and let (the animals) fend for themselves." Feeding feral animals produces an "artificially large population," and most of the health issues involve their feces, he said.

A few years ago, he said, the division tried to institute a ban on feeding cats in public places to get to the root of the problem: the abundance of feces, especially under the trees in public parks.

But cat advocates created such an uproar that the proposal was dropped.

Gary Gill, deputy director of the state Environmental Health Services Division, which handles vector control, said new rules passed in early 2000 dealt with cat feces problems without implementing a feeding ban.

The rules "enhanced and clarified the division's authority over sanitation," requiring that a property owner be responsible for cleaning up the feces, a major complaint at public parks, he said.

Gill said his office can fine other state agencies or the city if parks under their control are not adequately cleaned.

"Advocates of cats' rights believe the most efficient, humane method is to trap, neuter and release cats" back to their colonies, but "a high density of cats has a human health impact," Gill added.

Cats in particular are responsible for spreading disease not only through their feces, but their fleas also are carriers, Gill said. Feral cats can spread toxoplasmosis, which can be fatal to humans or lead to birth defects if a pregnant woman is infected, according to Gill. Of the five cases of typhus involving rats that have been documented in the past three years on Kauai, one was traced to a flea-infested kitten, he said.

Eventually the division hopes to be able to test for toxoplasmosis in feral cats, because it has also been known to kill wildlife, birds and monk seals, Gill said.

Feral cats also pose a problem to endangered birds just by their presence, Sato said.

"You can't have a cat colony next to an endangered species of birds. The cat advocates say if the cats are well fed, they won't hunt, but I think they will hunt anyway because it's part of their nature," he said.

Sato said a "simple solution" to the feral cat problem would be to allow only licensed breeding, making an owner responsible for all the cats that are bred and distributed, and sterilizing most of them.

But Sato said cats are not the only source of problems. Bird populations that become overgrown when people feed them have also created an unsanitary nuisance, particularly in Waikiki and the business areas, he said.

"They roost on the facades, and streaks of poop run down the buildings. They nest in the trees and poop on tables and people having lunch in the park," he said.

Migratory ducks that have decided to stay in Hawaii Kai and Keehi Lagoon all year round have also added to the feces problem. Their numbers have grown in the last four or five years because people have overfed them with leftovers, which in turn has created a rodent problem, Sato said.

"If people just left them alone to fend for themselves, the (feral animal) population would control itself. Now they compete for food and space with other animals and the humans in the parks. You're not doing animals a favor by feeding them, because they become dependent on you," he said.
E-mail to City Desk
---
---
© 2001 Honolulu Star-Bulletin
https://archives.starbulletin.com