CLICK TO SUPPORT OUR SPONSORS

---

---
Sunday, July 8, 2001




[HAWAII SPORTS]

---




HAPPY TIME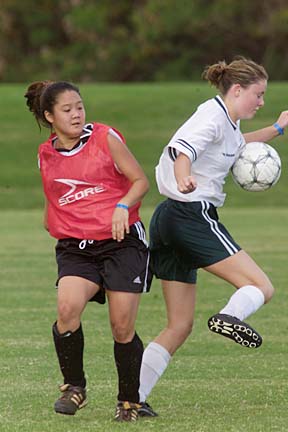 DENNIS ODA / DODA@STARBULLETIN.COM
Canyon View's Tasha Fisher, got past Honolulu's
Koryn Maeshiro during the 2001 AYSO
Rainbow Tournament on Thursday.
---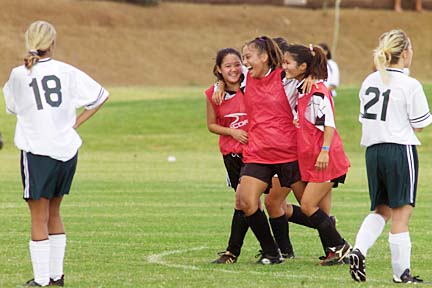 DENNIS ODA / DODA@STARBULLETIN.COM
Maeshiro, Morgan Frost and Chelsie Seo, celebrate the
only goal in a 1-0 win at the Waipio complex.
---
A SWEET DAY FOR RUNNING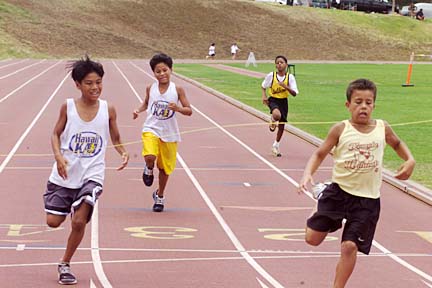 DENNIS ODA / DODA@STARBULLETIN.COM
Nickolas Tuamoheloa, 10, right, finished first in the
200-meter boys 9- to 10-year-old race at the Hershey
Track and Field Youth Program Hawaii State Finals at
Punahou yesterday. Taylor Spencer, 9, left, finished
second. Kennedy Spencer, 8, second from left, finished
third.
---
CHELSEY-ANN'S BACK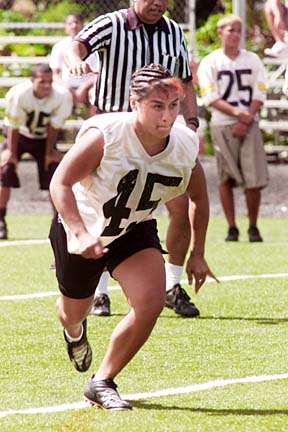 KEN SAKAMOTO / KSAKAMOTO@STARBULLETIN.COM
Chelsey-Ann Kaimi of Nanakuli participated in yesterday's
Pass League football game against St. Louis. As a junior
last year, the slotback was the first girl to score a touchdown
in a Hawaii high school football game. The Pass League is
a summer warmup for skill position players.
---
E-mail to Sports Editor
---
---
© 2001 Honolulu Star-Bulletin
https://archives.starbulletin.com