CLICK TO SUPPORT OUR SPONSORS

---

---
Island Images



Sunday, July 8, 2001
---
MAKAWAO RODEO PARADE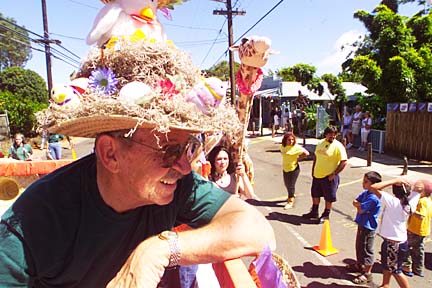 RICHARD WALKER / RWALKER@STARBULLETIN.COM
Burt Touchberry enjoyed the view yesterday along Baldwin
Avenue from aboard the Kula Zoo float during the 36th
Annual Makawao Rodeo Parade in Makawao, Maui.
---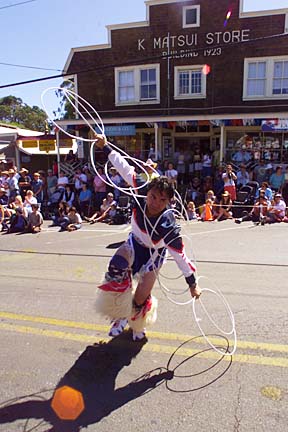 RICHARD WALKER / RWALKER@STARBULLETIN.COM
Herb Yuen performed a Navajo Hoop Dance during the
parade as part of the Intertribal Council of
Hawaii, Maui Chapter's entry.
---
FINDERS KEEPERS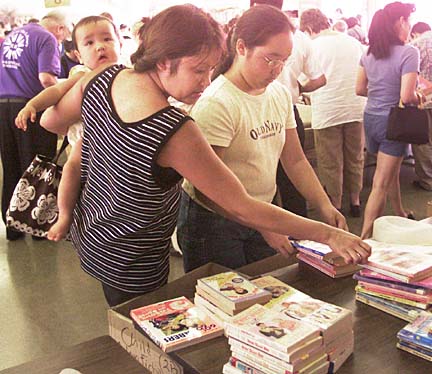 KEN SAKAMOTO / KSAKAMOTO@STARBULLETIN.COM
Lisa Ikeda and her daughters, 8-month-old Moana and
Tiana, 12, checked out books yesterday at the Friends of
the Library's 54th Annual Book Sale at McKinley High
School. The sale runs daily from 10 a.m. to 9 p.m. through
July 13. The last day is July 14 from 9 a.m. to 2 p.m.
---
YOUTH CELEBRATE VICTORY OVER VIOLENCE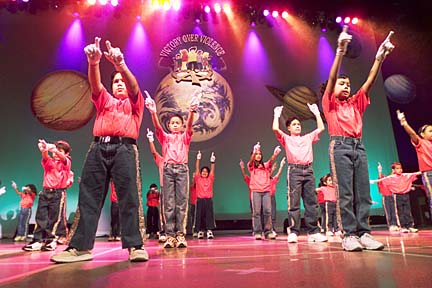 DENNIS ODA / DODA@STARBULLETIN.COM
"Victory Over Violence" was the theme at the Family Youth
Culture Festival yesterday at Neal Blaisdell Arena. Among
the many performers were the SGI Boys & Girls dancing to
"The Power of One." Other performers included the Lanikai
Elementary Swing Dancers and the Hawaii State Ballet.
---
E-mail to City Desk
---
---
© 2001 Honolulu Star-Bulletin
https://archives.starbulletin.com