CLICK TO SUPPORT OUR SPONSORS

---

---
Sunday, July 8, 2001
[AT YOUR SERVICE]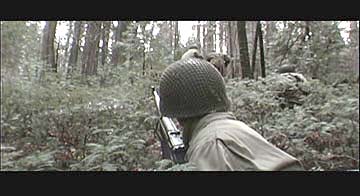 WWW.442ND.COM
Above, a scene from a trailer of the movie, "442nd/Go for Broke,"
can be viewed on the Internet at http://www.442nd.com.
---
The patriotism of the
442nd soon may be
portrayed on film

---

By Gregg K. Kakesako
gkakesako@starbulletin.com

Two young, ambitious Los Angeles filmmakers are seeking financing for what they hope will be a $10 million to $15 million feature movie on the exploits of the Army's most decorated World War II combat unit: the 422nd Regimental Combat Team and the 100th Battalion.

However, Rooth Tang, writer and producer, wants "442nd/Go for Broke," to be more than just another war movie. "Go for Broke" was the motto of the 442nd and symbolized the unit's "shoot the works" fighting spirit which produced 21 Medal of Honor recipients.

Tang, 21, and co-producer Alan Pao, 24, want to tell the story of a generation of Japanese Americans who lost their homes after Japan's attack on Pearl Harbor on Dec. 7, 1941 and were sent to an U.S. internment camp at Manzanar, but volunteered to form a segregated Army unit to prove their loyalty.

The movie script covers the internment of Japanese Americans at Manzanar, formation of the 100th Battalion and the 442nd Regimental Combat Team, the battle in France to rescue Texas' "Lost Battalion" and will end with the freeing of Jewish internees from the Dachau death camps. The rescue of the 1st Battalion, 141st Infantry in the Vosges Mountains in 1944 is considered one of the great ground battles in World War II. In rescuing 211 Texans, the 442nd suffered more than 800 casualties.

"I see a lot of war films," said Tang, who just received a degree in film studies at the University of California at Irvine. "I am a history buff and I love war films, but in almost all of them Asian Americans were left out.

"For my generation when people talk about Asian Americans, they seem to be talking about recent immigrants from China or Japan. Many don't realize that on the mainland and in Hawaii, they have been here for generations."

Pao, who graduated from UCLA this year, added that he believes he will have accomplished something if it reaches people "who didn't realize that this happened."

Tang said the only Hollywood movie so far about the Army unit composed mainly of nisei (second-generation Japanese Americans), also titled "Go for Broke," was told from a Caucasian point of view.

The 1951 film starred Van Johnson as Lt. Michael Grayson who begins the movie "Go for Broke" as a bigot, but overcomes his anti-Japanese prejudices by the picture's end. Several local and mainland 442nd veterans portrayed themselves in the MGM movie. There is only a passing mention of the internment.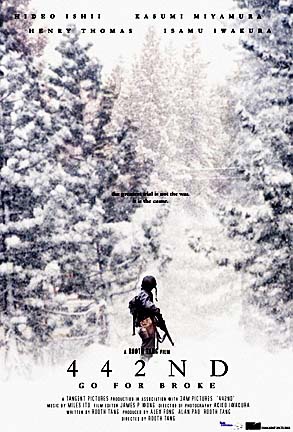 WWW.442ND.COM
A proposed poster from the movie.
---
Pao, Tang and co-producer Alex Fong, however, plan to show the latest celluloid version of the 422nd saga from viewpoint of Japanese Americans who were forced to live behind barbed wires guarded by Army soldiers armed with machine guns in watchtowers.

When President Roosevelt signed Executive Order 9066 in Feb. 19, 1942, more than 10,000 Japanese Americans from Southern California ended up at Manzanar, a desolate area near Death Valley, because he believed they posed a threat to national security. Here and at nine other locations in the U.S., thousands of individuals -- nearly two thirds of whom were American citizens -- were detained in concentration camps during World War II.

Manzanar barracks measured 120 feet by 20 feet and were divided into six one-room apartments, ranging in size from 320 to 480 square feet. Each block of 15 barracks shared bath, latrine, and mess buildings. Dust storms were common at Manzanar and in this arid climate, the barracks offered little shelter from the summer heat or winter storms.

"We do want to include both viewpoints -- Hawaii and the mainland," Tang said. "We want to do an honest job with everyone's experience, but people also will have to remember that this a film and we can't show everything.

"We are making a film that needs a structured story and we need characters."

But Tang said he doesn't want to make something like the 1989 film "Glory" which tells the story of Union Col. Robert Gould Shaw and the Massachusetts 54th Volunteer Regiment, the first regular Army regiment of black soldiers commissioned during the Civil War. Shaw and many of his soldiers gave their lives to prove that black men could fight as well as whites in the suicidal attack on Fort Wagner in South Carolina.

"That movie ended with a lot of people just dying," Tang said.

The producers also want to avoid the problem the Jerry Bruckheimer-Disney $135 million blockbuster "Pearl Harbor" faced by trying not to offend anyone.

"We definitely have a point of view," Tang added.

Pao estimates that it will take anywhere from year and half to two years to finish the film once financing is secured. The producers already have gotten a pledge of $1 million from a family on the mainland. The entire film will be shot on the mainland and as yet no Asian leads have been selected.

The producers have secured a Web site at www.442nd.com that contains a three-minute movie trailer. They also can be reached by e-mail at info@442.com or at (626) 285-0005.

---

Gregg K. Kakesako can be reached by phone at 294-4075
or by e-mail at gkakesako@starbulletin.com.
E-mail to City Desk
---
---
© 2001 Honolulu Star-Bulletin
https://archives.starbulletin.com