CLICK TO SUPPORT OUR SPONSORS

---

---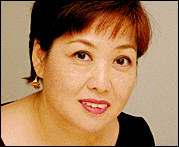 Local Color



Sunday, July 8, 2001
BY SUZANNE TSWEI
---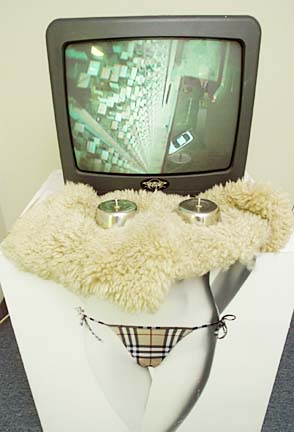 KEN IGE / KIGE@STARBULLETIN.COM
The television screen in Magnus Weighton's untitled piece, above,
shows real-time images taken by a camera mounted on the outside
of the building, 11 floors up. The knobs allow
viewers to control the camera.
---
Alternative art
finds an unlikely home
11 stories up

A TINY PLASTIC BUNNY partially shrouded in a sheet of pink plastic and encased in clear hair gel isn't likely to show up as art in a slick art gallery. Nor would dried kamani tree leaves sewn into fragile miniature boxes. Nor would a rotten tooth displayed with packages of candy and a Pez dispenser.

And that would be fine with the artists of Special Prescription, whose art doesn't come in neat packages anyway.

The tooth, the leaf boxes and the bunny (which is accompanied by a tiny plastic bird also encased in hair gel and baking under a miniature florescent light) are among the items on display at Special Prescription's latest exhibit, "... Time..."

The whole exhibit is under fluorescent lighting, due not to artistic choice, but the limitations of the venue. However, the sterile lighting actually adds to the atmosphere for the cutting-edge show.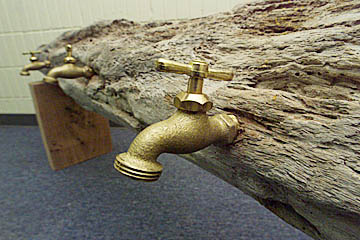 KEN IGE / KIGE@STARBULLETIN.COM
A detail of Koi Ozu's "Tapping Time,"
incorporates six spigots in a driftwood log.
---
Special Prescription, with a core of about a dozen artists, is used to showing art in unorthodox places, once holding art shows in conjunction with roving underground nightclubs in Chinatown.

The young artists' lack of funds means they must take what they can get. So when they were offered a vacant office space on the 11th floor -- of the Queen Emma Building, they grabbed it.

"The rent is right -- free," says Cole Chetney, a founding member of the group. "We can't really afford anything, but we had to find a new home after Sisu and Salon5 closed in Chinatown.

The office is only a temporary space, but the artists hope they'll be able to return for their next exhibit if the landlord can't find a permanent paying tenant.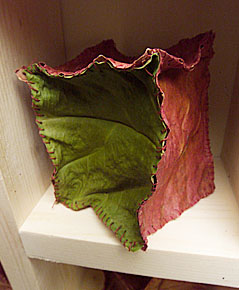 KEN IGE / KIGE@STARBULLETIN.COM
Tae Kitakata's "Timed Distortion"
is a sewn box made of leaves.
---
The exhibit is fun, funny, experimental -- but not offensive -- and irreverent, as well as serious, with more three-dimensional art and video presentations than traditional two-dimensional paintings and drawings. It is open only from 11 a.m. to 3 p.m. Saturdays, and there's only one Saturday left before it closes. Call 373-1995.

The exhibiting artists are Rona Awber, Cole Chetney, Eric Chun, Dana Forsberg, Pontus Forsberg, Kris Higa, Ryan Higa, Tae Kitikata, Katherine Love, Koi Ozu, Cristina Rodriguez and Magnus Weighton.

Time is also a theme in New Zealand artist Gail Gauldie's mixed-media art on display at Queen Emma Gallery.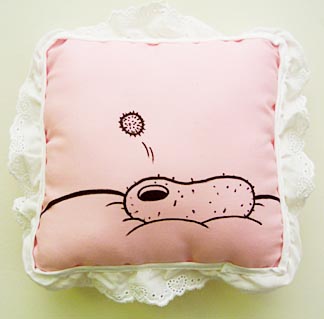 KEN IGE / KIGE@STARBULLETIN.COM
"Make Believe It's the First Time" is what
Ryan Higa calls his pink pillow.
---
Gualdie received her bachelor's and master's degrees in art from the University of Hawaii, and although she's returned to her home country, she visits every summer to teach a paper-making course at the university.

Gauldie likes to use language of the past -- circles, triangles, spirals and other universal symbols -- as well as written English words in her art. "Listening" is open 8 a.m. to 4 p.m. Monday through Friday, 8 a.m. to noon on weekends through Aug. 5. Call 537-7167.





---

Suzanne Tswei's art column runs Sundays in Today.
You can write her at the Star-Bulletin,
500 Ala Moana, Suite 7-210, Honolulu, HI, 96813
or email stswei@starbulletin.com
E-mail to Features Editor
---
---
© 2001 Honolulu Star-Bulletin
https://archives.starbulletin.com