CLICK TO SUPPORT OUR SPONSORS

---

---
Sunday, July 8, 2001
[ MAUKA MAKAI ]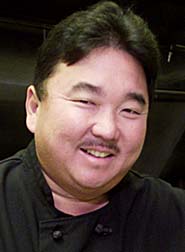 STAR-BULLETIN / 2001
Chef D.K. Kodama begins lunch service at Sansei.
---
New spot for lunch

CHEW ON THIS

Restaurant Report

---


Star-Bulletin

Sansei Seafood Restaurant & Sushi Bar begins lunch service tomorrow with a menu that comprises "Big Salads" as well as sandwiches and pastas (including ramen). Also featured are upscale plate lunches, such as Grilled Sake- and Miso-Marinated Chicken.

All prices are under $10, with many items in the $5-to-$6 range. Call 536-6286.

Special events

A taste of "Taste": Sam Choy's Diamond Head has compiled a tasting menu for July featuring the four dishes served by the restaurant at the recent Taste of Honolulu. On the menu: Kalua Pig Potstickers, Crispy Calamari Katsu Salad with Kalamata Olive Remoulade, Iso Peanut Mahimahi with Truffleyaki Sauce and Bread Pudding. The menu is available weekdays before 6:30 p.m. for $21.95. Call 732-8645 and tell the hostess you are coming in for the "Taste" menu.

La Crema Wine Dinner: Wines from the Russian River Valley's La Crema winery will be showcased in a five-course dinner, 6 p.m. Saturday at Bali by the Sea at the Hilton Hawaiian Village. Chef Jean-Luc Voegele's menu includes Scottish Smoked Salmon Bavaroise with the La Crema Chardonnay, Gratinated Oysters Florentine with the Viognier, Grilled Onaga on Glazed Artichokes with the Pinot Noir, Pan-Seared Veal Filet Mignon with the Syrah, plus dessert, Poached White Peach. Cost is $65. Call 941-2254.

Sunset tastings: Chef Peter Merriman's Hula Grill on Maui has introduced a Sunset Tasting Menu: five smaller-sized courses for those who would like to try several dishes without overeating. For example, one taster menu starts with a Lobster Potsticker and a Crab Mac-Nut Wonton, followed by Caesar Salad, Sesame-Crusted Opakapaka with Lobster Coconut Sauce, Seared Sea Scallop with Mac-Nut Pesto Penne and Teriyaki Top Sirloin. The menus are available from 5 to 6 p.m. daily and will change every Thursday. Cost is $19.95. Call (808) 667-6636.

Appointments

David M. Yamamoto has been named director of food and beverage and executive chef for the Queen Kapiolani Hotel.

Yamamoto is a 24-year veteran of the local food service industry, most recently working at Roy's restaurants.





Click for online
calendars and events.
E-mail to Features Editor
---
---
© 2001 Honolulu Star-Bulletin
https://archives.starbulletin.com