CLICK TO SUPPORT OUR SPONSORS

---

---
Friday, July 6, 2001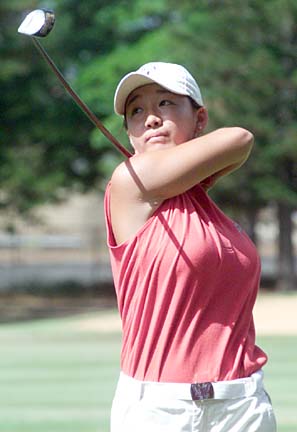 CRAIG T. KOJIMA / CKOJIMA@STARBULLETIN.COM
Joan Shimozaki, a student at Seabury Hall on Maui, shot a
76 yesterday to finish at 225 and atop the girls 13-18 division,
four strokes ahead of Ayumi Hori.
---
O'Neill wins
World Jr. Masters


A final-day 73 carries the
Colorado teen to a 1-stroke
win over a pair of local
golfers headed to UH-Hilo

---

By Grace Wen
gwen@starbulletin.com

Like looking for buried treasure, Derek O'Neill searched and found the hidden pins that eluded his opponents to win his first World Junior Masters golf tournament.

O'Neill, from Littleton, Colo., carded a 1-over-par 73 to finish with a 215 and the boys 16-18 title in the 54-hole tournament at the Mililani Golf Club.

University of Hawaii-Hilo-bound Nick Mason, who started the day on top of the leaderboard, finished second at 216, while defending champion Kevin Shimomura, also headed for UH-Hilo, was two strokes back.

Two crucial holes late in the round proved to be the difference for O'Neill. The 17-year-old senior from Highland Ranch High eagled the par-5 No. 7 -- the 16th hole of his round after starting on the back nine --and birdied the final hole.

His monster drive on the 477-yard No. 7 led to a solid approach shot that landed 12 feet from the cup. O'Neill drained the putt, putting pressure on Mason, who had just parred the 15th hole.

"I hadn't been hitting too many good shots to start," O'Neill said. "But then on 7, I hit a good tee shot. I hit a great approach shot. I hit it exactly how I wanted to hit it and just made the putt."

Mason, on the other hand, drove the ball well all day but was unable to get putts to drop when he had opportunities for birdies.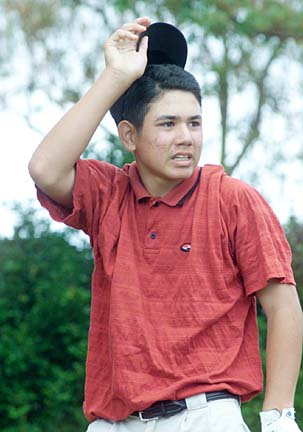 CRAIG T. KOJIMA / CKOJIMA@STARBULLETIN.COM
Bronson Kalilikane watched his tee shot land short of the
16th green yesterday at the World Junior Masters. The
Kapolei High student tied for second in the boys 13-15
division, three strokes behind Waianae's Casey
Kobashigawa, an Iolani student.
---
He admitted that he felt the pressure on the 17th hole when he was 2-under-par and shot a double bogey. The Leilehua High graduate thought he had a good drive but was surprised to learn that his ball had fallen into the creek. He landed on the green on his next shot but 3-putted the hole to fall even.

He had a chance for birdie on the last hole but his approach shot dropped into the trees. On the next shot, Mason avoided the bunker, only to have his ball bounce left off the green. He 2-putted to finish at par.

"I started well on the front nine," Mason said. (But) I had that bogey early (on the back nine) and then I had some solid putts that just weren't going in."

The 3-year-old tournament featured 14 nationally ranked players, including No.1 Christo Greyling of Orlando, Fla., who finished sixth overall, 14 strokes back. Greyling struggled all tournament and never challenged.

Casey Kobashigawa of Waianae was in third place, two strokes back, to start the day in the boys 13-15 division. The incoming sophomore at Iolani School finished with the best score of the day -- a 72 -- to leapfrog to the title at 220.

Tying for second at 223 were Kapolei High's Bronson Kalilikane and second-round leader Erik Flores of Grass Valley, Calif.

Steady Joan Shimozaki of Maui's Seabury Hall parred 14 holes to win the girls 13-18 division with a 76--225, four strokes ahead of Moanalua High's Ayumi Hori. Hori's up-and-down round included an eagle, two birdies, six bogeys and two double bogeys.

Defending champion Ashley Yamaguchi of Punahou School finished third at 83--243.
E-mail to Sports Editor
---
---
© 2001 Honolulu Star-Bulletin
https://archives.starbulletin.com