CLICK TO SUPPORT OUR SPONSORS

---

---
Friday, July 6, 2001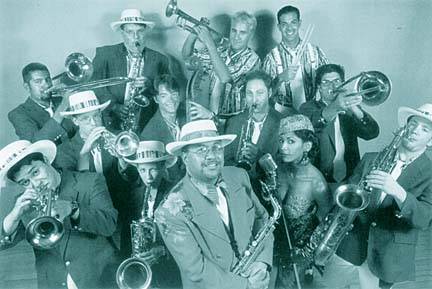 CONCORD JAZZ
Matt Catingub, center front, is the Big Kahuna
of the Copa Cat Pack.
---
Big Kahuna turns
old Polynesia into a
rousing big-band bash

"Shake Those Hula Hips"
Big Kahuna and the Copa Cat Pack (Concord Jazz)

---

Review by Gary C.W. Chun
gchun@starbulletin.com

Honolulu Pops Orchestra conductor Matt Catingub has been moonlighting. In his other musical guise, he's the Big Kahuna, fearless leader of his own hard-charging big band, which has released a couple of albums on an independent label known for its fine mainstream jazz catalogue.

He's generously borrowed from his Polynesian roots for his own recording projects, and his latest is no exception. It's a collection of solidly arranged charts by Catingub, and despite the kitschy "exotica" tiki-motif packaging, this is a straight-ahead big-band release guaranteed to please any crowd.

Still, there's a bit of fun and novelty mixed in. Debby Boone, of all people, good-naturedly chimes in on a couple of tailor-made Hawaiiana tunes, "Princess Poo-Poo-Ly Has Plenty Papaya" and a cha-cha take on "Little Grass Shack." Even Rosemary Clooney pitches in on Johnny Mercer's "And the Angels Sing."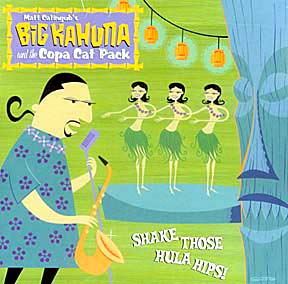 Otherwise, it's all Matt, all the time. His vocals can be as brash as his band, as on his swinging update of Kui Lee's '60s local bar fave "Ain't No Big Thing" and the uptown strut of "In the Mood." But he can be serious and respectful as well; Andy Cummings' beloved "Waikiki" is given an appropriately toned-down reading, and Cantingub, while far from being a masterful vocalist like Frank Sinatra, gives a good account of himself on a gently swinging "It Was a Very Good Year," especially on the last verse when it's just him and his piano.

Cantingub shows a facility to adeptly arrange a variety of voicings from his band's sections; the saxes and trombones are blended well on "Avalon," and Duke Ellington's "It Don't Mean a Thing (If It Ain't Got That Swing)" takes on a Latin flavor.

The band really shines on a couple of TV show themes and a rock 'n' roll standard. Drummer Steve Moretti's authoritative command of the beat is showcased on an imaginative and rousing arrangement of "I Dream of Jeannie," as well as a beefed-up take of -- what else? -- "Hawaii Five-O." The album closing "Tequila" is a roof-raiser, with cool-cat listeners invited to snap their fingers with the tempo.





Click for online
calendars and events.
E-mail to Features Editor
---
---
© 2001 Honolulu Star-Bulletin
https://archives.starbulletin.com