CLICK TO SUPPORT OUR SPONSORS

---

---
Friday, July 6, 2001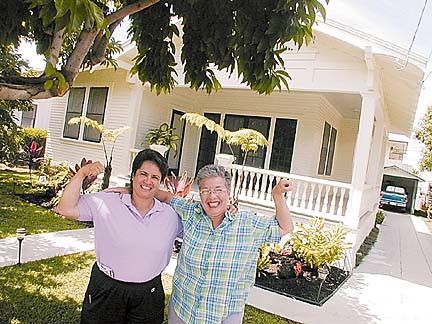 CRAIG T. KOJIIMA / CKOJIMA@STARBULLETIN.COM
Sharon Kamali'i, left, and Alysa Kealoha put a lot of muscle
into a gem of a home on Coyne Street.
---



Home renovation was a
transforming experience
for 2 fixer-uppers

---


By Nadine Kam
nkam@starbulletin.com

On most nights, the drive home for Alysa Kealoha and Sharon Kamali'i took them over the McCully bridge. Then last November, a traffic jam caused them to detour onto Coyne Street, where they chanced upon a cottage of the old Manoa sort that many people dream about but few get to own. Normally, they would have zipped right past, but this time, the fairytale cottage had a "for sale" sign out front.

"Stop the car!" Kealoha screamed.

Kamali'i's response was, "Oh no, not again!," before stepping on the brakes.

>>>><<<<

Just blocks away, the women already were in the process of renovating an eight-bedroom multi-family dwelling with a large, two-room detached cottage that they had bought three months earlier. It was a home that would enable them to retire comfortably, able to earn them rental income to keep up with maintenance and inflation. What the women wanted was security, and the last thing they needed was to take on more debt by buying another fixer-upper.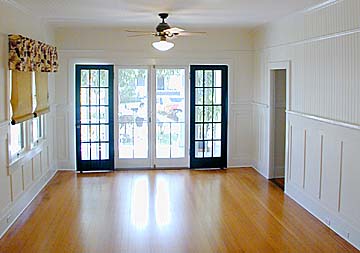 CRAIG T. KOJIIMA / CKOJIMA@STARBULLETIN.COM
Kamali'i and Kealoha's labor resulted in a room
that is a bright contrast to the dark interior
before renovating, below.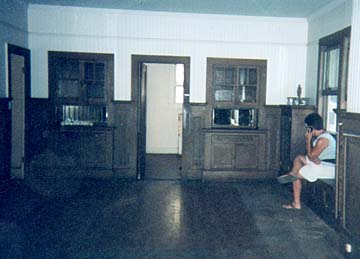 KAMALI'I / KEALOHA
---
What's more, they were tired, especially Kamali'i, who was laboring alongside the workers hired to upgrade the building. If Kealoha brought vision to the project; Kamali'i was its facilitator as she helped to strip the place, landscape and even make the dump hauls, between 20 and 30 of them by her estimate.

But having been through the remodeling process before -- on homes Kamali'i owned in Waianae and Kaneohe -- and feeling they had learned a lot, as with any hobby, the women wondered whether they could tackle a more ambitious project.

There was no question that the house on Coyne Street needed work. Just so the women would understand what they were getting into, they summoned the laborers from the multi-family complex to come and take a look. They found termite-eaten posts outside and wood rot where a shower was built into a kitchen pantry. Not only was the shower built without a lining to protect the wood, but a live wire was left behind the wall, which could have caused a fire or someone to be electrocuted. They also found the once golden-colored Douglas fir walls and floors blackened with age and exposure to the elements.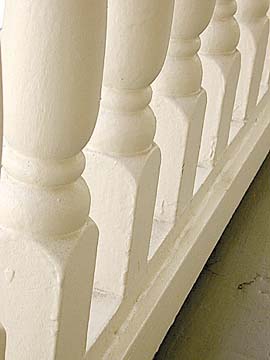 CRAIG T. KOJIIMA / CKOJIMA@STARBULLETIN.COM
Balusters that surround the front porch had to
be cut so that the house could be raised to
replace a termite-eaten column.
---
"It was so dark, gloomy, terrible," Kealoha said. "It was like death."

But it was too late. They were in love with the period architecture, awed by the craftsmanship and intrigued by the neighborhood.

The workers estimated the renovation work would cost about $35,000. With this quote in hand, they entered a bid of $287,000 for the house, listed at $365,000, and miraculously, the owners agreed to sell.

>>>><<<<

With deed in hand, Kealoha started knocking on neighbors' doors to find out more about the house. She had looked at every house in the University area and noticed matching S-carved eaves on only a handful of homes. She found this to be the signature of architect S.F. Kenn who designed the home in 1926.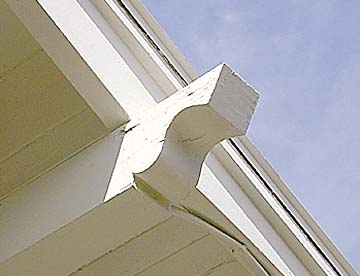 CRAIG T. KOJIIMA / CKOJIMA@STARBULLETIN.COM
Roof supports form an "S" shape, the signature
of architect S.F. Kenn.
---
The land the home sits on was once cropland that was purchased by a Chinese merchant who divided it into parcels in the early 1900s. Other wealthy Chinese families followed, planting mangoes, lychee and other favorite fruits and flowers from the mother country, and earning the area the nickname of "Chinese Hollywood."

Work began Dec. 4 and one of the first things that Kamali'i did was to start landscaping and resuscitating the garden in the front yard, which had withered and died. She created a Big Island-inspired garden of cinders, green and red ti plants and anthuriums. The path to the veranda was lined with solar lamps.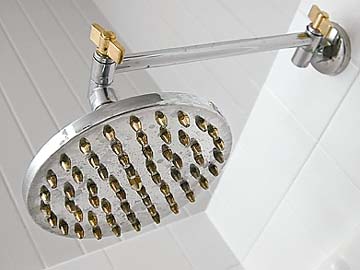 CRAIG T. KOJIIMA / CKOJIMA@STARBULLETIN.COM
The Coyne Street home had an old-style showerhead,
the sort that sprays water like rain. A contemporary
shower head was installed.
---
Believing that they would be able to live in the home forever, they decided to spare no expense in the restoration. Workers were given orders not to patch, but replace parts that needed mending.

Pointing to a column, Kealoha says they had to lift the house to rebuild and replace it. And while the new column looks like the older ones, the process used to create it was different. The old post was of solid wood that had been routed to create an indented look. They achieved the look by placing smaller strips of wood at the four corners of a post.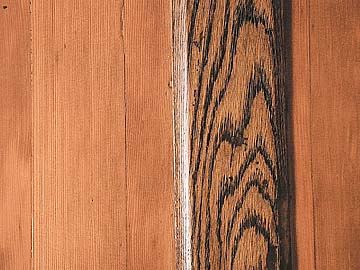 CRAIG T. KOJIIMA / CKOJIMA@STARBULLETIN.COM
The Douglas fir floor had blackened over the years
and the 18-foot boards were sanded down to
their natural color.
---
The blackened Douglas fir floor had to be sanded down to its natural color. Once they got to that color they found the floor was two-toned due to carpeting that once covered all but a foot around the room, so the center had to be stained a strawberry blond to match the darker color of the outer corners.

The walls were blackened too, but rather than go through the labor-intensive -- and costly -- process of sanding, the women chose to cover it with a coat of white paint.

Before committing to colors, they would throw up walls of color, then lie on the floor studying nuances such as the effects of sunlight at different times of day, the effects of 40-watt vs. 100-watt bulbs and the ability of the color to make the rooms appear to be larger, the ceilings higher.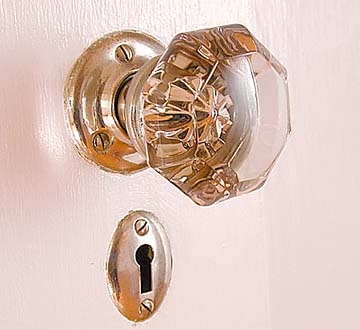 CRAIG T. KOJIIMA / CKOJIMA@STARBULLETIN.COM
Every hinge and glass door knob was removed,
cleaned and polished to a shine. A locksmith was
called on to make a skeleton key to fit the lock.
---
Kamali'i removed every hinge, glass door knob and piece of hardware in the house, cleaning and polishing them to a shine so that these original fixtures could also look as good as new. When they had to add fixtures they chose vintage-style lamps and pedestal sinks to retain the home's 1920s ambience. At one point they had to find a locksmith who could recreate a skeleton key that would fit an old lock.

"I thought we we would have to get rid of the door," said Kamali'i, but luckily, they found a woman who could do the job.

All this was done between their regular duties as the massage therapists behind Stress Busters, and they were probably the ones most in need of a massage. "We tried to look calm but we were stressed," said Kamali'i.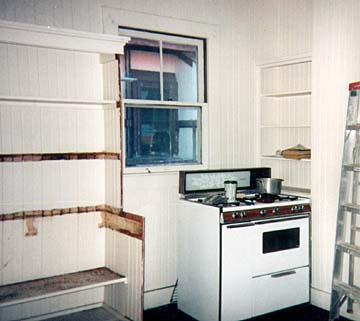 CRAIG T. KOJIIMA / CKOJIMA@STARBULLETIN.COM
The old kitchen, above, was cramped with worn
fixtures and cupboards that were removed. A wall
that blocked the back door and window was
removed to allow more light in, below.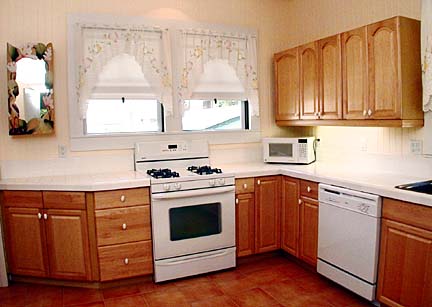 ---
"You ask how did we know we could do it, we didn't," said Kealoha. "We just went in and did it."

As if such a major project weren't enough trouble, they found the world of contractors, plumbers and electricians fraught with peril.

"It was devastating, a nightmare some of the experiences we had," said Kealoha. "We wished we had someone who could have warned us about the con men and vultures. Con artists come out of the woodwork when you're vulnerable, you know, and here we were, two women. We had to go through the whole process of hiring, finding out something was wrong and letting people go. And the worst snake is the one that charms you the most."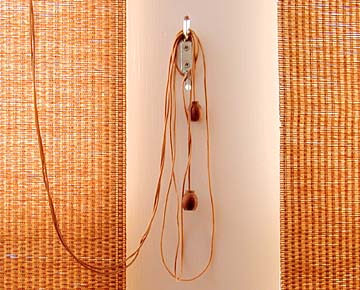 CRAIG T. KOJIIMA / CKOJIMA@STARBULLETIN.COM
Attention was paid to every detail, down
to curtain hardware.
---
"We had a fake plumber, a plumber's helper beating up on a painter and a floor guy with a dead guy's license," said Kamali'i. "Even when we confronted them they were still in denial, and they were all referrals, which just tells you how important it is to check credentials.

"I questioned them in so many tedious ways, but I needed that detail," Kamali'i said. "You have to take charge. If you don't, those guys will walk all over you."

"One of us had to be on site every day to make sure work was being done properly," Kealoha said. "If you go away you don't know what's going on. It could be as minor as someone taking a cigarette break. Well, if that person is taking 10 minutes 10 times a day, that's costing you."

Just as the house was being transformed, the women felt themselves changing, growing more knowledgeable and finding greater confidence in their abilities tackling what is still considered man's work.

>>>><<<<

After the home was completed on April 4, Kamali'i and Kealoha threw open the doors to neighbors who had been watching the project.

"They knew the house originally and they knew the original owner and they said it looks the same as when it was new," said Kealoha. "They kept asking who did it, and when we said we did, they looked puzzled. They couldn't fathom that women had done this."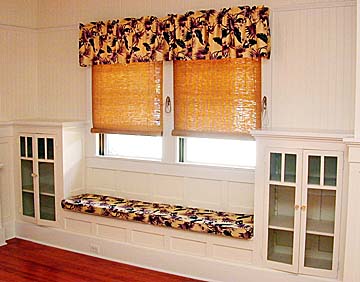 CRAIG T. KOJIIMA / CKOJIMA@STARBULLETIN.COM
Built-in cabinets and bench seating are part
of the home's charm.
---
But the women never moved into the home. Before the project was completed -- running $75,000, $30,000 above the estimate -- they had spoken to their accountant and realized they had to choose between the quaint house and the multi-family property if they were to have a comfortable, manageable retirement. Although they felt attached to the Coyne Street home, their "baby," they felt they had to be practical and opted to give it up in favor of the income-producing property.

The Coyne Street home sold for $475,000 two weeks ago, but during the open houses, the women would hover, wondering with each walk-in, "Are you the one?" They were relieved when the buyer turned out to be a graphic artist who appreciated the work they had done and the home's graceful lines and the early 20th century details that they had fallen in love with.

But in studying the people who visited the open house, Kamali'i noted that people are inattentive when it came to analyzing and buying a home. "They would come in and ask where we got the curtains or the window screens," she said. "They weren't looking at the structure at all. Me, when I walk into an open house, I'm banging on walls already, trying to see how sound it is."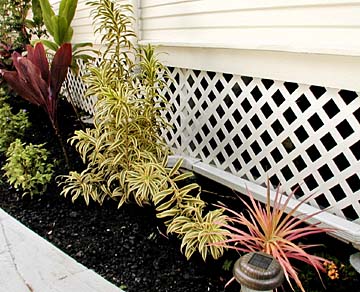 CRAIG T. KOJIIMA / CKOJIMA@STARBULLETIN.COM
Plastic lattice panels guard and frame
home's foundation.
---
"People make buying a house an emotional decision, when they should be making a practical one, considering its the biggest expense they'll ever have," Kealoha said.

Having been through the process of learning on their own, the women realized how hard it is for the ordinary consumer to get good advice about buying and improving a home. The house transformation complete, they've decided to give consulting a try.

Other advice they offer:

>> Hire an inspector who will go through the home with an investigative eye.

>> Talk to the neighbors to determine whether you'll be able to get along with them.

>> Hang out in the neighborhood at different times of day. Be there at midnight and 2 a.m. to listen for domestic quarrels or water sprinklers that go off noisily.

>>"Don't be too shame to call the police and ask about criminal activity in the area, how many burglaries have occurred within a five block radius," Kealoha said. "These are things that don't cost you and pay off in the long run."

---

Alysa Kealoha and Sharon Kamali'i
can be reached at 952-9920.





Click for online
calendars and events.
E-mail to Features Editor
---
---
© 2001 Honolulu Star-Bulletin
https://archives.starbulletin.com