CLICK TO SUPPORT OUR SPONSORS

---

---
Thursday, July 5, 2001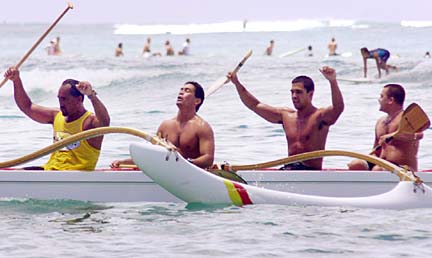 KEN SAKAMOTO / KSAKAMOTO@STARBULLETIN.COM
Hui Lanakila paddlers were exhausted and exultant after
winning the men's freshman event in the 59th Walter J.
Macfarlane Memorial Regatta yesterday at Waikiki Beach.
---
Lanikai rides
the waves


Waikiki's surf breaks
a long winning streak by
the senior men's crew

---

By Grace Wen
gwen@starbulletin.com

An upset in the Senior Men's Open didn't diminish either the fun or Lanikai Canoe Club's fourth straight victory at the 59th Walter J. Macfarlane Memorial Regatta at Waikiki Beach yesterday.

The only surf race of the Oahu Hawaiian Canoe Racing Association season had tons of breaking waves and a couple of broken streaks, too.

Lanikai won the longest running annual regatta 86-82 over host Outrigger Canoe Club. In a close battle for third, Kailua Canoe Club finished with 63 points, two points ahead of fourth place Hui Nalu. Hui Lanakila ended in fifth with 43 points.

Lanikai captured 10 of the 36 races but lost in the Senior Men's Open, a race it had won for eight straight years.

Hui Nalu's crew of Bill Pratt, Wyatt Jones, Steve Kelly, Maui Kjeldsen, Chris Ball and steersman Billy Balding sipped champagne from the silver cup, an annual tradition for the crew that wins the race, for the first time since 1992.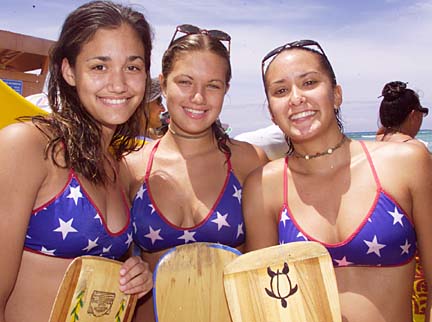 KEN SAKAMOTO / KSAKAMOTO@STARBULLETIN.COM
Kanani Souza, left, Rachel Kippen, center, and Shawna
Ferreira of the Waikiki Surf Club dressed for the
occasion yesterday.
---
Hui Nalu led most of the race and managed to stay ahead of Lanikai by five feet at the half-mile turn. The crew caught a bump toward the end that put it ahead for good.

"I'm excited because we finally beat them," Jones said. "We've been close every regatta but they've (Lanikai) been beating us."

Said Lanikai coach John Foti: "I don't want to say it hurt, but we were definitely disappointed.

"It was a good race but we got roughed up on the way out. The Hui Nalu guys were a couple of lanes over and I think that gave them an edge. We tried to make our catch-up ... but that one bump kind of killed us."

In the Senior Women's Open event, Outrigger Canoe Club repeated as champion. The crew included steersman Marc Haine, Mary Smolenski, Malia Kamasugi, Patricia Nagatani, Kisi Haine (Marc's sister) and three-time flat-water kayaking Olympian Traci Phillips. Outrigger finished 10 seconds ahead of second-place Hui Nalu.

"We were all pretty aware of the backwash off the start," Phillips said. "We were really lucky that there was one backwash with our name written on it ... and we just happened to catch it.

"That helped us a lot because Hui Nalu is fast enough where we know that they catch anything at any time."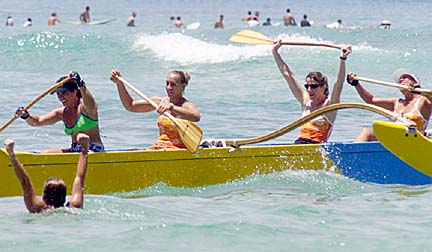 KEN SAKAMOTO / KSAKAMOTO@STARBULLETIN.COM
A crew crossed the finish line with a pack of surfers
in the lineup at yesterday's Walter J. Macfarlane
Memorial Regatta.
---
Through 15 events, the Outrigger Canoe Club had won the most races with four wins, but Kailua and Lanikai weren't far behind with three victories apiece.

But Kailua held a slim two-point lead over Lanikai, while Outrigger Canoe Club was four points back. The lead changed frequently throughout the day and Foti called the regatta a dogfight.

"We haven't won very many races but we've placed in a lot," Foti said. "But I think everybody is in that same boat. We've been trading the lead all day, which makes for good, fun racing."

After 30 events, Lanikai had only won six races (vs. 10 by Outrigger) but three wins in the Mixed Men and Women, Men's Four and the Women's Masters 35 gave them a one-point lead going into the final event of the day, the Men's Masters 35. Lanikai finished nine seconds ahead of second-place Hui Lanakila to win the race and the regatta.

In the A Division, Anuenue and Waikiki Surf Club each won one race and tied for first place with 21 points. Healani, last year's A Division winner, finished third with 12 points.

Notes: Lanikai has dominated OHCRA this season with four victories, including yesterday's. Kailua Canoe Club is the only other club to win a regatta this paddling season. ... The next OHCRA regatta is July 17 at Keehi Lagoon.
E-mail to Sports Editor
---
---
© 2001 Honolulu Star-Bulletin
https://archives.starbulletin.com