CLICK TO SUPPORT OUR SPONSORS

---

---
Thursday, July 5, 2001
[ JULY FOURTH, HAWAIIAN STYLE ]
---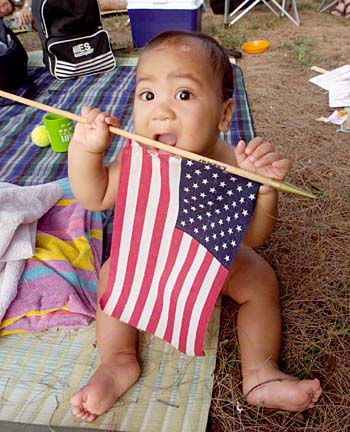 DENNIS ODA DODA@STARBULLETIN.COM
At Kailua Beach Park, 8-month-old Judakiss Salevao
feasted on the U.S. flag at the family's Fourth of July
party as they waited for the fireworks. He was with
his mom, Dorylyn Andres.
---
Family ties
span the globe at
this special reunion


What started small has grown
into a big gathering for relatives

---

By Kelliann Shimote
kshimote@starbulletin.com

Their first barbecue was held at Bellows Field Beach Park, which attracted about 30 family and friends.

Thirty-three years, 20,000 pieces of sushi, 2,000 pounds of macaroni and potato salad, 15 pounds of hamburgers and 6,000 hot dogs later, the celebration draws 200-300 guests.

Family and friends from all sides of the island were reunited yesterday at Craig and Virginia Maddocks' Fourth of July celebration at Kalama Beach Club. Guests traveled from as far as Russia, Australia, Switzerland and the mainland to meet loved ones in celebration of Independence Day.

The event began at 9 a.m. and finished with the fireworks display over Kailua.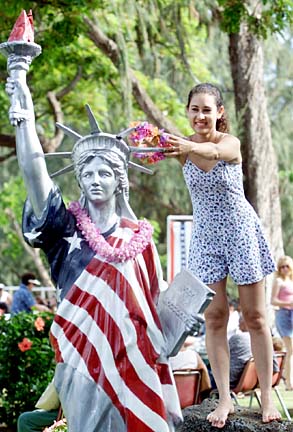 GEORGE F. LEE / GLEE@STARBULLETIN.COM
Above, Margo Thach of Palolo attempted to crown an
already lei-bedecked Statue of Liberty yesterday near
the Kapiolani Park Bandstand.
---
According to Craig Maddocks, the gathering was first held at Bellows. But the Maddockses later decided on the beach club, which has been the reunion's home for 32 years.

"We called here to book on the Fourth in 1970 ... and had it ever since," Craig Maddocks said.

The location seems to appeal to all of the guests.

"I just love Kalama Beach Club because it has the sense of timeliness. ... It's just cute," said Mary Leandro, a 30-year veteran of the celebration.

This year, the menu also included chili, rice and namasu, or Japanese pickled vegetables.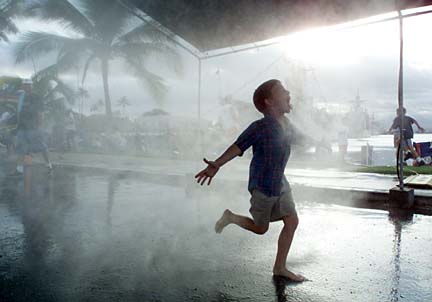 GEORGE F. LEE / GLEE@STARBULLETIN.COM
At left, Christopher Tucker, 8, of Kaneohe found a way
to beat the Fourth of July heat as he ran through the
shower tent yesterday at the Pearl Harbor open
house and block party.
---
"This brings everybody together every year," said Virginia Maddocks.

John Sullivan, 64, has been coming to the barbecues since they started. Sullivan said guests begin the tradition with the Kailua Fourth of July Parade and then head down to the picnic to help set up.

Putting beverages in the cooler, cleaning the grill and cooking are just some of the tasks Sullivan takes on.

Guests drop in whenever they have the time. They also lend a helping hand throughout the day.

Those tired of swimming off the heat can participate in volleyball, horseshoes, cards and board games. Children's games include relay races, a scavenger hunt and a mummy wrap.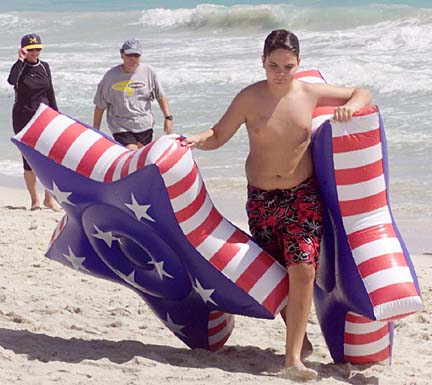 KEN SAKAMOTO / KSAKAMOTO@STARBULLETIN.COM
Craig and Virginia Maddocks hosted their 33rd annual
Fourth of July party yesterday at the Kalama Beach Club
in Kailua. 11-year-old Micah Gourley, Craig and Virginia's
grandson, pulled out the stars-and-stripes air mattresses
at Kailua Beach.
---
Children participating in the mummy wrap are paired up. Then one child will wrap the other one until he or she is fully covered.

"It was fun," said 13-year-old Laura Ragsdale. "It got bigger and bigger year after year. Now we are the helpers."

Tradition has been a theme for some time now.

"It's such a good tradition," said Shawn Maddocks, 37, one of Virginia and Craig's three children. "I want to see us ... keep the tradition going. I don't ever want to see the tradition die. I think we are so close. It's just a part of the Fourth of July," said Shawn.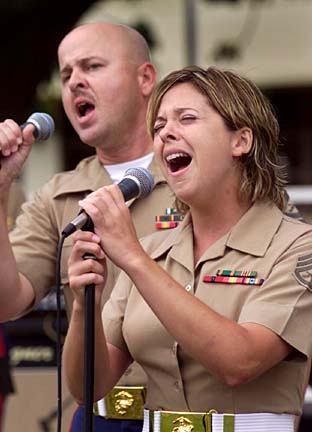 DENNIS ODA DODA@STARBULLETIN.COM
At Kaneohe Marine Corps Air Station, the Marine Forces
Pacific Band and Immediate Action rock band put on a
show for an appreciative crowd at Dewey Square, on
base. Master Sgt. Ron Hackler and Staff Sgt.
Stephanie Mays sang with the show band.
---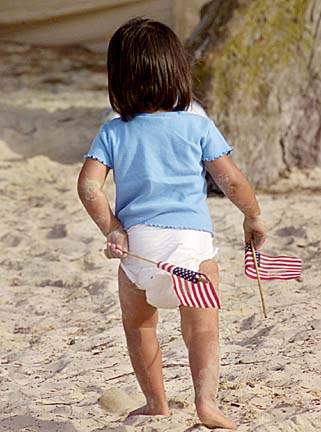 DENNIS ODA DODA@STARBULLETIN.COM
Danielle Benavente, 2 12, carried U.S. flags as she roamed
Kailua Beach Park yesterday, waiting for the fireworks.
---
E-mail to City Desk
---
---
© 2001 Honolulu Star-Bulletin
https://archives.starbulletin.com